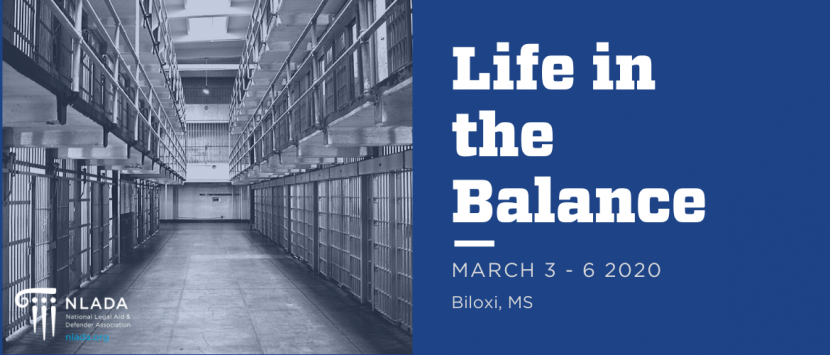 Conference
Tuesday, March 03, 2020 8:45 am to Friday, March 06, 2020 11:45 am
Co‐sponsor(s):
The Office of the State Public Defender, Mississippi
2020 Life in the Balance
A death penalty and juvenile life without parole training for attorneys and mitigation specialists: Co-Sponsored by: Mississippi Office of State Public Defender; In conjunction with The Deep South Capital Defense Conference; In affiliation with The National Alliance of Sentencing Advocates & Mitigation Specialists
Pre-Registration is now CLOSED. Onsite Registration will be available.
Who should attend Life in the Balance? 
Participants must be involved in the defense of persons accused in criminal cases and are typically defense attorneys, mitigation specialists and defense investigators. Participants come from a variety of practice settings and public defender offices; small, solo and large.
Conference Overview 
Join us in Biloxi, Mississippi, for the 2020 Life in the Balance to develop and improve the skills and techniques needed to save lives in all phases of capital defense. 
With more than 30 sessions over three-and-a-half days, Life in the Balance will provide an opportunity to learn from and work with the most successful and forward-thinking attorneys, mitigation specialists, investigators and experts from across the nation. The faculty will offer expert guidance and instruction on such topics as: 
Juries: how to pick them, talk to them and understand the way they work 
Mental Health
Experts in Atkins including Atkins, the MMPI and competence and execution 
Death Penalty: National updates and recent developments in Death Penalty 
Race and culture and systemic challenges  
Miller Experience – Panel to include the Attorney, Mitigation Specialist and Parolee 
Internet Sleuthing
Descalation 
Voire Dire – the Colorado Method
Individual case consultations will also be offered during small group discussions.
Juvenile Life without Parole (JLWOP)
In conjunction with Mississippi Office of the State Public Defender, a limited number of seats will be available for the JLWOP track. Registration for the JLWOP will include the "bring your own case" model along with dynamic sessions: 
Overview of the Miller Case
Getting The Most out of Your Miller Evaluation
The Developmental Factors In Miller V Alabama: What Experts Can Provide
The NASAMS Fundamentals of Mitigation Certificate Program 
(NASAMS Certificate) – Pre Conference 
Will be held in conjunction with the 2020 Life in the Balance Conference. This program will provide participants with training from nationally recognized experts in the field. The small class size will ensure quality instruction, coaching and hands-on learning. In addition, participants will receive sample materials, organizational tools, sample reports and E-tools to assist with their practice. This is an intensive training offered to beginners or professionals who want to refresh their mitigation skills.
Registration for One Day of Life in the Balance (Wednesday, March 4)  for the NASAMS track is included with the Certificate program registration.
Full LIB conference registration is required to attend the entire conference. 
On Wednesday, March 4, the LIB: NASAMS Track will offer sessions in the topic areas of: 
Investigation 
Descalation
Mapping 
How to Present a mitigation case
Registration    Travel and Accommodations  Tracks and Goals  Featured Speakers    Conference Homepage