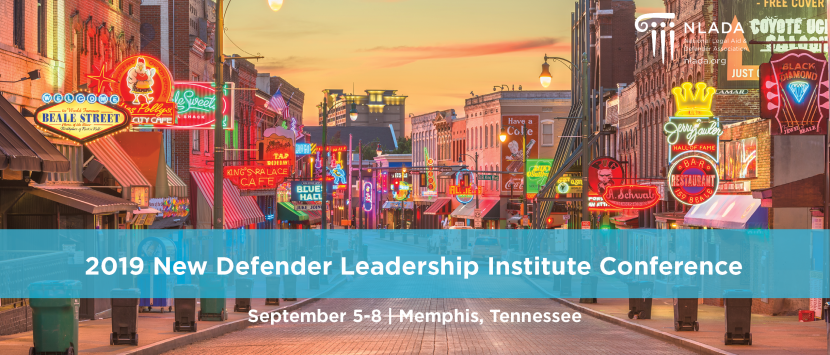 Conference
Thursday, September 05, 2019 2:00 pm to Sunday, September 08, 2019 1:00 pm
This year, the National Defender Leadership Institute Conference: New Leadership 2.0, will be in Memphis, TN, where Beale Street is actually located. If we actually listened to the stories this street could tell, they would be stories similar to James Baldwin's, one of racial and economic injustice that so often defines our criminal justice system. Beale Street is talking, and we will listen to become better leaders at spreading the message.
Today our differences and divisions are magnified, both within our offices, our communities, and our criminal justice system. We need capable defender leaders to both guide advocates through these trying times while protecting clients' Sixth Amendment rights. The National Defender Leadership Institute of the National Legal Aid & Defender Association is offering its latest leadership training to provide helpful skills and support to defender leaders who have managed teams within offices and aspire to be engaged in higher leadership within their office and the wider criminal justice community. Training will also incorporate input from chief defenders on leadership training needed for future chief defenders.
This training provides tools for those at various points on the leadership development continuum: from newly appointed leaders, to seasoned veterans looking for an opportunity to reflect, refocus and reenergize. We welcome individuals thinking about innovations in leadership, and those simply interested in taking their leadership skills to the next level.
To ensure highly interactive sessions and personalized training, this program will be limited to only 65 participants. 
REGISTRATION FEES:
Regular (Received from April 8 to August 5)
Member: $700
Non-Member: $800
Late (Received after August 5)
Member: $800
Non-Member: $800
Click here to register ONLINE for the 2019 NDLI 
Click here for PAPER registration.
Topics covered will include:
 Defender Leadership in Criminal Justice Reform
 Race and Community Engagement
 Coaching Approach to Leadership
 Leading a Diverse Workforce
 Leadership in Changing Political Climate
Registration      Travel & Accommodations    Agenda    Conference Overview