U.S. Department of Housing and Urban Development
Emergency Solutions Grants Program & Civil Legal Aid Programs:
Administrative Barriers & Promising Practices
The U.S. Department of Housing and Urban Development (HUD) Emergency Solutions Grants (ESG) program plays a crucial role in assisting people to quickly regain housing stability in permanent housing after experiencing a housing crisis and/or homelessness. ESG allows its recipients to use funds for legal assistance. Unfortunately, there are several unintended administrative barriers to using ESG for legal assistance, when civil legal aid programs are ESG recipients.
NLADA and Kofman & Associates, LLC have been working together to compile best practice findings from civil legal aid programs. This page provides resource information for programs and communities interested in learning about promising practices to navigate those barriers and to get people the legal help they need to get and stay housed. Please see the factsheets below.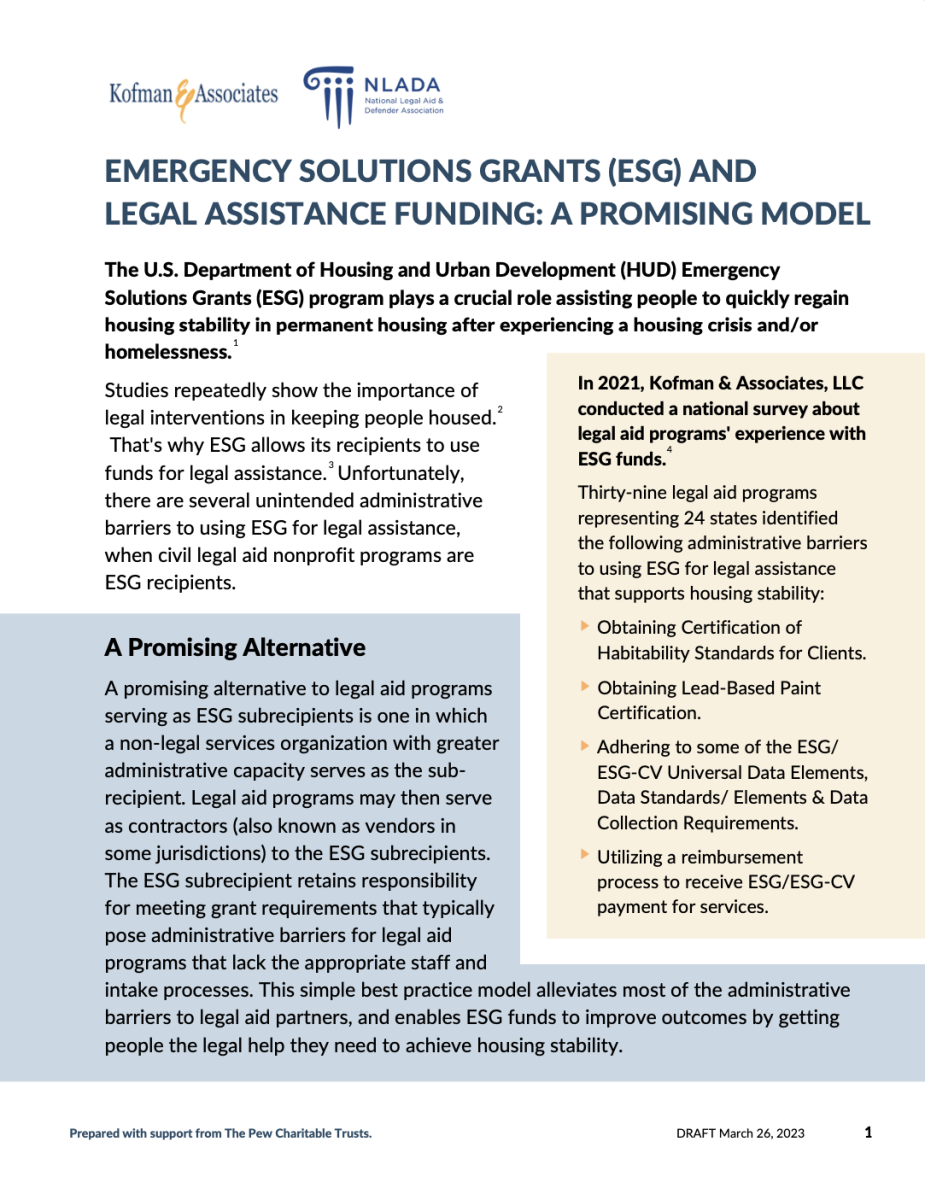 Emerging Solutions for the ESG Grant Program: Highlighting a Promising Model for Legal Aid Providers
The National Legal Aid and Defender Association (NLADA) and Enfuse Action Collective held an interactive Webinar that highlighted promising practices in Tompkins and Steuben Counties in New York State that could be emulated in other communities around the country to address some of the barriers facing legal aid providers with the Emergency Solutions Grant (ESG). Watch the webinar below.
Our Hosts
Larisa Kofman, co-founder/managing partner in the Esnfuse Action Collective
Larisa has 20+ years of experience with business management and operations, public policy, systemic alignment & capacity building, protocol design, technical assistance, training, and resource development on national, state, and local levels. She has worked on issues including gender-based violence, homelessness/housing, LGBTQIA+, employment/labor, disability, civil rights, criminal justice, custody, child welfare, and appropriations and has been instrumental in the Violence Against Women Act (VAWA) Reauthorization efforts since 2005. She is a national expert on VAWA, providing technical assistance, training, and resource development to a range of stakeholders. She has developed cross-sector partnerships, bridging national siloed fields of gender-based violence and homelessness/housing, elevating housing stabilization and model practices. She spearheaded evaluation efforts of innovative collaboration models, including developing and conducting cross-sector coalition evaluations, local community evaluations, and national needs assessments on a range of housing stabilization issues. Larisa has served on the Board of Directors for several organizations and currently serves as an adjunct Associate Professor at the University of Maryland Global College. Larisa holds a law degree from the University of Maryland School of Law, and a Master of Arts in Teaching from the University of Southern California.
Luise Stone, Senior Program Associate at NLADA
Luise Stone started her career in Germany, her home country, where she graduated with the LLB from Potsdam University in 2012. From 2012 to 2017 she worked for various refugee and immigrant organizations on integration and resettlement and later joined the team of a member of parliament of the German Government as the Special Deputy Assistant. After immigrating to the US in 2017, Luise served immigrant survivors of gender-based violence at the Legal Aid Society of Middle TN and the Cumberlands, and later continued her education at American University Washington College of Law, graduating with an LLM in Human Rights and Humanitarian Law in 2021. She sits on several boards of national and community organizations related to international relations, gender-based violence and development. Since May 2022 Luise has been on the civil legal services team at NLADA, providing technical assistance and training to legal services providers across the country.
Our Panelists
Linda Camoin,Bureau of Housing and Support Services, NY
Linda Camoin has worked for the Office of Temporary and Disability Assistance (OTDA) since 2007 and is currently an Assistant Director for the Bureau of Housing and Support Services (BHSS). In her duties as an Assistant Director, Ms. Camoin oversees all homeless services programs at OTDA, including federally and state funded programs, and helps staff the Balance of State Continuum of Care (NY525). Prior to joining OTDA, she worked for ten years for NYS Assembly Program and Counsel. Ms. Camoin holds a Bachelor of Arts Degree in Sociology from SUNY Geneseo and a Master of Public Administration from Rockefeller College of Public Affairs and Policy at the State University of New York at Albany.
Tompkin County
Keith J. McCafferty, Esq., Managing Attorney of the Ithaca office of Legal Assistance of Western New York, Inc. (LawNY)
Mr. McCafferty joined LawNY in 1986 as a staff attorney in the organization's Geneva office. Over the years, Mr. McCafferty has served as Managing Attorney and as LawNY's regional Director of Operations. He served as an elected delegate to the New York State Bar Association (NYSBA) House of Delegates from 2012 to 2016, on the NYSBA Nominating Committee from 2015 to 2017, and on the NYSBA Committee on Diversity and Inclusion from 2016 to 2019. Mr. McCafferty graduated from the University of Utah, S.J. Quinney College of Law, in 1985, and from the University of Notre Dame in 1982, and was admitted to practice in New York State, and in the U.S. District Court, Western District of New York, in 1986.
Marty Gold, Program Development Specialist
Marty Gold has been working on the ESG-CV grant since its inception in Tompkins County, NY. Marty has over 40 years of experience in management, training, and consultation in the not-for-profit and public sectors focused on housing and employment services, grant writing, staff development, compliance/quality insurance, program evaluation, and training and technical assistance. Prior to Tompkins County Department of Social Services, Marty's work history included Challenge Workforce Solutions and Cornell University Employment and Disability Institute in Ithaca, NY, and the Institute for Community Inclusion in Boston, MA. Marty is a graduate of Boston University where she received her master's degree in Rehabilitation Counseling.
Steuben County
Deana Bodnar, Deputy Commissioner Tompkins County Department of Social Services
Deana Bodnar has worked at Tompkins County Department of Social Services for 18 years.  During the first 13 years, she served as the Program Development Specialist and focused on grant writing, program evaluation and data analysis. During this time, she was involved in the initial implementation of Homeless Prevention and Rapid Re-housing Program (HPRP) in 2009.  Bodner continued in implementation of Solutions to End Homelessness Program (STEHP), funded through NYS OTDA, which is funded in part by HUD ESG.  She became Deputy Commissioner in 2018 and has continued her involvement with the STEHP, while also assisting with the implementation and administration of the ESGCV program during the pandemic.
Mackenzie Stratton, Clinical Coordinator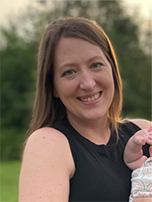 Mackenzie Stratton received her bachelor's degree in social work at Keuka College in Penn Yan, NY and her MSW at Temple University School of Social Work in 2017. She began her human services career in 2013 as a Transportation Specialist at the Institute for Human Services. Mackenzie graduated with her bachelor's degree in 2013 from Keuka College and began working at Pro Action of Steuben & Yates. In 2017 Mackenzie graduated from Temple University with her master's in social work and began at Hillside Children's Agency as a clinician. Later, she accepted a position at Glove House Inc. to develop and launch a program in the Elmira City School District. The program was successfully implemented in all 13 schools and Mackenzie was recognized with a Community Improvement Award. She went on to run the Glove House Community Residence, an OMH Facility that housed children suffering from mental illness. In 2021 Mackenzie joined the Steuben County Department of Social Services as the Clinical Coordinator with oversight of the multidisciplinary team, BILT (Building Independence for the Long-Term Team), Adult Protective Services and Homeless Services, and providing assessment and support on Child Welfare Matters.
Lise Reynolds, Deputy Commissioner, Steuben County
(No headshot or bio)
Kathryn Muller, Commissioner of Social Services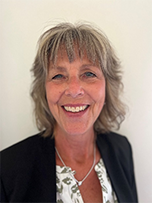 Kathryn is a Licensed Certified Social Worker through NYS Department of Education and holds a master's degree from Arizona State University. She has served as Clinical Coordinator for the STARS Program at St. Joseph's Hospital in Elmira, NY and began her career with Steuben County with the Department of Community Services. She served as a Staff Social Worker and was instrumental in its expansion into a Community Mental Health Center, later serving as Director. In 2000, Kathryn was appointed to her current position. In her tenure she has continued to improve and expand services through collaboration and incorporating preventive services, resulting in a 50% decrease in foster care placements. Additionally, believing that results are obtained from a holistic approach to service delivery, a behavioral health unit was added to the Department offering mental health, substance abuse, and domestic violence services with provisions to address basic needs including employment and training. She served as the President of the New York Public Welfare Association (NYPWA) in 2020 and led the charge to lay new foundations in revising service delivery while supporting leadership and staff throughout the Covid-19 pandemic. Kathryn serves on the Board of Directors for multiple agencies and area hospitals, participates in the New York State Association of Counties and continues her membership in the NYPWA.