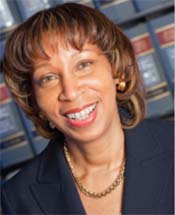 As President & CEO of the National Legal Aid & Defender Association (NLADA), I am honored to lead an organization charged with advancing the idea that the bedrock principles of our justice system – fairness and equality – should apply equally to every American, that the quality of justice you receive should not depend on your race, gender or the amount of money you have. This is indispensible to the American promise of equal justice under law, but we fail in this aspiration every time a person stands before a judge without adequate defense counsel, or when an overburdened legal aid program is forced to turn away people in desperate need of assistance. This year  has seen repeated threats to these principles, each of which has challenged our resolve as a community and our commitment to this shared mission.
However, we have risen to the occasion. Faced with devastating natural disasters, an historic crackdown on immigrant communities, threats to legal aid funding, the ever-present reality of mass incarceration, police brutality and increasingly severe racial, xenophobic and homophobic bigotry, our community has rallied together in defense of our clients, our communities, our families and our nation. Together, we have come to the aid of those devastated in the wake of Hurricanes Harvey, Maria and Irma, challenged deportations, fought for tenants' rights to counsel and made progress towards equitable demarcation.
The current environment is confirming the critical role that legal aid and public defense play in fulfilling the promise of equal justice for all. Opposition to the elimination of the Legal Services Corporation poured in from every segment of the legal community and beyond.  Conversations about ending our country's over-reliance on incarceration are increasingly lead by public defense leaders as they crystallize into action at the local and national levels. With a growing force of civil legal aid and public defense advocates, the system must confront the criminalization of poverty.
As we look forward to next year, we have our work cut out for us. At the same time, we as a community and as a movement for a more equitable and fair justice system are growing stronger each day. We are poised and prepared to meet next year's inevitable challenges with the same power and success that we did this year.
It is more than our prerogative to fight for continued and expanded access to justice and fair treatment for all, regardless of race or class. It is our duty and our responsibility as attorneys and as Americans.
Jo-Ann Wallace, Esq.
NLADA President and CEO