A key initiative of Defender Legal Services (DLS) is expanding the research capacity of public defenders across the country. We help public defense agencies use data and research to provide quality public defense services to clients, advocate for much-needed funding, and promote systems-level reform. DLS educates and trains defenders on research, develops tools and resources to improve data collection and analysis and provides technical assistance on a broad range of relevant issues. A hallmark of NLADA's approach is to connect defense practitioners with other types of practitioners who are interested in improving public defense systems.
For example, our three Defender Research Consortium (DRC) gatherings held between 2015 and 2017 brought together defenders, social workers and paralegals with researchers, analysts, technologists, policy makers, and others, to discuss ways to increase and improve research about public defense systems. These highly interactive meetings featured workgroups that tackled topics such as incorporating client perspectives in public defense research, improving defender program analytics capacity, and identifying quality metrics. Under NLADA's guidance, attendees at the meetings developed a national set of indicators to assess quality in public defense services, an effort that spanned the three meetings. The DRC meetings also sparked creation of several papers, available for download below, that help defenders make evidence-based and data-driven decisions to improve public defense systems nationwide.
For more information, contact Alison Bloomquist, Vice President of Strategic Alliances and Innovation, at [email protected]. 
Key Resources
---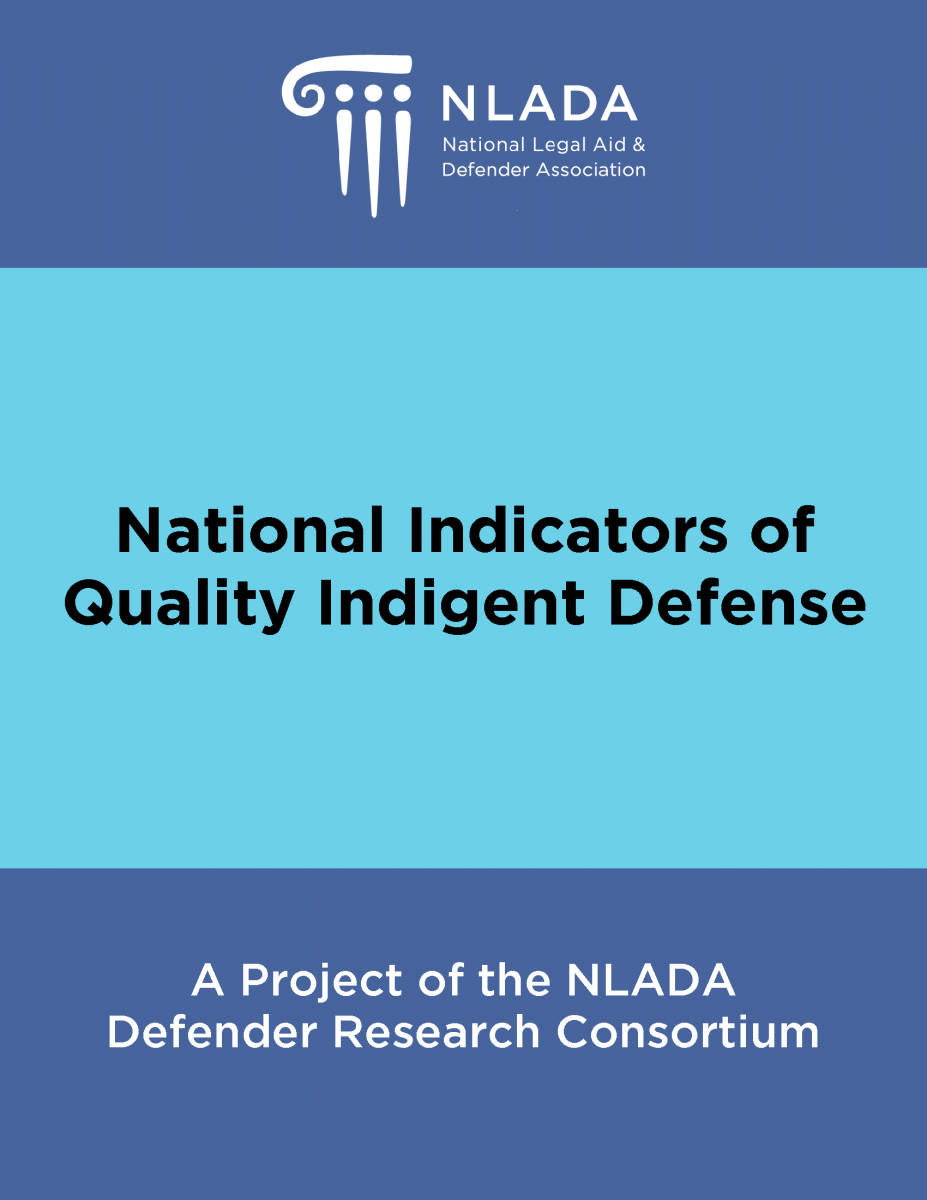 National Indicators of Quality Indigent Defense: A Project of the NLADA Defender Research Consortium – This guide sets out the nationally applicable set of "quality indicators" for indigent defense programs resulting from discussions at NLADA's Defender Research Consortium meetings. The quality indicators correspond to core practice principles that any defender program will recognize, and can either adopt wholesale or adapt to local practice nuances. The indicators are intended to equip defender program leaders with evidence-based information that can: serve as an organizing framework for defender training; act as a checklist of practice expectations for staff; help educate funders about defense practice and why certain resources, e.g., social workers, are needed; inform individual attorney performance reviews; and allow for data aggregation that unveils patterns, or trends, on a host of program performance queries. 
 
---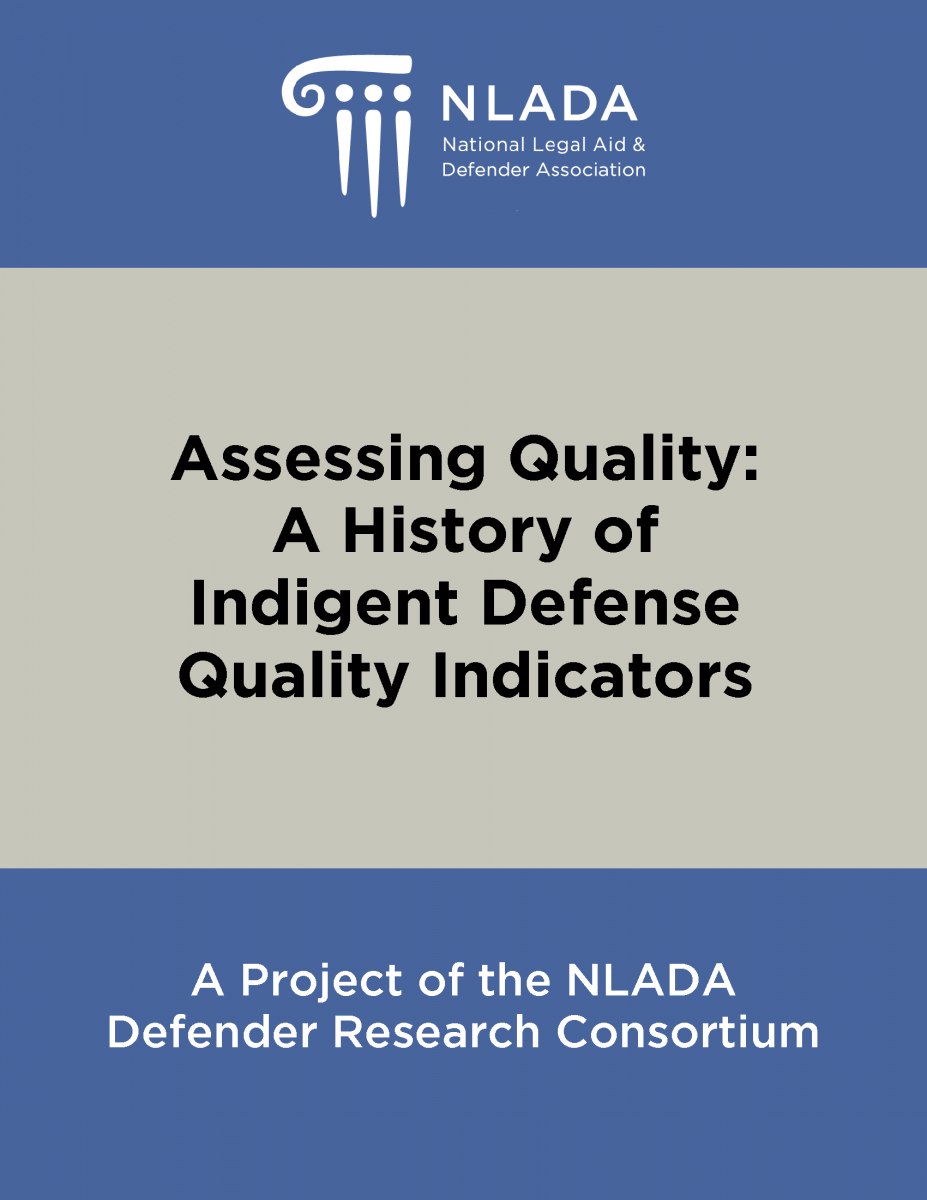 Assessing Quality: A History of Indigent Defense Quality Indicators – A companion piece to the National Indicators of Quality Indigent Defense, this paper traces the development of public defense system performance in the twenty-first century. The paper includes a review of groundbreaking work and differing approaches taken to indicators development over the past two decades, and takes an in-depth look at the work of NLADA's Defender Research Consortium in producing the National Indicators. 
---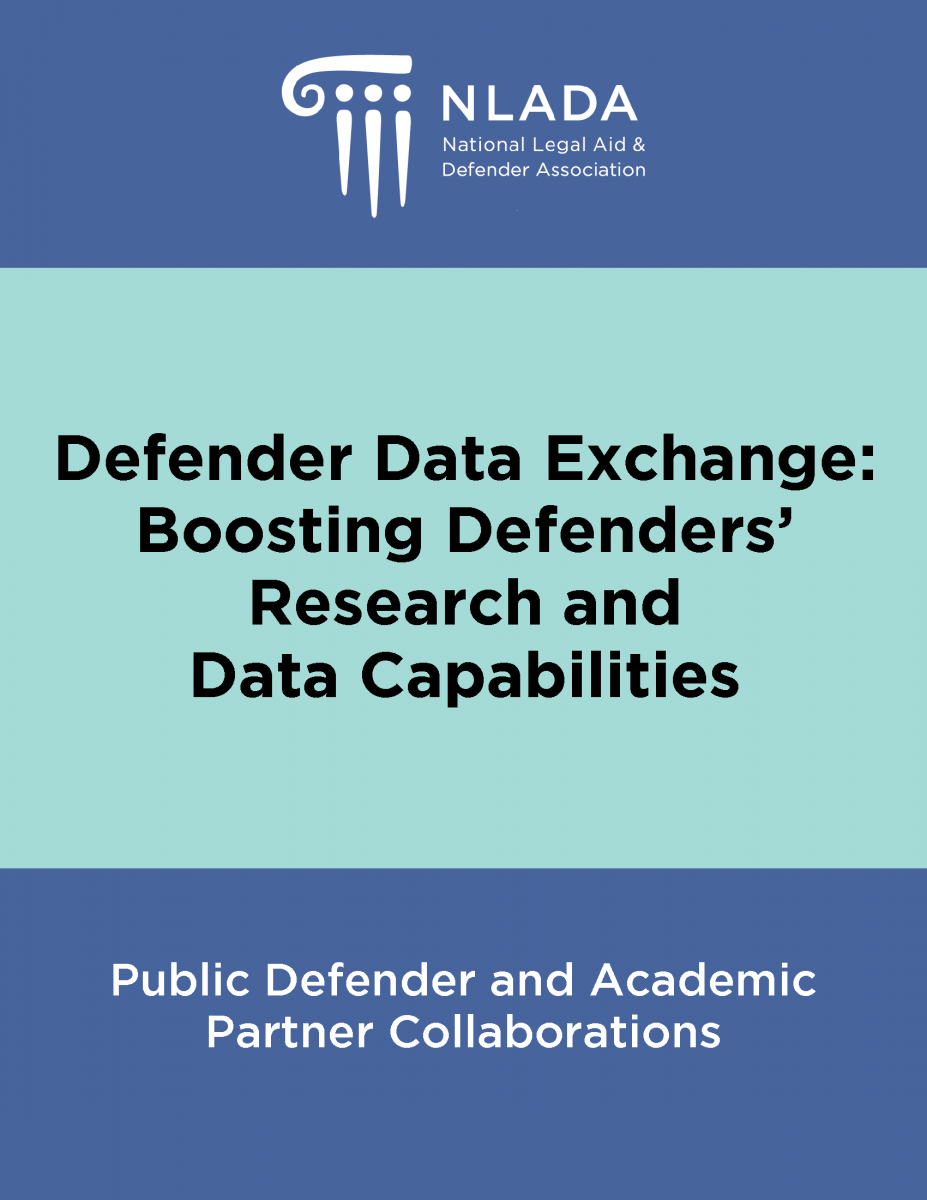 Defender Data Exchange: Boosting Defenders' Research and Data Capabilities – Aimed at defenders in need of research capacity and academic programs in need of real-world data to study, this resource describes the "Defender Data Exchange" (DDX), an innovative set of approaches to increasing defender programs' research capacity at little to no cost through partnerships with academic institutions. The guide presents examples of past and ongoing partnerships undertaken by defenders around the country. 
---
Incorporating Client Perspectives into Indigent Defense Research: A Guide for Practitioners – This paper was written by four researchers following their discussion about the growing desire for capturing defender client input during a working group session at the September 2017 Defender Research Consortium convening. The paper guides readers through the core administrative and planning phases involved in designing and conducting a research project to assess client satisfaction of indigent defense services. 
---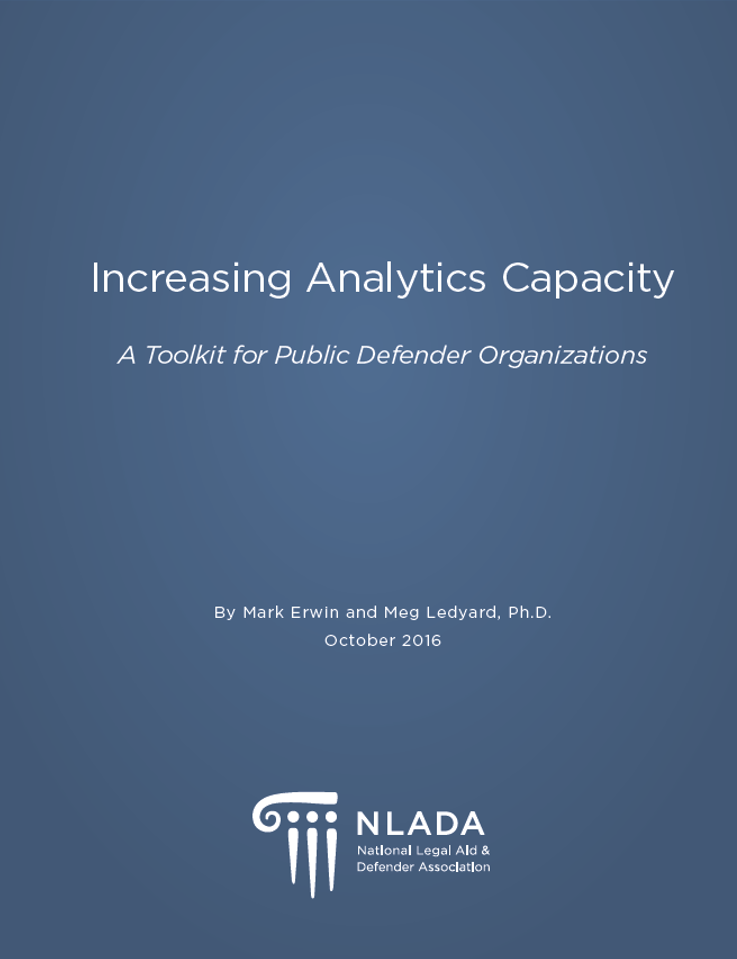 Increasing Analytics Capacity: A Toolkit for Public Defender Organizations – This toolkit, written by Meg Ledyard and Mark Erwin of Travis County, TX, offers a "maturity model" for understanding the data analytics capacity of indigent defense systems. Defenders can use its self-assessment tool to identify their strengths and weaknesses in five domains of analytics maturity: technology; analytics; people and skill; governance and collaboration; and adequate funding. Real-world examples of case management system requirements, data visualization tools, performance measures, and terms of a data-sharing agreement provide building blocks for defenders developing their own programs for analyzing data about their organizations.
---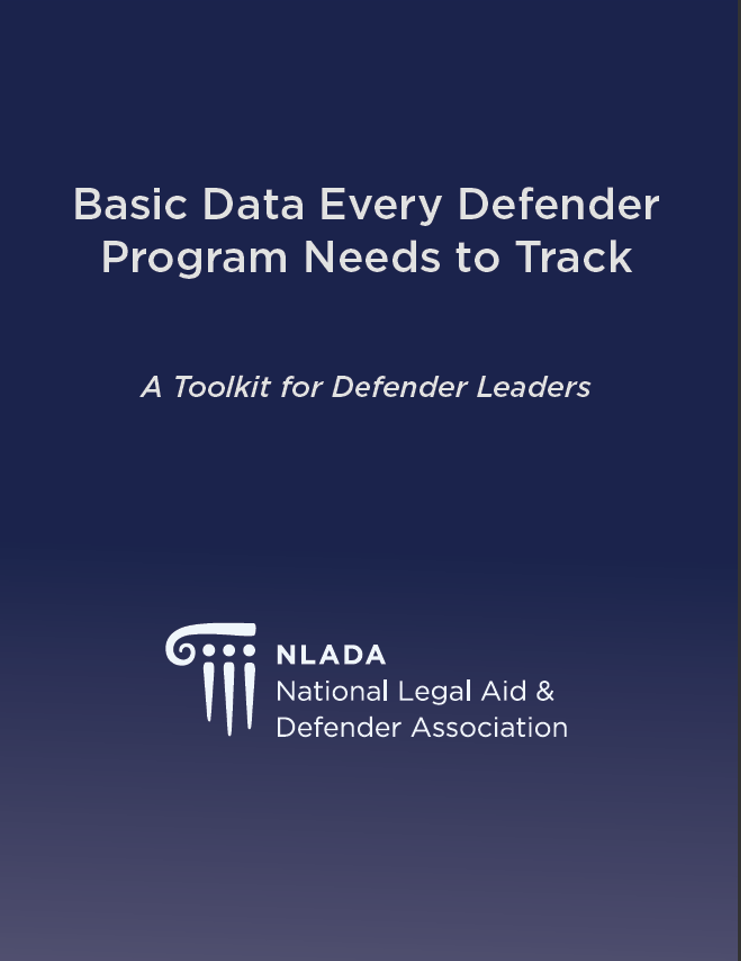 Basic Data Every Defender Program Needs to Track: A Toolkit for Defender Leaders – This toolkit highlights the importance of data collection for defender offices. It identifies key information for defender leaders to collect and offers tips on how to compile that material and guidance on using it for self-evaluation and advocacy. The toolkit is targeted to managers of all types of indigent defense programs, including public defender offices, assigned counsel programs, and contract counsel programs. It includes a list of data points to be collected, promising practices for data collection, and screenshots from electronic case management systems.
---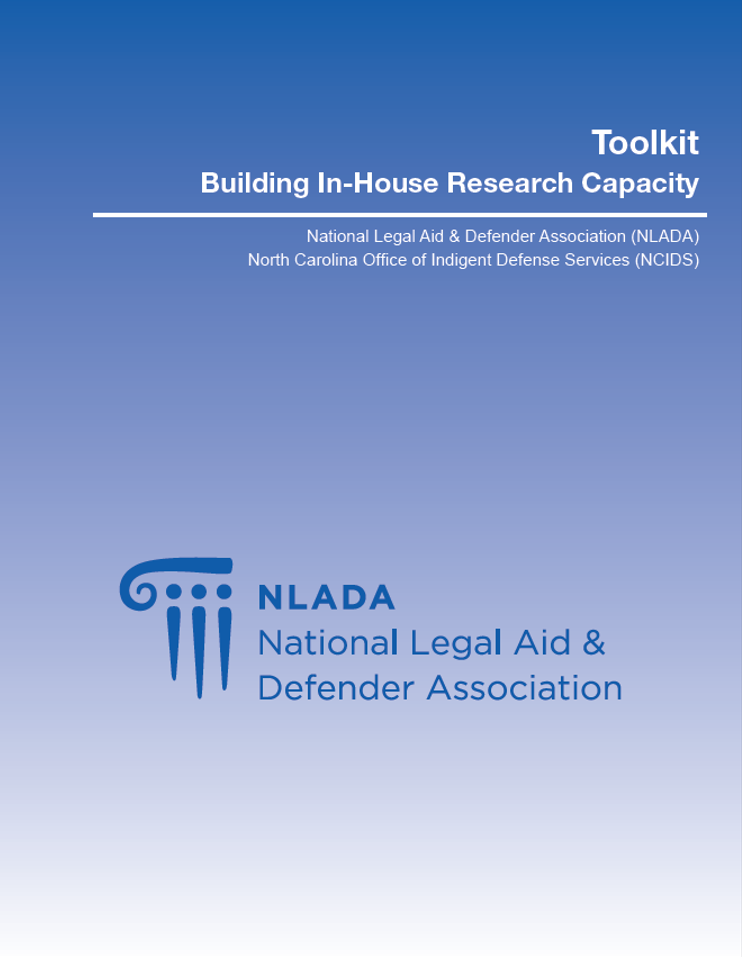 Building In-House Research Capacity Toolkit – This handbook provides defender leaders with the tools necessary to set up in-house research positions at public defense agencies. The toolkit provides a framework to help defender leaders hire in-house researchers and identify necessary qualifications and responsibilities and includes a planning guide, sample job postings, and a sample research website. It also offers guidance regarding potential research partnerships, equipment needed for research, possible funding sources, and success stories.
---
North Carolina Systems Evaluation Project (NCSEP) – NLADA is a proud partner of the NCSEP Pilot Project, an initiative spearheaded by the North Carolina Office of Indigent Defense Services and funded by the Open Society Foundations. NCSEP defines the goals and objectives of a quality indigent defense system, as well as potential metrics to quantify system and client outcomes. This multi-state pilot project uses the metrics developed through NCSEP to conduct meaningful state-by-state comparisons of system performance and client outcomes.