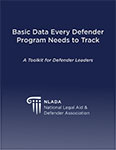 The Basic Data toolkit, released late in 2014, highlights the importance of data collection for defender offices.  It identifies key information for defender leaders to collect, tips on how to compile that material, and guidance on using it for self-evaluation and advocacy. Ultimately, better use of data can make defender programs stronger advocates for their clients.
The toolkit is targeted to managers of all types of indigent defense programs, including public defender offices, assigned counsel programs, and contract counsel programs. It recognizes that, because of the wide variety in size, resources and administrative capacity among defender organizations, there is no "one size fits all" strategy. Instead, the toolkit provides a range of strategies and options that offices can match to their situations.
The toolkit includes a list of data points to be collected, promising practices for data collection, and screenshots from electronic case management systems. It also presents the success story of the South Carolina Office of Indigent Defense, which implemented a case management system and used the resulting data to increase efficiency, identify patterns, and build the legislature's confidence in, and funding for, its work.
Related Resources:
Building In-House Research Capacity: This toolkit, developed by the NLADA and North Carolina Systems Evaluation Project (NCSEP), provides defenders with the tools to advocate for and to set up in-house research positions.
The North Carolina Systems Evaluation Project: NCSEP has developed performance measures that would evaluate system outcomes and enable defense agencies to assess, with empirical data, how well the indigent defense system meets the needs of our clients, the criminal justice system, and the community.