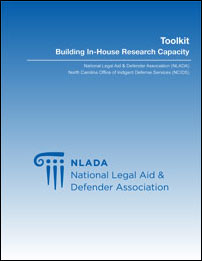 Defender leaders need empirical data for planning, managing, and advocating effectively for public defense funding and for criminal justice policies that make sense. Defender practitioners need empirical data to strengthen their advocacy for individual clients. 
One of the main obstacles to having a research function within public defense agencies is the lack of trained research personnel on staff to set up data-collection infrastructures and implement data-driven reform and policy analysis. The Building In-House Research Capacity toolkit provides defenders with tools to advocate for and to set up in-house research positions.  It helps defender leaders develop a framework for hiring a researcher and gives offices other information they need to hire a researcher and to advocate for funding to add a researcher and/or equipment.
While in-house research capacity is ideal, not all offices may be able to develop such capacity due to size, funding, or other constraints. Accordingly, the toolkit also contains a section that gives guidance on developing research capacity though external partnerships.
This toolkit examines topics such as:
Building Research Capacity

What Can a Researcher Do for Me?
Collaborations with External Researchers
Funding Your Researcher

Research Department Planning Guide
Sample Job Postings, Sample Research Products, and Sample Research Website
Success Stories
Download a copy of Building In-House Research Capacity