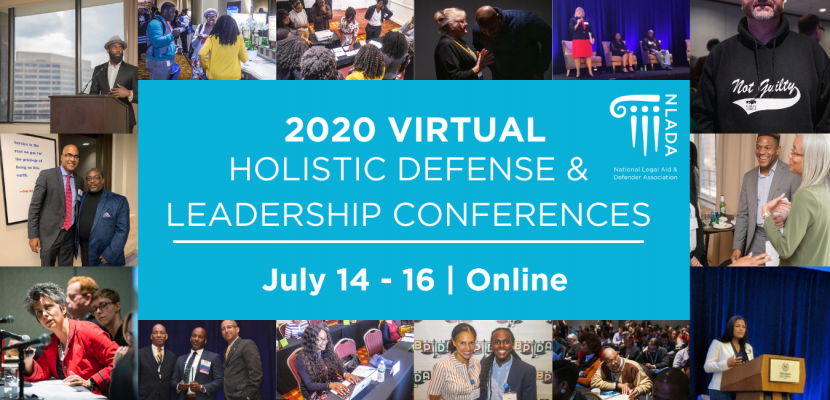 Conference
Tuesday, July 14, 2020 3:00 pm to Thursday, July 16, 2020 7:00 pm
Online - All times are Eastern Time
THIS EVENT HAS CONCLUDED
Similar to previous years, the 2020 Holistic Defense & Leadership Conferences (HDLC), consisted of three different events:
The American Council of Chief Defenders (ACCD) Summer Conference - Where chief public defenders come to engage in discussions about new issues facing public defenders across the nation and exchange ideas on effective approaches to public defense leadership.
The Community-Oriented Defender (COD) Network Conference - A networking and training opportunity for community-oriented defenders, exploring community-based holistic defense programs and national advocacy.

The Black Public Defender Association (BPDA) Conference - Where Black public defenders, who identify with and are committed to the populations they serve, gather and use the opportunity to train, dialogue and network with each other.
This year's HDLC was your three-day learning opportunity to grow and collaborate with experts. Attendees heard from several amazing speakers, such as Jonathan Rapping, President & Founder of Gideons Promise; Jeffery Robinson, Deputy Legal Director and Director of the Trone Center for Justice and Equality of the American Civil Liberties Union and more!
CLICK TO LEARN MORE ABOUT THE 2020 VIRTUAL HDLC