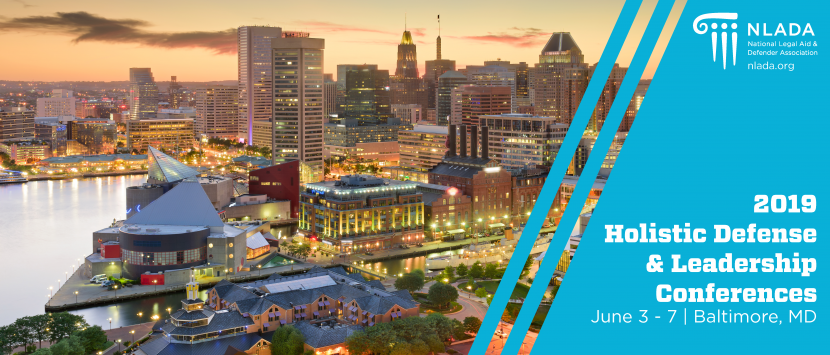 Conference
Monday, June 03, 2019 8:30 am to Friday, June 07, 2019 5:00 pm
ADVANCE REGISTRATION IS CLOSED. You can still attend NASAMS, COD, and/or BPDA, but you must register and pay onsite. (Sorry, but the Certificate class is sold out.)
To save time onsite, download and complete a registration form and bring it and payment with you to the conference.
The NASAMS schedule (subject to change) is here.
The COD schedule (subject to change) is here.
The BPDA schedule (subject to change) is here.
The Holistic Defense & Leadership Conferences offer a week-long learning opportunity for public defenders. The four events: (1) Mitigation Certificate Training; (2) NASAMS Conference; (3) COD Network Conference and (4) Black Public Defender Association Conference will explore issues concerning holistic defense practice, social work and mitigation practice and diversity and inclusion. In addition to traditional workshops, participants have the opportunity to engage with peers and experts during discussion/innovation labs, networking dinners and more! The conference offerings include the following:
The NASAMS Fundamentals of Mitigation Certificate Program (NASAMS Certificate)
The program will open with registration/check-in at 8:00 a.m. on Monday, June 3, and the formal program will begin with small group coffee metings at 8:30 a.m.
This program will provide participants with training from nationally recognized experts in the field. The small class size will ensure quality instruction, coaching and hands-on learning. In addition, participants will receive sample materials, organizational tools, sample reports and E-tools to assist with their practice. This is an intensive training offered to beginners or professionals who want to refresh their mitigation skills.
The Certificate training program is sold out.
Opens 8:30 a.m. on June 3 and closes at 5:00 p.m. on June 4. Registration for NASAMS conference is included with the Certificate program registration.
National Alliance of Sentencing Advocates & Mitigation Specialists (NASAMS) Conference - The NASAMS Conference offers an opportunity for social workers and mitigation specialists who work with the public defender community to receive cutting edge training from experienced and nationally recognized experts.
The NASAMS Conference schedule is now available. Click here for all the details!
Opens 3:00 p.m. on June 3 and closes at 5:00 p.m. on June 4.
Community-Oriented Defender (COD) Network Conference - provides training from holistic practitioners and experts on community-based holistic defense programs. It is the leading annual event for holistic defenders because it provides networking and learning opportunities for COD members as well as strategizing about national advocacy efforts.
The COD Conference schedule is now available. Click here for all the details!
Opens 8:30 a.m. on June 5 and closes at 1:15 p.m. on June 6.
The Black Public Defender Association (BPDA) Conference - provides skills-based training, professional development and leadership training. This is the first conference for the new BPDA section of NLADA, and it offers attendees the opportunity to train, dialogue and network with other black public defenders. The goal of BPDA is to improve the quality of defense provided to low-income communities across the United States by creating and maintaining a national network of skilled Black public defenders who identify with and are committed to the populations they serve.
The basic BPDA schedule is available here. Session descriptions and presenter details are still to be added.
Opens 4:00 p.m. on June 6 and closes at 2:00 p.m. on June 7.
___________________________________________________________
All conference events will be at the Sheraton Inner Harbor Hotel
 

 

 

Sheraton Inner Harbor Hotel

300 South Charles Street

Baltimore, MD 21201

410-962-8300
Registration     Travel and Accommodations   Featured Speakers     Scholarship Information