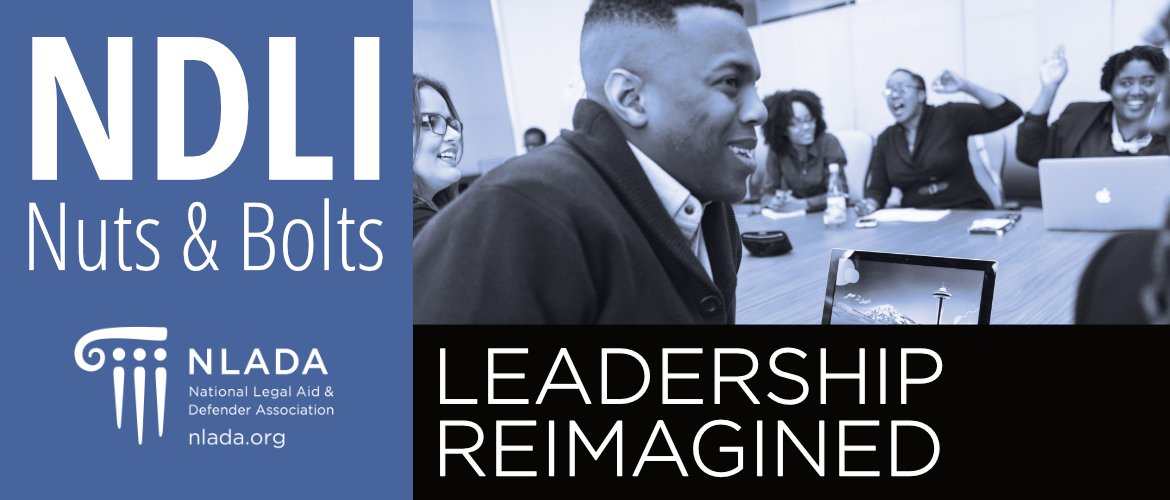 Monday, September 13, 2021 12:00 pm

to

Wednesday, September 15, 2021 6:00 pm
The National Defender Leadership Institute [NDLI] is an initiative of the National Legal Aid & Defender Association (NLADA), a non profit membership association dedicated to quality legal representation for those who cannot afford counsel. NDLI has three primary goals: 1) to provide cutting-edge management and leadership training programs for all public defense systems and leaders; 2) to build a national network of defender leaders; and 3) to support research and data collection that informs local, state, and national public policy debates. This training, networking and research to strengthen leadership will ensure that more public defense systems function efficiently and promote equal justice under the law. 
BRING YOUR LEADERSHIP CHALLENGE
Prior to arriving at the conference, you will be asked to write a short summary of a leadership challenge or goal to work on throughout the conference. The purpose for this mandatory
pre-conference assignment is to provide structured opportunities to apply the skill sets taught in the plenary sessions. Individualized coaching will take place in small working
groups of participants facilitated by experienced public defense leaders. You will receive personal attention with time to explore the different dimensions of your leadership
challenge/goal, assess your needs, and work closely with others to develop your individualized plan for success.
Who Should Attend?
Defenders new to or transitioning to leadership positions or responsibilities
Lawyer and non-lawyer supervisors and managers in public defense offices or systems
Assigned/appointed/contract counsel who have supervisory or management responsibilities
Defenders (lawyers and non-lawyers) interested in becoming managers and leaders in their offices or communities
This Training Will Help You:
 Identify and develop your leadership skills by building on your existing advocacy skills
 Identify new strategies for building stronger teams inside the office and helpful coalitions outside yourorganization
 Hear about leadership challenges from across the country and collectively strategize ways to approach lasting resolutions

Co-Sponsored by the Office of Missouri State Public Defender