Training
Sunday, January 22, 2017 12:00 am to Sunday, January 22, 2017 12:00 am
Civil legal aid is eligible for millions of federal grant dollars each year. Could your program use help unlocking these funds? Join NLADA in New Orleans at the Downtown Marriot at the Convention Center January 22, 2017, and get in the know. This training is sold out and registration is closed.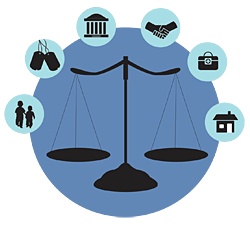 Partnering with community-based organizations on federal grants can be a highly effective way to serve your clients and strengthen your organization. NLADA is hosting a series of intensive regional trainings for civil legal aid providers on how to successfully apply for and implement non-LSC federal funds.
Featuring representatives from federal agencies and community organizations partnering with legal aid programs, the trainings will facilitate sharing and brainstorming on:
Best practices for securing federal grants
Developing successful and sustainable partnerships
Incorporating a legal aid component into various federal programs
Effectively communicating legal aid's role in advancing the mission of federal agencies
Each training is open to all providers of civil legal aid. We will focus on specific funding that holds great potential for legal aid in each region, as well as discuss how both large and small legal aid providers can overcome challenges to successfully partnering on federal programs.
This full-day training is $100 for NLADA members, $125 for non-members.
See Our 2016-17 Schedule
January 22: New Orleans, LA
This training is sold out, and registration is now closed.
For more information, contact Arielle Altman by email: [email protected].
Click here for our workshop descriptions.
Past Event: May 11 – Chicago, IL
Click here to view our Chicago training program book and agenda.
Past Event: July 8 – Park City, UT
Click here to view our Utah training program book and agenda.
Past Event: December 1-2, Baltimore, MD
Click here for view our Baltimore training program book and agenda.
These events are funded by generous support from The Kresge Foundation and the Public Welfare Foundation.