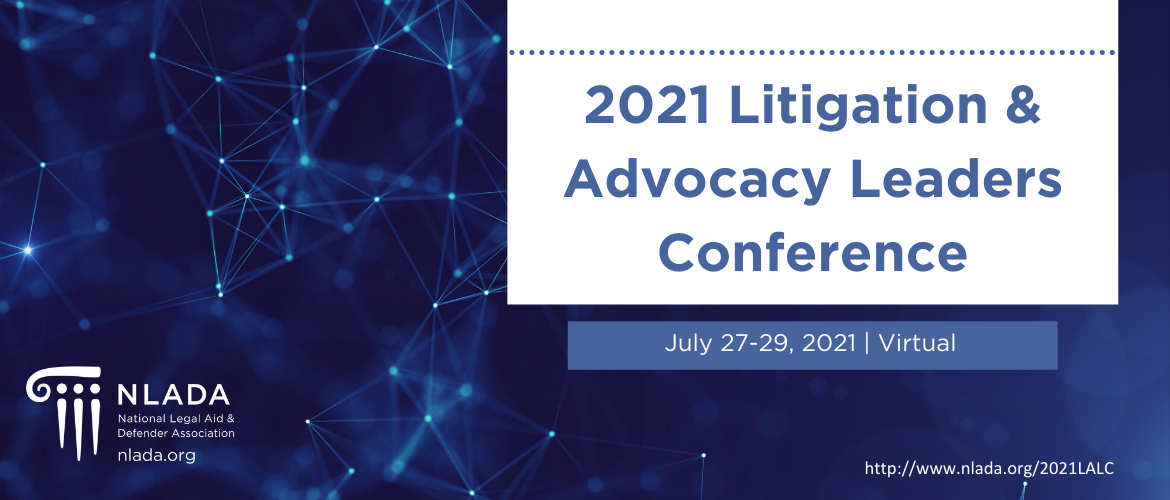 Conference
Tuesday, July 27, 2021 12:00 pm to Thursday, July 29, 2021 5:00 pm
CONFERENCE OVERVIEW
NLADA's Litigation and Advocacy Leaders Conference brings together civil legal aid and civil rights practitioners from across the country to learn from each other and share strategies to address critical issues affecting low-income people and communities, through litigation, strategic advocacy, and other tactics. This year's program is informed by insights from program directors and national subject matter experts, litigators, and policy advocates. Programming will address urgent and emergent issues in the face of the ongoing pandemic, the fight for racial equity, and the current political and judicial context.
Who Should Attend?
This conference is designed for those who help set and implement an advocacy agenda, as well as those taking on new leadership roles in their civil legal aid or civil rights organizations. This is a not-to-be-missed opportunity for emerging leaders and managing attorneys, in addition to experienced advocacy directors, senior litigators and policy analysts. Conference Goals Litigation and Advocacy Leaders.
During registration, you will have the choice to select between a two-day and three-day rate. Programming during Day 1 and 2 is open to the public, and Day 3 is limited to advocacy leaders within the civil legal aid community, including those in organizations providing direct legal services, as well as those closely connected to them in national substantive law and policy centers. Eligibility will be verified to attend this portion.
Conference Focus
Racial Justice, Coronavirus response, anti-poverty: Attendees will gain new perspectives, skills and renewed energy for representation of low-income clients.
Building communities at the national, regional and local levels, including reaching out to community-based organizations and civil rights groups.
Programming will cover management, partnerships, substantive law and strategic advocacy including on issues related to public benefits and safety net programs, the evictions crisis, immigration, civil rights and racially equitable service delivery.