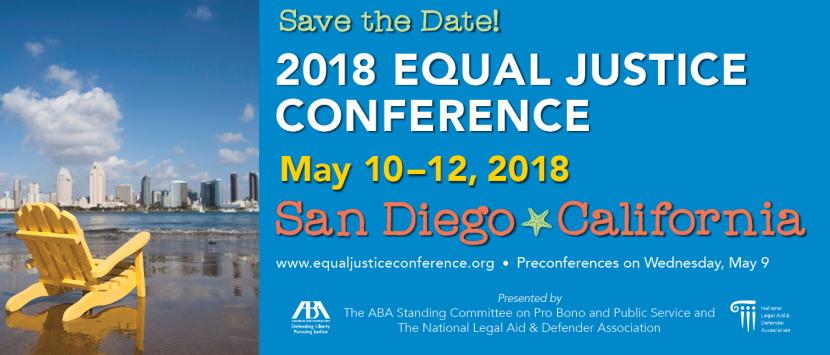 Conference
Thursday, May 10, 2018 7:30 am to Saturday, May 12, 2018 11:30 am
Co‐sponsor(s):
American Bar Association (ABA)
Highlights from the 2018 Equal Justice Conference!
The Equal Justice Conference joins all components of the civil legal aid community to discuss and address issues related to the delivery of legal services to low-income individuals in need of legal assistance. Inspiring keynote speakers, multiple networking opportunities, more than 85 CLE sessions, and a wide selection of low or no cost preconference programs are just some reasons not to miss this year's Equal Justice Conference.
If you have questions about the 2018 Equal Justice Conference, please contact [email protected].
NLADA Pre-Conference Session
NLADA and the Community Legal Services of Philadelphia are teaming up to present the "Creating Opportunity through Criminal Record-Clearing" pre-conference session. Do not pass up this great opportunity to learn about establishing and growing a record expungement/sealing practice.  
Wednesday, May 9 | 8:30 a.m. - 6:00 p.m.
Record clearing, through expungement, sealing, and other legal remedies, is a perfect fit for pro bono initiatives as well as law school clinics, civil legal aid programs, and defender programs. Representation is usually brief and time limited, and the cases are relatively easy. The demand for these legal services is overwhelming, as an estimated one out of three American adults has a criminal record, many of which are eligible for clearing. And the benefits to the clients are great. An expunged or sealed record removes an intractable barrier to employment, housing, and education. These life-changing results and overjoyed clients make record-clearing practice extremely satisfying for lawyers. This preconference will address issues common across the 50 states in establishing and growing an expungement/sealing practice. This full day training session is $100 for NLADA members and $125 for non-members (*registration includes breakfast and lunch*).
For more information, click here.
Membership Discount
Current ABA Individual Members and NLADA Individual or Program Members receive a 15 percent discount on registration for the Equal Justice Conference.
Join NLADA here or contact NLADA at [email protected] for more information.
You do not need to be an ABA or NLADA member to register for this conference.
Important Dates
April 3, 2018 - Normal registration ends. Registration prices are subject to increase onsite after Tuesday, April 3, 2018.
Hotel Information
Hilton San Diego Bayfront
1 Park Blvd.
San Diego CA 92101
The Conference room rate is $209 exclusive of tax. Reservations must be made by Tuesday, April 3, 2018, at 5:00 p.m. (Central Time). The special room rate will be available until April 3 or until the group block is sold-out, whichever comes first. All reservations shall be guaranteed by credit card or deposit check. Individuals with guaranteed reservations must cancel their reservations 72 hours before the scheduled day of arrival to avoid a one-night cancellation charge.