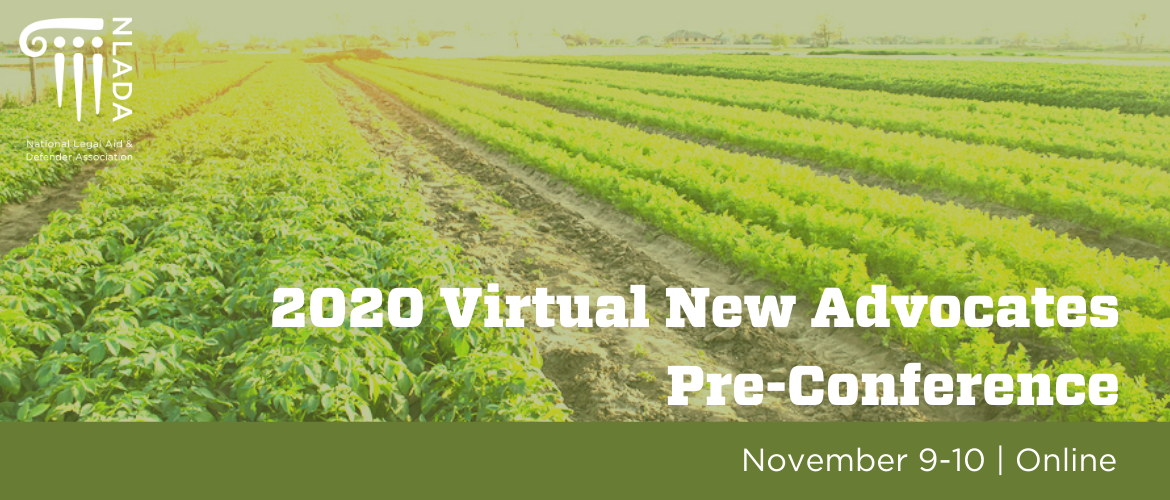 Conference
Monday, November 09, 2020 11:00 am to Wednesday, November 11, 2020 6:00 pm
The National Farmworker Law Conference (NFLC), co-hosted by the National Legal Aid & Defender Association (NLADA) and Farmworker Justice, is a biennial event that gives farmworker advocates the opportunity to obtain solid and intensive training on issues of critical importance to the representation of migrant and seasonal farmworkers, and to learn from each other's experiences. Attendees will learn the status of the law, hear about new approaches to legal representation, and get a "refresher" on the broad range of issues encountered in this unique area.
New Advocates Virtual Training Overview
New Advocates Training  (Beginner)   - Day One Track 1 will involve traditional, lecture-style presentations by experienced farmworker advocates and will provide new advocates with a thorough grounding in the legal protections governing farmworkers, with useful annotated outlines.
Presenters:  Lakshmi Ramakrishnan, Texas RioGrande Legal Aid; Caitlin Ryland, Legal Aid of North Carolina 
 New Advocates Training (Advanced) - Day One Track 2 will help advocates who have mastered basic farmworker law principles develop strategies for using them to meaningfully represent farmworkers whose rights have been violated. Participants will devise strategies for addressing common problems faced by both domestic and H-2A farmworkers, both through litigation and alternative means. Advocates will consider the benefits and limitations of various litigation approaches and examine important strategic issues arising in farmworker cases. Because there are rarely single right answers for most real-life situations, Track 2 will be conducted in a discussion style format.
Presenters: Michael Dale, Northwest Workers' Justice Project; Greg Schell, Southern Migrant Legal Services