HOTEL INFORMATION
B Ocean Resort
1140 Seabreeze Blvd.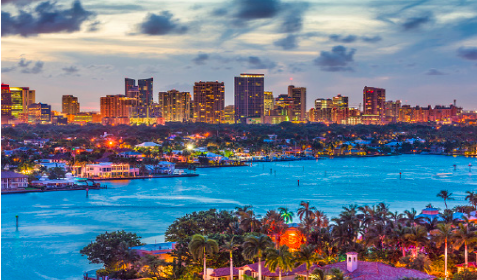 Fort Lauderdale, FL 33316 Telephone: 954-564-1000
B First to experience the newly renovated B Ocean Resort located directly on the white sands of Fort Lauderdale beach. B Ocean Resort is one of only four hotels in the entire destination where guests can sip, savor and enjoy food & beverage offerings while in the comfort of their beachside loungers with a service staff available to ensure your day will B Memorable, Relaxing, and Carefree. B Ocean Resort features FreeBTM Wi-Fi throughout the entire hotel, including all three towers, public areas, at either pool or while sitting on the beach basking in the beauty of the Atlantic Ocean.
Fort Lauderdale makes it easy to find the unique treasures that are more than your typical souvenir. The nearby area has a wide variety of shopping options to satisfy even the most avid shopper. Charming Las Olas Boulevard is the best destination for everything from fashion boutiques and art galleries, to memorable restaurants, sidewalk cafés and clubs.
Make your Hotel Reservations Today   Hotel Website
GUEST ROOMS
The rooms at B Ocean Resort allows guests to stay in style while in Fort Lauderdale! The full-service resort, which features 481 guest rooms and suites, offers the most desirable amenities and incredible views of either the Atlantic Ocean, the Intracoastal waterway or the dazzling Fort Lauderdale city skyline.
ACCOMMODATIONS
NLADA has arranged special rates for attendees staying at the B Ocean Resort: $118 single/double (inclusive of resort fee per night exclusive of sales tax at 11 percent). The deadline for reservations is June 22, 2018. After June 22, requests for reservations will be accepted on a space and rate availability basis.
Access the online link for hotel reservations here or call B Ocean Resort 954-564-1000 and use the conference code: NLADA.
All reservations must be guaranteed by credit card or deposit. Be sure to inform the reservations representative that you are with the NLADA Litigation and Advocacy Leaders Conference to secure the discounted rate. Also, specify your preference for a non-smoking or smoking room. Check-in starts at 4:00 p.m. and check-out is at 11:00 a.m.
ACCESSIBILITY
B Ocean Resort is fully accessible for people with restricted mobility and has ADA-compliant guestrooms. Arrangements for a guestroom that meets your specific requirements should be requested when making your reservation. Please specify on the registration form or notify the NLADA Training Department of any physical challenge that may affect your participation in this conference.
PARKING
For guests' convenience, B Ocean Resort provides valet and self-parking with easy indoor access to the hotel. In order
to gain access to the Fort Lauderdale resort parking deck, guests and visitors must first register with the front desk. For your convenience, they offer several parking options for you to choose from when you arrive:
Day Self-Parking $15.00 / Day Valet Parking $20.00
Overnight Self-Parking $35.00 / Overnight Valet Parking $39.00
AIR TRANSPORTATION
Situated in the heart of Fort Lauderdale, B Ocean Resort offers a convenient location for visitors traveling by many modes. Just eight miles and only about a 15-minute drive from Fort Lauderdale's airport (FLL) and less than an hour from Miami International Airport (MIA).
Taxis, shuttles and private car services are
plentiful at both airports, and you'll also find all the major rental car companies. Those arriving by car will appreciate the hotel's proximity to Interstate 95—and for boaters, the marina is less than a mile away.
GROUND TRANSPORTATION
The hotel does not provide shuttle service. Fort Lauderdale has several transportation companies that offer fast and convenient round-the-clock service to and from Fort Lauderdale's airport— everything from limos to vans to buses. You can also choose a car rental company. The average fare from Fort Lauderdale Airport to the resort is $20-25. Lyft and Uber Shared Rides services are available to/from Fort Lauderdale. Alternatively GO Airport Shuttle provides a "zone" fare from the Airport to the resort. For more information, contact GO Airport Shuttle at 954-561-8888 or 800-244-8252.
CAR RENTAL
Avis, the official rental car agency for this conference, will extend participants a five percent discount on a lower promotional rate. These special rates include unlimited mileage. To make reservations, call Avis toll-free at 800-331-1600 and use reservation code: NLADA.
BY WATERWAY
One of the most delightful ways to get around the Fort Lauderdale area is by water taxi, which will take you on a city tour along the impressive Intracoastal Waterway. The water taxi terminal is only three blocks away from the resort. Please visit www.watertaxi.com for more information.
WEATHER
Outside temperatures range from the low-to mid-80s. Meeting rooms may be cool, so dress in comfortable layers.
Hotel Reservations  Hotel Website Overview  Registration Accommodations Schedule Preconferences