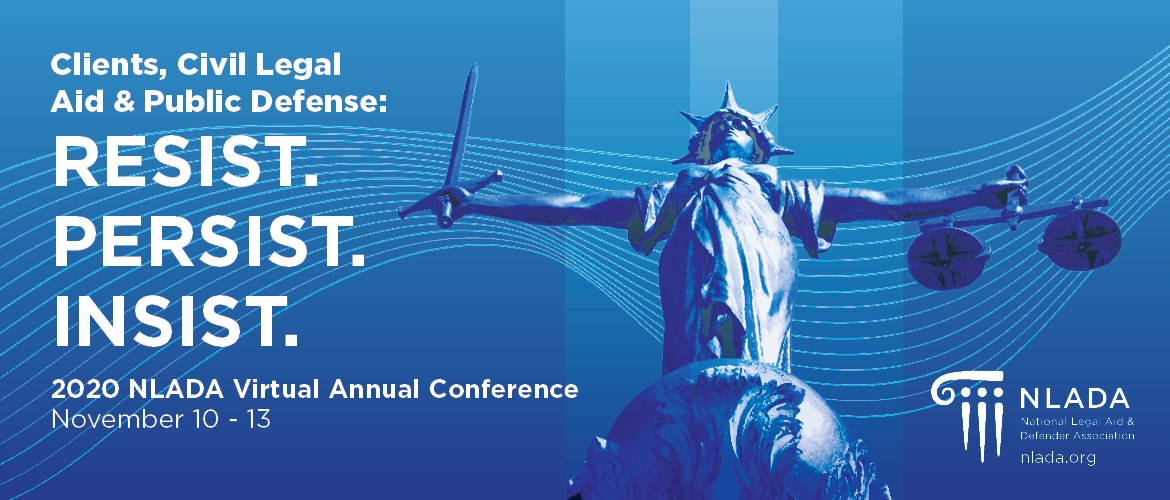 A Racial Justice Lens
This year, we have seen a renewed reckoning with racial injustice, and NLADA is hopeful for the opportunity to dismantle the racism and legacy of white supremacy that plagues our country. While we are searching for new bold ways to create a path forward to advancing racial equity, one thing we know for sure – we are much stronger when we work together as a community to tackle societal challenges. All of our workshops this year are presented through a race equity lens and will take place with that priority in mind.
We are now collecting Certifcate of Attendance forms and will report your attendance in those states that have provided accreditation. Visit the Annual Conference dropbox for instructions on completing the form and how to self-apply in those states that require self-applications. Be sure to read the CLE instructions before completing your Certificate of Attendance. The deadline to submit certificates is December 15.  Click here to access the Certificate form.
Workshop Evaluation Links
Click on a session title to go to that session's evaluation form
Tuesday, November 10
12:30-2:00 p.m. Sessions
Tuesday, November 10
2:15-3:45 p.m. Sessions
Wednesday, November 11
1:45-3:15 p.m. Sessions
Wednesday, November 11
3:45-5:15 p.m. Sessions
Thursday, November 12
12:00-1:30 p.m. Sessions
Thursday, November 12
1:45-3:15 p.m. Sessions
Thursday, November 12
3:45-5:15 p.m. Sessions
Friday, November 13
12:00-1:30 p.m. Sessions
Friday, November 13
3:05-4:30 p.m. Session
Registration  Awards  Pre-Conference Trainings  Social Activities  Speakers  Conference Homepage