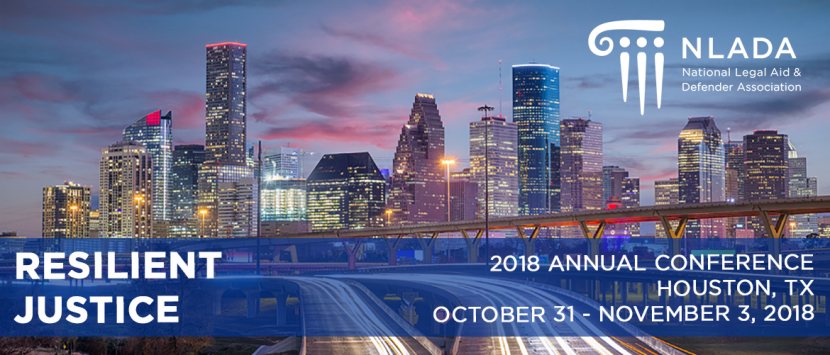 Featured Speakers
NLADA's 2018 Annual Conference, Resilient Justice, is the leading national training event of the year for the civil legal aid, public defense and public interest law communities. The reason why our conference is such an educational and fulfilling experience is because of the caliber of its speakers and educators. Below are some of the many seasoned practitioners who will be participating in this year's conference.
Commissioner Rodney Ellis
During his career in public service, Commissioner Ellis has worked hard to ensure that children have equal access to a quality education, regardless of where they reside. He also has spearheaded legislation to provide employees with a safe workplace, access to affordable health care and a living wage. In criminal justice, he has fought for reforms that guarantee equal treatment for everyone under the law. It's his cardinal belief that guilt and innocence must never be dependent on one's income, gender, race or ethnicity.
He believes the role of government is to ensure that all people have the opportunity and ability to build a better future for themselves. As Harris County Commissioner, he is dedicated to providing quality and accessible services and programs that will enhance the lives of people in Precinct One and fighting for reforms that will benefit all Harris County residents.
Before joining the Texas Senate in 1990, Commissioner Ellis served three terms on the Houston City Council and as chief of staff to the late U.S. Congressman Mickey Leland. He holds a bachelor's degree from Texas Southern University, a master's degree from the Lyndon B. Johnson School of Public Affairs, and a law degree from the University of Texas School of Law. Commissioner Ellis also studied at Xavier University in New Orleans and the London School of Economics.
Ellis will deliver the keynote address during the Opening Plenary of this year's conference.
Max Laun
As vice president and general counsel, Max Laun oversees the day-to-day operations of Arconic's legal activities worldwide. Previously, he was assistant general counsel, mergers and acquisitions. Max began his career as an attorney in Alcoa's legal group in Pittsburgh more than 25 years ago. He has practiced law in several areas, most notably mergers and acquisitions, energy and general commercial counseling. He has served as lead counsel on several highly visible mergers and acquisitions and divestitures, including the Ma'aden-Alcoa Project, the disposition of Alcoa's Packaging business and transactions in China, Russia, Latin America, Italy and elsewhere in Europe. Max was named counsel/general attorney in 1994, progressed to senior counsel in 2001 and then to assistant general counsel in 2009.
Max graduated cum laude in 1983 with a degree in History and Russian from Rice University in Houston, Texas. He served as a Fulbright Scholar in Romania from 1983-1985, studying the history of World War I. In 1988, he graduated magna cum laude from the University of Pittsburgh School of Law. While there, he served as articles editor of the Law Review and was selected for membership in the Order of the Coif and the Order of the Barristers, two national, honorary scholastic societies recognizing high distinction for scholarly accomplishments and for excelling in advocacy programs.
Max served as a board member and board president for Neighborhood Legal Services, the free legal aid provider in the four-county Pittsburgh region, and he serves on the board of the Pennsylvania Legal Aid Network (PLAN), which oversees all of the legal aid providers in Pennsylvania. He was appointed by the Pennsylvania Supreme Court to serve on the Pennsylvania Continuing Legal Education Board. He is the incoming chair of the Corporate Advisory Committee of the National Legal Aid & Defender Association (NLADA) and is a member of the Advisory Board of the Center for International Legal Education of the University of Pittsburgh School of Law.
Laun will deliver remarks during the Opening Plenary of this year's conference.
Judge Lora Livingston
Judge Lora Livingston is a 1982 graduate of the UCLA School of Law. She began her legal career as a Reginald Heber Smith Community Lawyer Fellow assigned to the Legal Aid Society of Central Texas in Austin. After completion of the two-year fellowship program, she continued to work in the area of poverty law until 1988 when she entered private practice with the law firm of Joel B. Bennett, PC. In 1993, she and S. Gail Parr formed a partnership and opened the law firm of Livingston & Parr. She was engaged in a general civil litigation practice with an emphasis on family law. In January 1995, she was sworn in as an associate judge for the District Courts of Travis County, Texas. After her successful election, Judge Livingston was sworn in as judge of the 261st District Court in January 1999. She is the first African American woman to serve on a district court in Travis County. Since 2011, she has served as the Local Administrative Judge for the Travis County Courts. Judge Livingston has been active in local, state and national bar association activities, and she is a frequent speaker at continuing education programs. She served as Dean for the Texas Collage for New Judges from 2008-2014.
In 1992, she received the Outstanding Attorney award from the Travis County Women Lawyers Association. In 2005, she received both the Texas Access to Justice Commission Pro Bono Champion Award and the Texas Equal Access to Justice Foundation Harold F. Kleinman Award. Judge Livingston was also the recipient of the Texas Center for the Judiciary Exemplary Judicial Faculty Award for 2005-2006 and again for 2008-2009. She was awarded the Women of Distinction Award in 2006 by the Lonestar Girl Scouts Council and the Community Service Award in 2007 by the Austin Independent School District. An active member of the Austin community, Judge Livingston has served on the boards of the Ann Richards School for Young Women Leaders, Capital Area Food Bank, Austin Symphony Orchestra, Austin Tenants Council, Central East Austin Community Organization, YMCA, Austin Area Urban League and El Buen Samaritano. Judge Livingston is also a graduate of the 1999-2000 class of Leadership Austin.
Ariel Simon
As vice president, chief program and strategy officer, Ariel Simon oversees The Kresge Foundation's programs and learning and evaluation departments and leads the Foundation's Opportunity Fund. He also directs Kresge's efforts to explore new forms of cross-disciplinary and place-based work and to pursue imaginative uses of philanthropic tools, strategies and learning agendas.
Ari joined Kresge in January 2013 after five years with McKinsey & Company in Washington, D.C., where he focused on social innovation, economic development and public health. While at McKinsey, Ari was a co-author of "And the Winner is…," a study of prizes and their role in fostering innovation, and he worked with charitable foundations, nonprofits and governments across the Americas, Europe and Africa on issues of strategy, policy and advocacy, organizational effectiveness and governance.
Ari previously worked as a writer and editor for NASA's Space Shuttle Columbia Accident Report; for the United Nations Independent Inquiry Committee Investigation of the Oil-for-Food Programme; as a volunteer Red Cross paramedic in the Middle East; and as a legal researcher and writer at the Innocence Project and Williams & Connolly LLP.
Ari earned a bachelor's degree in history and science from Harvard College, a master of science in biology from Oxford University, and a juris doctorate from Stanford University.
Simon will accept an Award for Justice through Philanthropy on behalf of the Kresge Foundation.
Registration    Awards  Pre-Conference Trainings  Travel and Accommodations