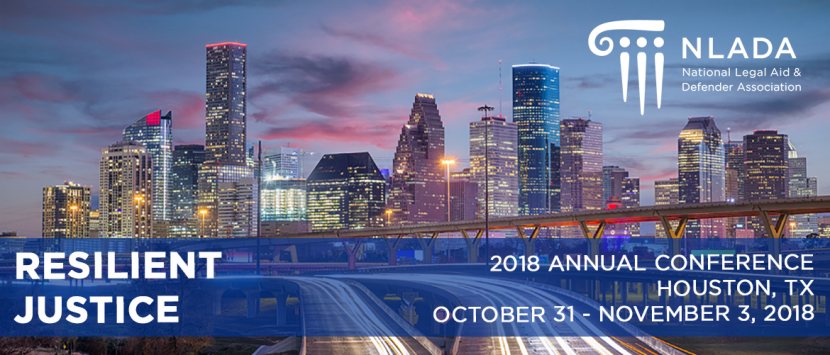 Annual Conference
Wednesday, October 31, 2018 9:00 am to Saturday, November 03, 2018 12:00 pm
Thanks to all who joined us in Houston, Texas, from October 31 - November 3, 2018 for NLADA's Annual Conference. The days were filled with educational and inspirational presentations, and we celebrated Texas Resilience throughout the week. Watch the video below for a brief recap of main events and highlights of our conference!
This year, we were honored to have Commissioner Rodney Ellis of Harris County, Precinct One deliver the Keynote address at the Opening Plenary. View the video below to re-live the speech or experience it for the first time!
If you attended the conference and are looking for access to the dropbox where many workshops have materials posted, send an email to 2018 Annual Conference Dropbox with "send AC dropbox link" in the subject line, and we'll send you the link.
For a look at what you missed if you did not attend, or as a reminder for those who were there, you can still view the full program.
COMPLETE PROGRAM INFORMATION
It includes the full conferene schedule, from pre-conference trainings on Tuesday to the end of the day on Saturday. You can find session titles & descriptions along with presenter names & bios. Click here to go to the app.
Contact us at [email protected] or 202-452-0620 if you have additional questions.
Registration     Awards  Pre-Conference Trainings  Travel and Accommodations