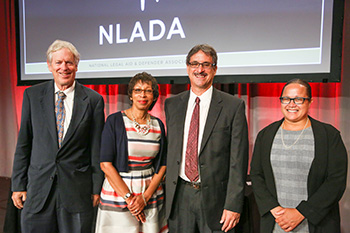 NLADA bestows the Kutak-Dodds Prizes annually at the Exemplar Award Celebration to honor the accomplishments of civil legal aid attorneys, public defenders, assigned counsel, or public interest lawyers who, through the practice of law, are significantly contributing to the enhancement of human dignity and quality of life of those individuals who are unable to afford legal representation. 
History of the Kutak-Dodds Prize
Established in 1989, the prizes are jointly sponsored by the Robert J. Kutak Foundation and NLADA and bestowed in memory of Robert J. Kutak and Kenneth R. Dodds. Both men were partners in the Omaha, Nebraska, office of Kutak-Rock and practitioners and advocates of public service, legal education, and high ethical standards throughout their lives. In addition to legal services for the poor, the Kutak Foundation supports education in professional ethics, minority scholarships, and a variety of other public interest projects. The foundation is maintained by Mr. Kutak's former friends and associates.
To submit a nomination for the 2023 Kutak-Dodds prize please CLICK HERE and to review the Criteria flyer for the 2023 Kutak-Dodds Prizes  CLICK HERE.
The 2022 Kutak-Dodds Prize Winners:
Aidin Castillo and Fred Nakamura
You can watch this year's presentation of the Kutak-Dodds Prizes on June 9th by clicking HERE. To learn more about this year's winners you can also watch their videos from the 2022 Exemplar Awards Gala ( Aidin Castillo and Fred Nakamura).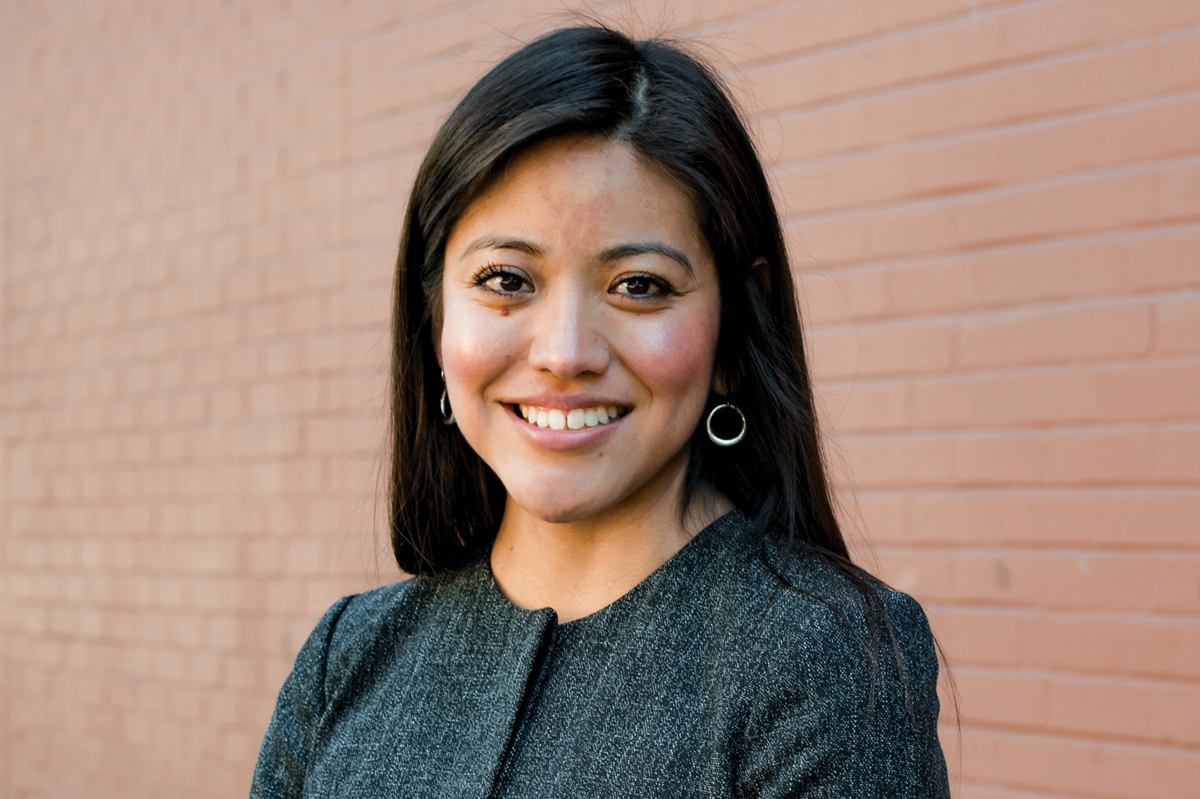 Aidin Castillo Mazantini, has been a passionate immigrants' rights advocate for nearly twenty years, and serves as the Director of Centro Legal de La Raza's Immigrants' Rights Practice. Aidin grew up as an undocumented immigrant and experienced first-hand the threat of deportation. The experience of facing removal proceedings as a child compelled Aidin to become an immigration attorney to ensure that others facing deportation would have access to legal representation. In 2011, Aidin became one of the first undocumented immigrants to be admitted to the practice of law.
As Directing Attorney at Centro Legal, Aidin leads the largest removal defense practice in Northern California; a legal services pillar in the Bay Area. Under her leadership, Centro Legal provides free legal representation to thousands of immigrants in removal proceedings, including children and families, immigrants incarcerated by ICE, and survivors of violence and persecution. Throughout her career, Aidin has represented hundreds of immigrants in obtaining lawful status and citizenship, and specializes in representing immigrants who are at risk of imminent removal from the United States. She is proud to lead a dedicated and talented team that works to dismantle systems of oppression, and works to uplift the leadership of immigrants and other directly impacted communities. "It is a privilege to serve communities and families like mine; I am continuously inspired and motivated by their courage, resilience, and determination to forge a new and better future."
Aidin's commitment to immigrants' rights also includes years of advocacy and policy work. As a staff attorney at the Immigrant Legal Resource Center (ILRC), Aidin helped launch the ILRC's national immigration policy office in Washington, D.C. As a policy attorney, she drafted legislation and policies to eliminate unjust immigration penalties for immigrants and to end the criminalization of immigrant communities. She also drafted implementation guidance for the Deferred Action for Childhood Arrivals (DACA), and advocacy to expand DACA.
Aidin is also a long-time advocate for undocumented immigrants pursuing higher education. As an undergraduate at the University of California, Davis, Aidin began organizing to expand access to in-state tuition and other services to immigrant students. She co-founded Scholars Promoting Education Awarenes and Knowledge (SPEAK), one of the first student-led advocacy and support groups for undocumented students in the nation. She went on to establish the DREAM Scholarship to help undocumented students pursuing law school.
Aidin also serves on the Board of Directors of the Immigrant Legal Resource Center.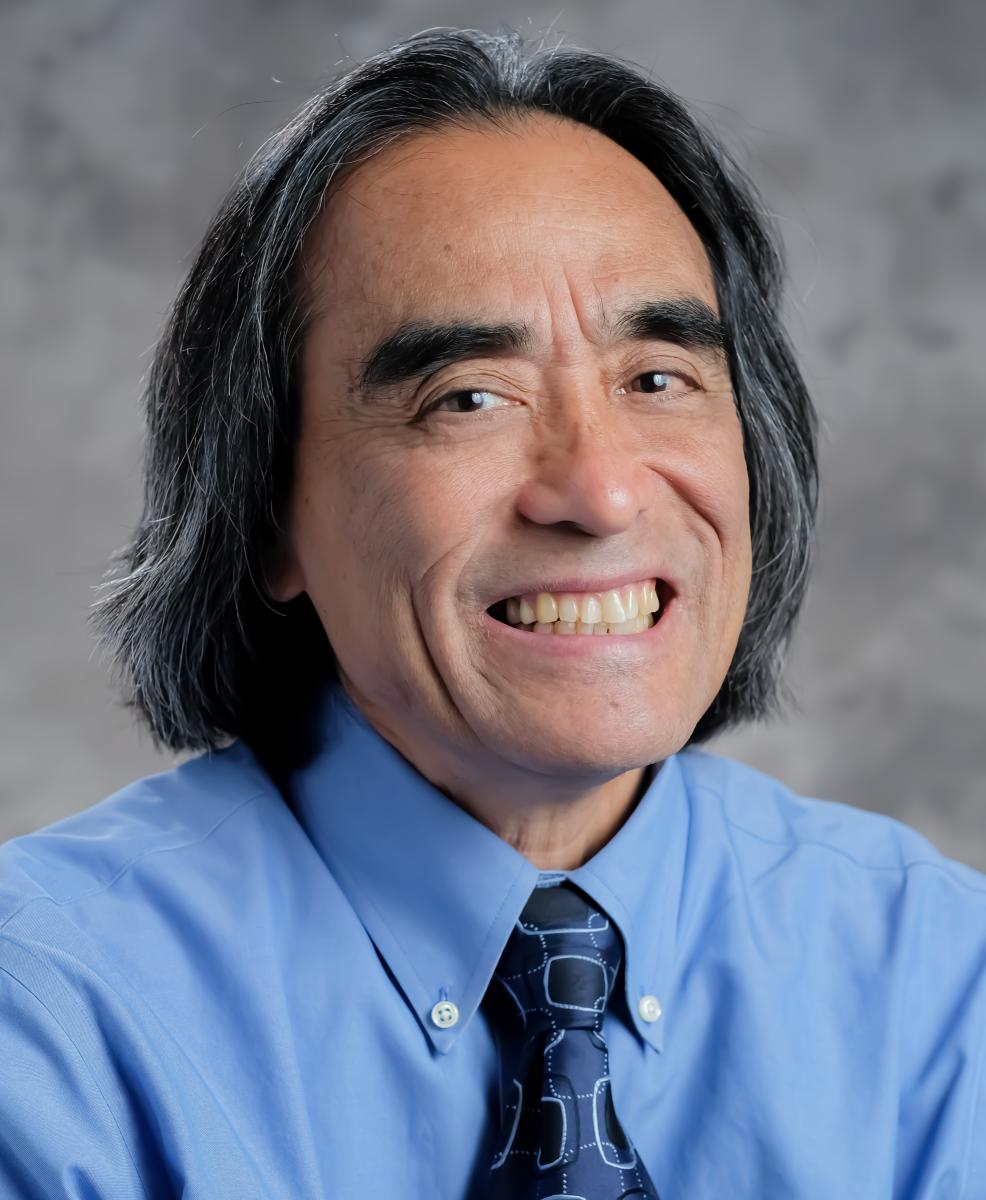 Fred Nakamura, has been assisting the underrepresented and poor of Los Angeles County and has been involved in their community struggles since 1976.  His legal career began as a VISTA volunteer with Pima County Legal Aid Society (Southern Arizona Legal Services "SALS"). He was a senior citizen outreach paralegal and worked with and was mentored by attorneys John Tull, John Ballentine, and Leslie Nelson. Recognizing his passion for social justice they encouraged him to apply to law school.  At SALS he learned how the law could be a powerful and necessary tool to help individuals and communities and picked up valuable skills working with community organizers on issues impacting their communities.  As an outreach paralegal to homebound and nursing home bound senior citizens he was exposed to the harsh living conditions of the poor and disabled.  He saw the need and importance of increasing legal services access to the most needy.
Encouraged by his mentors, he enrolled at Peoples College of Law in Los Angeles. While attending law school, he worked with the National Lawyers Guild in their Tenant Action Centers.  The Guild organized clinics to educate and to assist tenants in enforcing the newly enacted Los Angeles City Rent Stabilization Ordinance.  The clinics also trained tenant lawyers and assisted tenants with eviction defense and addressed abusive landlords and poor housing conditions.   
After law school, he worked with Neighborhood Legal Services of Los Angeles County ("NLSLA").  He learned early on the need to examine client problems from many different perspectives and he intentionally learned and worked in all the different legal units.  One of the most significant cases he worked on involved an issue that did not fit into any of the legal categories of the legal units that existed at that time. A client informed him that he was being charged for sewer fees on his water bills when he was on his own septic system.  Investigating this issue, Fred discovered that his client's neighborhood and other neighborhoods in the City were also on septic systems and not connected to the City sewer.   These neighborhoods were mostly old, unimproved and predominately minority neighborhoods.  Fred filed a claim with the City which brought mass media attention to the issue.  The media report resulted in the involvement of a local State Senator who with the assistance of NLSLA sponsored a bill to redress the blatant injustice.  The bill passed and as a result the Department of Water and Power was required to refund or credit 10 years of overcharges.  The overcharges amounted to about $10 million.
After about 9 years at NLSLA, he left to work at Legal Aid Foundation of Los Angeles to increase his involvement in the Asian-American communities.   With the skills he developed working with community organizations and on various types of cases and legal issues, he was well suited to organize and establish legal clinics in the Little Tokyo, Chinatown, Koreatown and the Thai communities.  It was Fred's mission to open and improve legal aid access to the Asian communities and especially to those with language access barriers.  Fred's work in these communities included obtaining fair relocation assistance for people displaced by community redevelopment and gentrification in Chinatown and Little Tokyo, the preservation and creation of new subsidized and affordable housing in redevelopment project areas, and  assisting tenants and small merchants in Koreatown with FEMA claims and other employment issues following the Rodney King riots.
In 2000, Fred returned to NLSLA, where he currently works as an Associate Director of Litigation and Policy. Even as an attorney in management, Fred maintains his ties to former clients, community organizations and social service organizations, to ensure they can contact him directly with basic and complex legal issues and questions.  This is where many of his significant cases come from.  One such recent case involves a 16–story apartment building in Los Angeles' Chinatown. This project based Section 202/Section 8 building for 270 elderly and disabled tenants was allowed by the owners to fall into disrepair.  In May 2021, one of the two elevators broke down and four months later the second elevator stopped working.  With no working elevators and unable to climb dozens of flights of stairs, many of the tenants were left stranded. in the building.  Tenants who used wheelchairs and/or walkers were especially vulnerable and were unable to leave their units for weeks.  After hearing of this desperate situation, Fred quickly put together a team of attorneys and paralegals to assist in interviewing residents, investigating the facts, and ensuring that emergency services and food were being provided.  Within four days NLSLA filed a lawsuit against the landlord to compel immediate repairs and for damages.  The case represents an intersection of many of Fred's legal experiences throughout the years, such as the necessity of language access due to residents speaking Taishanese, Cantonese, and Mandarin, and the importance of maintaining ties with community organizations, such as the Chinatown Community for Equitable Development who notified Fred of the situation and has also been key in obtaining assistance from the Los Angeles City Housing Department for the residents. With the pressure brought by community organizations and Fred's legal advocacy one of the elevators was repaired and the 270 affordable housing units will be brought back into habitable and safe condition.
In addition to his legal and community work, Fred sees extreme value in good mentorship and training of all legal services employees. He is always willing and open to take on opportunities to mentor new attorneys, paralegals, interns and law clerks and when he does he has them work on his best and most exciting cases as he learned as a VISTA volunteer at Southern Arizona Legal Services that the first and early years are critical to the development of a good legal services advocate. Fred's contribution to the legal services community will expand far into the future as his direct services to his clients have been life changing for them and their families and his mentorship to other advocates will influence their own success, present and future.       
Click to learn more about previous Kutak-Dodds Prize winners here. 
The 2021 Kutak-Dodds Prize winners: Teresa Enriquez and Ishmael Jaffree
If you missed the Transformational Leadership panel during NLADA's Annual Conference this November that featured Kutak-Dodds Prize winners from both 2021 and 2020 in conversation, you can CLICK HERE to watch the entire discussion. 
Teresa Enriquez, Executive Chief Assistant for Recruitment and Litigation for the Miami-Dade Public Defender's Office (PD-11), is the highest ranking Hispanic female in a Public Defender's office in Florida. She oversees the Mitigation, Intervention, and Rehabilitation Division, Capital Litigation Unit, Civil Mental Health Unit, Indefinite Civil Commitment Unit and Drug Court, regularly advising on individual case strategy and client support, as well as advocating on systemic issues inside and outside the Public Defender's office.

In her 25 years as an Assistant Public Defender, Ms. Enriquez has represented thousands of indigent clients and has earned the reputation as an excellent litigator and effective strategist who has worked tirelessly through office-wide systemic litigation to bring attention and address disparate police treatment of people living in poor communities. Teresa leads the Racial Disparities and Implicit Bias Committee and has trained new Miami-Dade police officers for years about the collateral consequences of arrest.

Teresa was motivated to become an attorney and more specifically an assistant public defender because she wanted to serve the people who lived in the neighborhoods like the ones in which she grew up. When asked what it meant for her to be the first lawyer in her family, she replied "this profession has literally given me the opportunity to do exactly what I originally set out to do- serve the people of my community, who I am especially empathetic towards because but for the grace of God, go I."

Teresa's commitment to racial justice extends beyond legal advocacy in the office and courtroom. For the past 6 years, she has been the President of Do The Right Thing, a program dedicated to recognizing students for their acts of kindness and good will and, fosters positive relationships between law enforcement and the children in the communities they serve.

Teresa also serves on the Board of Directors of Legal Services of Greater Miami, Inc. and Fountainhead Residency. She is Past President of the Miami-Chapter of the Florida Association of Criminal Defense Lawyers, Past Secretary of the League of Women Voters of Miami Dade and former member of the ABA's Standing Committee on Legal Aid and Indigent Defendants (SCLAID).

Please contact [email protected] for more information.

 

Ishmael Jaffree, has been practicing poverty law for more than 45 years. While attending Cleveland State University, he became deeply involved in social activism; at the John Marshall College of Law, Ishmael decided that he should dedicate his legal practice to service of the poor so he could help people like those he knew in his own neighborhood.

After passing the bar, Ishmael accepted an offer from the Reginald Heber Smith Fellowship program (Reggie), a congressionally enacted program designed to send young attorneys to work out of Legal Aid offices. Subsequently he was transferred to Mobile, Alabama to run the Legal Aid office.

As a staff attorney in Mobile, Ishmael actively fought for underprivileged minorities in the area. In 1989, he briefly served in the Northeast Ohio Legal Services office as Litigation Director before returning to Alabama as the Managing Director in Dohan where he remained until 2005. After 30 years with the Legal Services Corporation, Ishmael moved back to Mobile and began his own private practice.

While in private practice, Ishmael continued his dedication to the poor and disadvantaged, where his work included numerous federal cases alleging civil rights violations. During his private practice career, Ishmael also regularly accepted cases from the Mobile office of Legal Services on a pro bono basis.

In 2018, Ishmael was awarded the "Fighting for Justice Award" by Legal Services, and in 2019 was recognized for the landmark U.S. Supreme Court case Wallace v. Jaffree, regarding prayer in schools.

In 2020, after the COVID crisis struck, disproportionately affecting the poor and disadvantaged and peoples of color, Ishmael's role within Legal Services expanded as he helped introduce a pilot program to provide qualified tenants with rental assistance and attempt to prevent, through litigation, their becoming homeless. In addition, he helped facilitate the permanent placement of Legal Services personnel within the court so that judges could directly refer unrepresented defendants to receive legal assistance. And even though technically semi-retired, he maintained a caseload of well over one hundred eviction cases, often appearing in court as much as six times a week at the height of the pandemic. Through these efforts, hundreds of clients have not only been saved from eviction but have had their rental deficiencies wiped clean.

Please contact [email protected] for more information.
Past Kutak-Dodds Award Winners