NLADA Honors 2020 Beacon of Justice Award Winners
Outstanding law firms to be recognized at the Exemplar Award Celebration on September 16th
The ongoing humanitarian crisis along the U.S. southern border impacts hundreds of thousands of migrant children, women, and men seeking asylum or hoping to immigrate to the United States. Ever changing federal policies and practices have exacerbated the already challenging situations for those desperately searching for safety and the American promise of the "Blessings of Liberty." But they are not alone. The legal community has responded with their strong commitment to uphold the rule of law and safeguard the legal rights of these individuals.
The 2020 Beacon of Justice Awards honors law firms with pro bono programs vulnerable people serving vulnerable people fleeing to the U.S. border. Awardee's programs are both diverse and many, they range from helping pro se individuals better represent themselves to providing direct legal representation in family separation, removal proceedings, or detention, immigration information hotlines and so much more.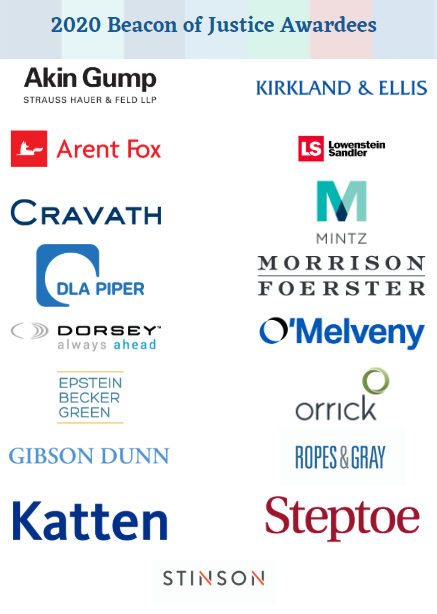 For more information, contact Chelsey Gibson, Major Gifts Officer, at [email protected].