In honor of National AmeriCorps Week March 8-14, we will be sharing why our AmeriCorps VISTA members serve each day. Below, Meagan, our VISTA member in Greenville, SC, shares how she went from juvenile detention to Corrections Officer to VISTA member.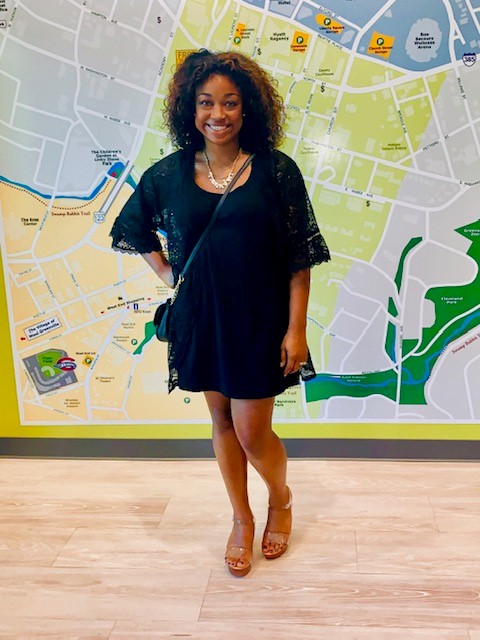 My teenage rebellion are my roots, and I made a conscious choice to water them and watch them grow. In looking back on my life and reflecting on the person I am today, I sometimes laugh because I actually can't believe it. Through AmeriCorps, I am able to further my passion for service and put everything I've ever learned into perspective -- and action. I take my mistakes, my highs, my lows, my education, and my experience and pour it all into serving my community.
Let me back up a bit. I was raised in New York City by a single mom, who for as long as I can remember worked two jobs. She made it her mission to show me the world. We would go on trips and would frequent Broadway plays and taste testing new food was our favorite past time.
I loved life in the city, so moving to South Carolina in High School was really hard. I cried every day and began getting in trouble at school. Not realizing how strict South Carolina was with school behavior and attendance, I ultimately landed in Greenville County Juvenile Jail. Because my mom worked two jobs and there was no one home to "watch" me 24/7, the judge ordered me to stay in Juvenile Jail.
At just 16 years old, I was transferred four hours from home where I stayed for almost two years. . Those two yearswere the hardest of my life, especially feeling that I had put myself there. Afterall, there were kids with nobody or no one to call – no one who cared, but I had it all and ruined it by being a rebellious teen.
Once released just before my 18th birthday, I vowed to change my life and more than anything I vowed to one day give back to  children in need by becoming a foster parent and an educator. I threw myself into pursuing an undergraduate degree in Criminal Justice. Upon graduation, I returned to South Carolina and became a Correctional Officer for the same jail that once housed me. Everything came full circle, and my life took off.  
That job further convinced me that the justice system needed a change, and I was ready and anxious to be part of that change. So I returned to college in New York City to become a teacher and social worker with an emphasis on processes and procedures. The system needed a change and I was ready to be part of that change. The next four years were full of exciting milestones: I graduated with my second degree, moved to Greenville, SC permanently, got married, became a foster and bio mom, and joined AmeriCorps.
I often get asked why I chose this path of AmeriCorps service, and my response is always, "I had no choice." Who is better suited to make a difference than one who has experienced aspects of the criminal justice system? Who is better suited than one who spent years in foster care and group homes? These are my roots, and I will not waste one second of this opportunity to inspire change.