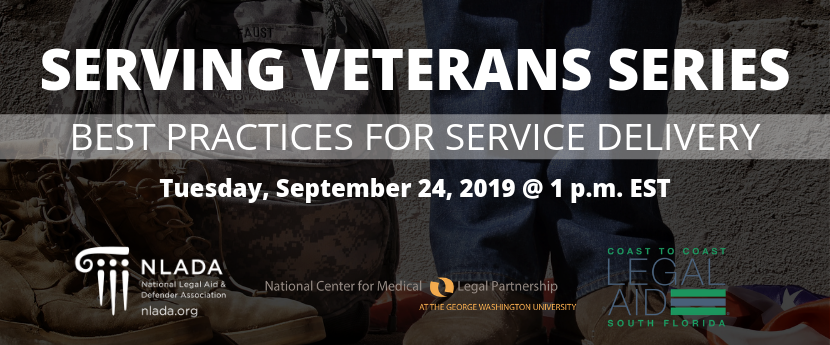 Webinar
Tuesday, September 24, 2019 1:00 pm to Tuesday, September 24, 2019 1:00 pm
Join  NLADA in our veterans webinar series, Serving Veterans: Best Practices for Service Delivery. In this webinar, we will go over how to build and run a successful medical-legal partnership (MLP) and a partnership using Supportive Services for Veteran Families (SSVF) grants. We will hear from Jen Trott at the National Center for Medical-Legal Partnership on best practices for establishing a MLP and their recent VA MLP Readiness Guide. We will also hear from Patrice Paldino from Coast to Coast Legal Aid about their partnership with the United Way for their VALOR program, which is supported by SSVF. We will have time for questions at the end.
Veterans consistently report a high number of unmet legal needs: In the VA's CHALENG survey of homeless veterans, four of the highest unmet needs were related to legal assistance. These issues were related to child support, eviction and foreclosure, restoring a driver's license, and outstanding warrants and fines. The U.S. Department of Housing and Urban Development estimates that on any given night, 37,878 veterans are homeless. An additional 1.4 million veterans considered to be at risk of homelessness due to poverty, overcrowding, and poor social networks. And almost 80 percent of homeless veterans have a mental illness or substance use disorder.
Hear in this webinar about building and running successful collaborative partnerships to address these unmet legal needs of veterans.
---
Resources
MLPs Serving Veterans: History, Growth & Progress (NCMLP) 
VA MLP Readiness Guide (NCMLP)
Extra Memorandum of Understanding (MOU) Help
Case Studies
The Law School Clinic as a Partner in a Medical-Legal Partnership (Tennessee Law Review)
---
CLICK BELOW TO REGISTER FOR THE WEBINAR