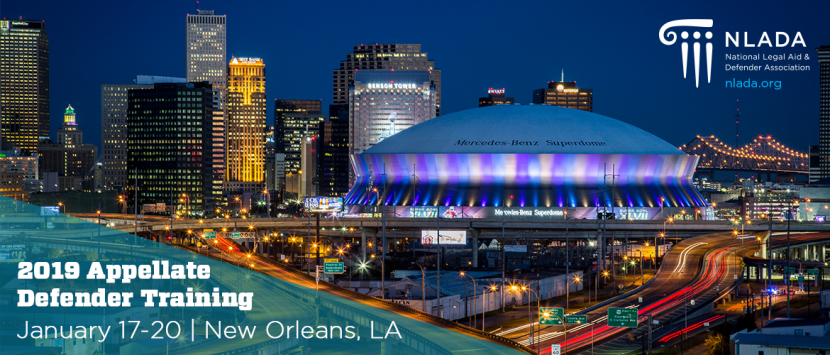 Tracks & Enrollment
This program is about improving your skills and by the end of the conference, we will have thoroughly analyzed the facts of your case, developed a persuasive story line to support your theory of defense, and you will have begun to prepare a written brief and oral argument for your case.
 
General Track: The general track is suited for any lawyer who wants to improve their writing abilities. Lawyers who sign up for this track will work with others who have similar experience levels. With the focus on small groups, lawyers of every level will benefit from focusing on how to develop their personal skills. Any lawyer who has spent time improving their writing abilities will benefit from this track
Juvenile Track: Along with the National Juvenile Defender Center, this limited enrollment track is available for attorneys who work on juvenile criminal defense cases. This is an excellent opportunity to explore juvenile defender issues with other lawyers who also defend juveniles.
Advanced Writing Track:This track is designed for lawyers who have significant experience writing appeals, in state or federal court. The faculty of this track have all appeared in the United States Supreme Court and have been involved in significant long-term litigation. This track will focus on strategies for getting review accepted to the highest court in your jurisdiction, focusing on how to write compelling issue statements.
Federal Track This track is designed for lawyers who work primarily in the federal courts. Most of the persons who attend this track are federal defenders or members of a CJA panel. The faculty for this track have extensive federal experience.
Family Defense Track: New this year, this track is designed for lawyers whose primary focus is dependency and termination appeals. The faculty for this track will include specialists in both appellate practice and family defense.
Trial Level and Special Litigation Practice: As many public defender offices begin to develop litigation practices that seek to defend the constitutional and statutory rights of our clients through broader litigation, the ability to put together complex briefs is critical. This track is excellent for lawyers who work in special litigation units and for trial lawyers who find themselves spending more time writing complex legal briefs. The faculty for this track will include lawyers who work in special litigation departments.
Enrollment is limited by the faculty size and number of meeting rooms available, on a first-come, first served basis. Registration is restricted to attorneys engaged in or about to become engaged in the appellate defense of criminal or delinquency cases. Public defenders, assigned counsel, contract defenders and CJA attorneys will receive priority.
Registration    Tracks & Enrollment  Travel and Accommodations  Training Overview