US Corporate Leadership on Goal 16: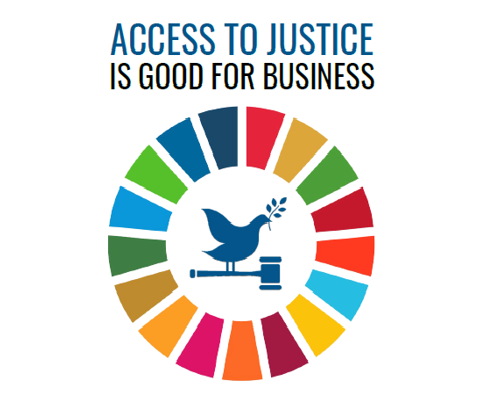 In 2019, for the first time since the United Nations adopted the 2030 Agenda for Sustainable Development, the global community came together to focus on Goal 16's call to "ensure equal access to justice for all." On that occasion, NLADA launched an initiative to further connect the U.S. corporate community interested in advancing access to justice with opportunities to strategically collaborate with NLADA's members – civil legal aid offices, public defender offices, and clients across the country – to advance the goal of providing 100% justice for all. The effort will create opportunities for the U.S. corporate community to showcase their efforts to close the "justice gap" on the global stage.
NLADA has been guided by its Corporate Advisory Committee (CAC) in launching this work through a number of occasions including a roundtable with its CAC members and other corporate partners on Access to Justice: U.S. Corporate Leadership on Goal 16 in May 2019 in Louisville, Kentucky during the annual Equal Justice Conference. The roundtable provided a forum for participants to exchange information and promising practices on corporate-led access to justice activities.
On July 17, 2019, NLADA co-sponsored an event on How Legal Empowerment Advances Sustainable Development Goals with the Task Force on Justice, the Bernstein Institute for Human Rights, Namati, and the Open Government Partnership connected to the United Nations High-Level Political Forum on Sustainable Development. At that event, NLADA issued a policy brief entitled Access to Justice is Good for Business written by NLADA Senior Fellow Maha Jweied, who formally led the U.S. Department of Justice's Office for Access to Justice and served as the U.S. Government's Goal 16 Subject-Matter Expert. The policy brief identifies the ways in which corporate America advances access to justice and describes three main strategies: (1) Contributing Resources; (2) Advancing Policy and Legal Reform; and (3) Implementing Sound Business Practices. It also includes a call to the business community for increased partnership with NLADA and other public interest organizations to accelerate their efforts to respond to the legal needs of low-income and vulnerable members of our society.
Expanding on this activity, in September 2019, NLADA sponsored a successful United Nations (UN) Sustainable Development Summit side-event: Corporate America Advances Goal 16. Hosted by AT&T in Rockefeller Plaza in New York, NY and co-sponsored by AT&T, Hewlett Packard Enterprises, Pathfinders for Peaceful, Just and Inclusive Societies, Namati, and the Justice for All Campaign, the gathering highlighted the ways in which the corporate community advances access to justice. (To read more about the event, please see this article published by Law360.)  At the event, NLADA launched a new working group of the CAC to advance Goal 16 of the UN Sustainable Development Agenda.  The Goal 16 Working Group identifies access to justice policy initiatives that can be advanced through our public-private partnership.  The working group was successfully registered as NLADA's commitment to advancing Goal 16 of the Sustainable Development Goals with the United Nations SDG Partnerships Platform.
NLADA held the first meeting of this working group during NLADA's Annual Conference in Detroit, Michigan in November 2019. and the group met virtually in February and June 2020. In September 2020, NLADA hosted A Conversation with Business: Corporate Social Responsibility and Equal Justice led by NLADA President & CEO Jo-Ann Wallace and chief legal officers Marcus Brown of Entergy Corporation, John Schultz of Hewlett Packard Enterprise, and Frank Jimenez of Raytheon Technologies where among other things they discussed the role of business in advancing justice policy.
In October 2020, NLADA released Business Advancing Justice: The Goal 16 Working Group Toolkit.  The toolkit spotlights the work of the Goal 16 Working Group and includes: (1) the case for why businesses should care about civil legal aid and public defense; (2) an overview of the strategies that businesses use to advance public policy and legal reform on access to justice with case studies and examples of each: lobbying executive branch agencies and legislators, advocating before courts, and using the bully pulpit; and (3)  tips for how corporate leaders and the access to justice community can effectively work together, including a worksheet to help corporate leaders get started.
The working group will continue to meet quarterly.
Steering Committee:
Sean Edgett, Twitter; Frank Jimenez, Raytheon Company; Max Laun, ret. Arconic; John Schultz, Hewlett Packard Enterprise; Jennifer Zachary, Merck