Training and Technical Assistance:
Innovative Solutions in Public Defense Initiative
From 2015 to 2019, the Innovative Solutions in Public Defense Initiative was part of the U.S. Department of Justice, Office of Justice Programs, Bureau of Justice Assistance (BJA) Innovation Suite of programs. The Innovation Suite supports criminal justice professionals in building evidence-based, data-driven criminal justice strategies that combine the expertise of researchers and practitioners for maximum, sustained and measurable impact.
BJA made six awards for projects in which practitioners partnered with researchers to implement and test creative strategies for making fairer and more effective indigent defense systems. These researcher-practitioner projects used data, evidence and innovation to create strategies and interventions that are both effective and economical. NLADA served as BJA's Training and Technical Assistance provider to support these six sites, and NLADA contracted with the National Criminal Justice Association (NCJA) to assist in this effort. NLADA also undertook related projects that support research-backed innovation in indigent defense programs. Materials resulting from NLADA's work on this Initiative appear below.
Innovative Solutions in Public Defense Fact Sheet Series
Our series of fact sheets briefly summarizes the six Innovative Solutions in Public Defense projects: their goals, project design and outcomes.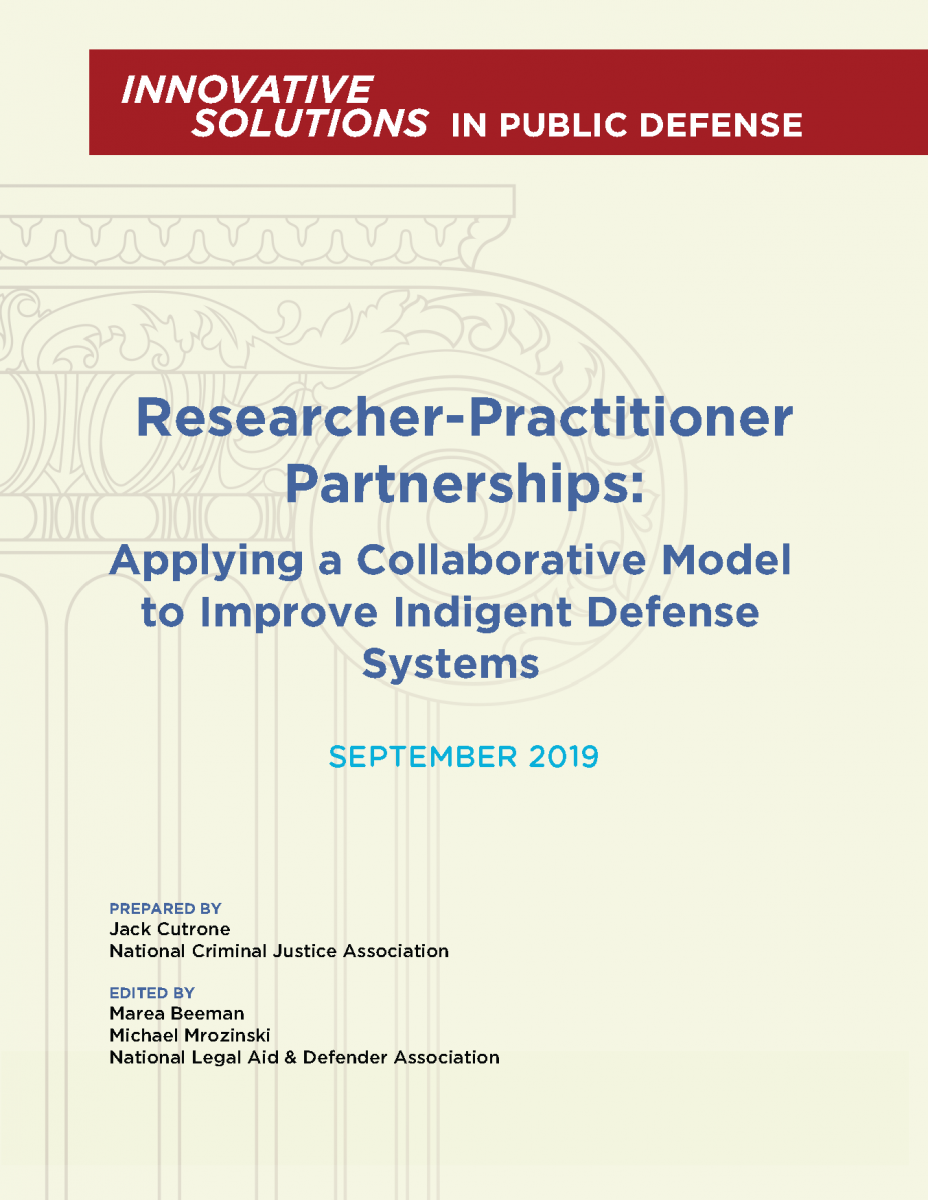 Researcher-Practitioner Partnerships: Applying a Collaborative Model to Improve Indigent Defense Systems (September 2019)
A companion document to the fact sheet series, this report provides detailed descriptions of the six Innovative Solutions in Public Defense projects, and offers guidance through lessons learned to other defender organizations seeing to undertake projects with research partners.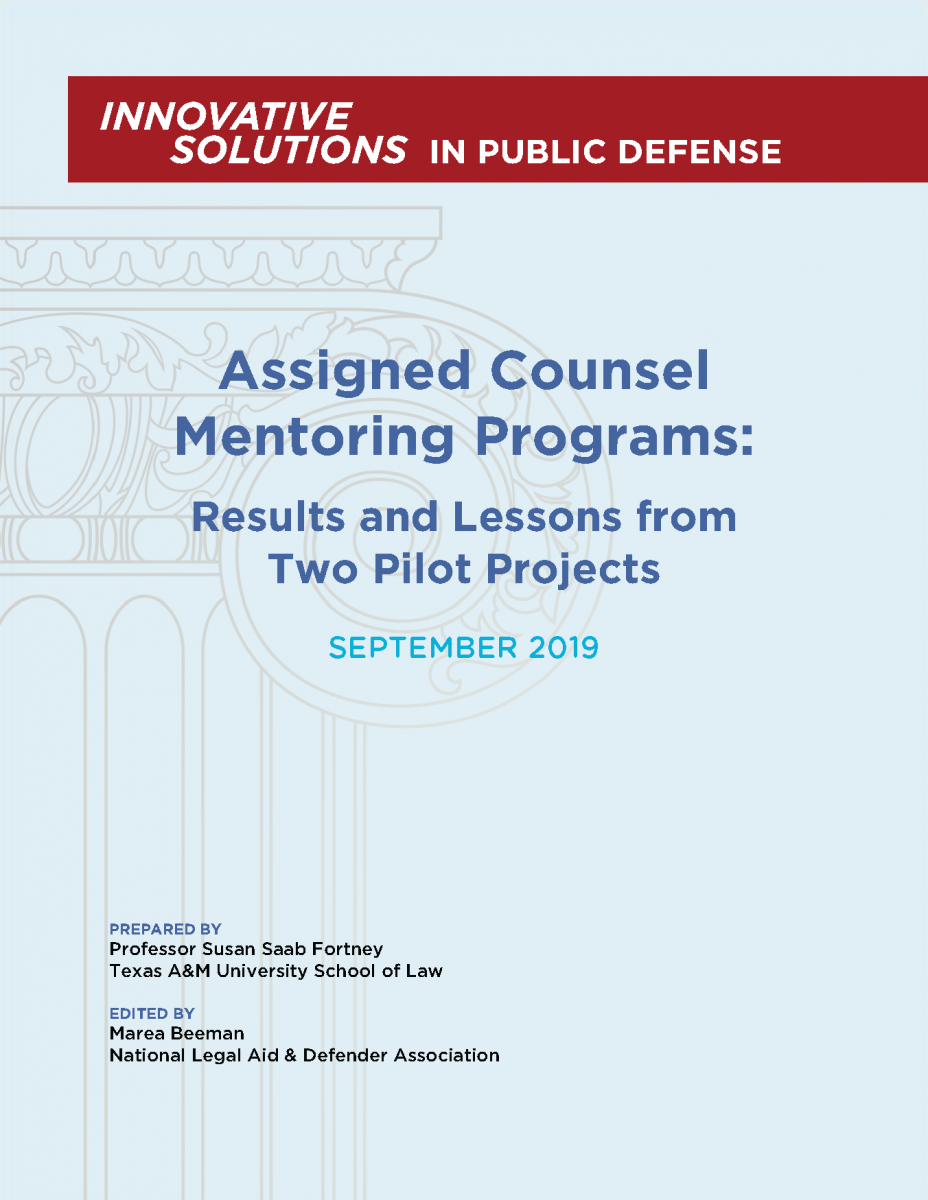 Assigned Counsel Mentoring Programs: Results and Lessons from Two Pilot Projects (September 2019)
Working with a team of three subject matter experts, NLADA implemented and evaluated two pilot mentoring projects aimed at helping lawyers, most of whom are solo practitioners, who serve as assigned counsel. This report discusses the program design, evaluation outcomes, and offers guidance through lessons learned for other jurisdictions interested in introducing assigned counsel mentoring programs.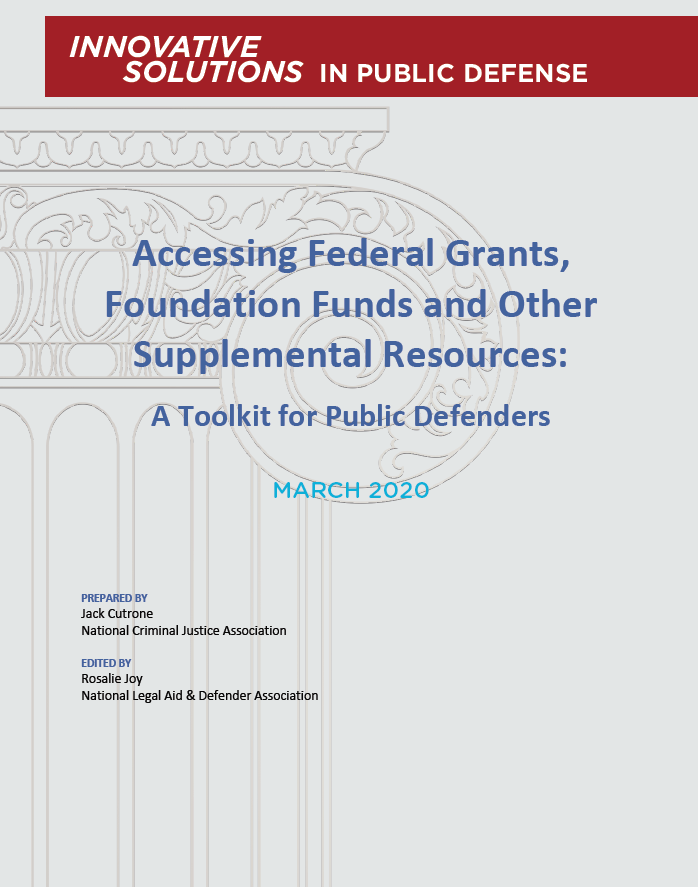 Accessing Federal Grants, Foundation Funds, and Other Supplemental Resources: A Toolkit for Public Defenders (March 2020)
This report offers guidance to defender organizations who seek to secure outside funding to undertake research projects, such as those undertaken in the Innovations Suite, or to implement other types of innovative programming to better serve clients. Information includes tips on how to research appropriate federal and non-funding sources, and goes into particular detail about applying for federal grant funds.
Other publications:
A Resource Guide to the Ten Principles
NLADA provides information and technical assistance to defenders, researchers, and other stakeholders upon request. Contact [email protected] to submit a question about designing a research project, securing funding, or any other aspect of improving your public defense system.