Monday, November 07, 2016 12:00 am to Friday, November 11, 2016 12:00 am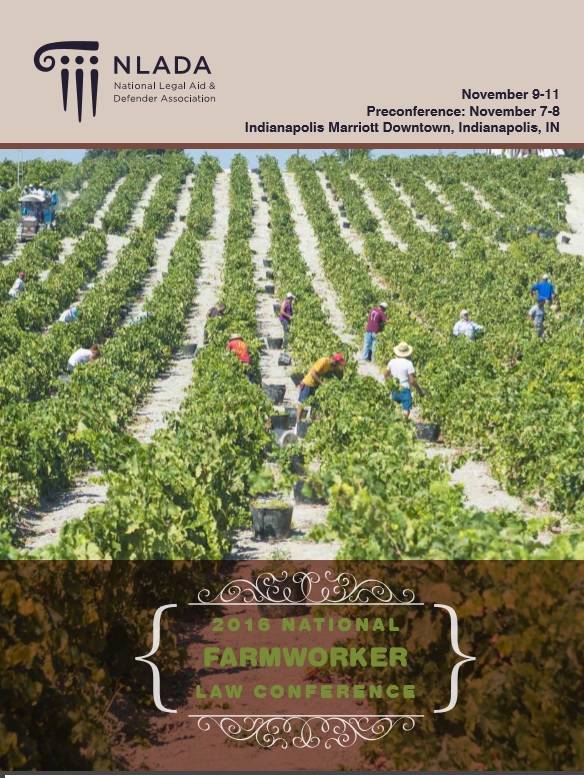 Regular, specialized training in farmworker law is critical to advocates working in this field. The National Farmworker Law Conference (NFLC), co-hosted by Farmworker Justice and the National Legal Aid & Defender Association (NLADA), is a biennial event that gives farmworker advocates the opportunity to obtain solid and intensive training on issues of critical importance to the representation of migrant and seasonal farmworkers, and to learn from each other's experiences. Attendees will learn the status of the law, hear about new approaches to legal representation, and get a "refresher" on the broad range of issues encountered in this unique area.
VIEW OUR 2016 NATIONAL FARMWORKER LAW CONFERENCE PROGRAM
PRE-CONFERENCE TRAININGS
Training Sessions for New Advocates: Monday, November 7 - Tuesday, November 8
The New Advocates Training will begin at 9:00 a.m. on Monday, November 7, and will run through 5:30 p.m. on Tuesday, November 8. The training will cover the Agricultural Worker Protection Act, the Fair Labor Standards Act, joint employment, safety and health issues, H-2A workers, LSC regulations, outreach, retaliation, and sexual harassment.
The new advocates training will be divided into two tracks — one for advocates with little or no experience, and a second for those with one to three years of experience.
Keynote Plenary Session
Wednesday, November 9
The keynote plenary, "Farmworkers in the News: Journalists Covering the Lives and Labor Conditions of Farmworkers," will feature a panel of journalists who will speak about their recent stories on farmworkers in the United States.
Conference Information
Wednesday, November 9 - Friday, November 11
Multiple concurrent farmworker-specific sessions will run from 8:30 a.m. on Wednesday until 2:30 p.m. on Friday.
 
Download the registration brochure here.
Online registration is available here.
* Groups must all be from the same organization, submitted at the same time, and accompanied by payment.
* To register a group of four or more people, download this registration form, complete one form for each person, and send the forms to NLADA via fax (202-872-1031) or mail (P.O. Box 79083, Baltimore MD 21279-0083).
 
HOTEL
All conference events will be at the Indianapolis Marriott Downtown. NLADA has negotiated a special conference rate of $179 per night (single or double room), which includes complimentary wired or wireless Internet. You must make reservations by October 14.
You can reserve a room online at the Indianapolis Marriott Downtown.
Indianapolis Marriott Downtown
350 West Maryland Street
Indianapolis IN 46225
317-822-3500
CHECK-IN AND CHECK-OUT
The check-in time at the Marriott is 4:00 p.m. Check-out time is 11:00 a.m.
TRAVEL
Air Travel:  Indianapolis is served by Indianapolis International Airport (IND), which is about 14 miles from the Indianapolis Marriott Downtown.
Amtrak and Greyhound Bus Station: The train and bus station is located at 350 South Illinois Street, about a half mile from the Marriott.
Taxi Cabs & Uber: Expect taxi fares to be about $40 (including tip) each way between the airport and the Marriott and to take about 20 minutes in normal traffic. Regular Uber service will cost about $20.
Shuttle Service: Shuttle service is available from the airport to the Marriott for $10.00 per person, one-way, on Go Express Travel. Make reservations online at http://downtownindyreservations.goexpresstravel.com/ or call 1-800-589-6004.
City Bus: City Bus Route 8 picks up at the airport and has a stop about 1 block from the Marriott. The fare is $1.75, and it takes about 45 minutes.
AIRFARE DISCOUNTS
NLADA has partnered with Delta Airlines to offer discounted airfares for your trip to Indianapolis. To make your reservations, go to www.delta.com/meetings, select "Book A Trip," and enter this Meeting Event Code in the box provided: NMNVF. You can also reserve by phone, 800-328-1111, and provide the same Meeting Code.
RENTAL CAR DISCOUNTS
NLADA has partnered with Avis to offer discounts on car rentals during the 2016 National Farmworker Law Conference. The discounted rates will be available from seven days before the conference through seven days after the conference. To make a reservation, you can call Avis at 1-800-331-1600 and give the reservation agent our Avis Worldwide Discount (AWD) number: D452126. You can also reserve online at this Avis-NLADA website.
PARKING
The Marriott offers both self-parking and valet parking. Self-parking is $40 per day; valet is $45 per day. There are also several public parking lots within a few blocks of the Marriott. Go to https://www.parkme.com/indianapolis-parking to explore the options.