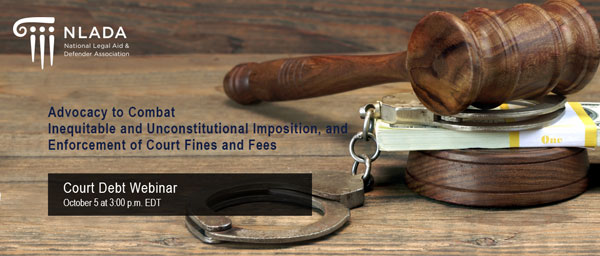 Webinar
Wednesday, October 05, 2016 3:00 pm to Wednesday, October 05, 2016 4:30 pm
Featured Speakers:
Lisa Foster, then Director, Department of Justice Office for Access to Justice
Karla Camac Carlisle, Staff Attorney, Northwest Justice Project
Angela Ciolfi, Legal Director, JustChildren, Legal Aid Justice Center
Alex Kornya, Assistant Litigation Director, Iowa Legal Aid
Jani Maselli Wood, Assistant Public Defender, Harris County Public Defender's Office, Texas
Robin C. Murphy, Chief Counsel, Civil Programs, NLADA
In March 2015, the Department of Justice released its report on the investigation of the Ferguson, Mo., Police Department. The investigation found that courts routinely imposed excessive fines; ordered the arrest of low-income residents for failure to appear or make payments, despite inadequate notice and without inquiring into their ability to pay; and used unlawful bail practices resulting in unnecessary incarceration. Many of these practices disproportionately impacted African Americans.
This report helped increase awareness of similar widespread inequitable and unconstitutional practices throughout the country with dire consequences for low-income individuals and people living in poverty. Court debt can draw people into and prolong involvement with the criminal justice system, and shuts off access to education, employment and so much more.
Legal aid programs and public defenders have an important role to play in combating these practices and mitigating their impact. Even prior to the Ferguson Report, a number of legal aid programs focused advocacy efforts on this, and over the past several years there have been increased efforts to represent low income clients struggling with state court debt.
This webinar features Lisa Foster, then Director of the Department of Justice's Office for Access to Justice, and representatives from legal aid and indigent defense to discuss how the Department of Justice, legal aid providers, including those funded by the Legal Services Corporation, and defenders advocate for clients and pursue reforms that protect individuals' constitutional rights and help break the cycles of recidivism and poverty perpetuated by inequitably imposed fines and fees. Learn what you and your program can do to support your clients, including how LSC-funded programs can engage in significant advocacy efforts while still complying with LSC restrictions.
Closed captioning will be available for this webinar recording soon.