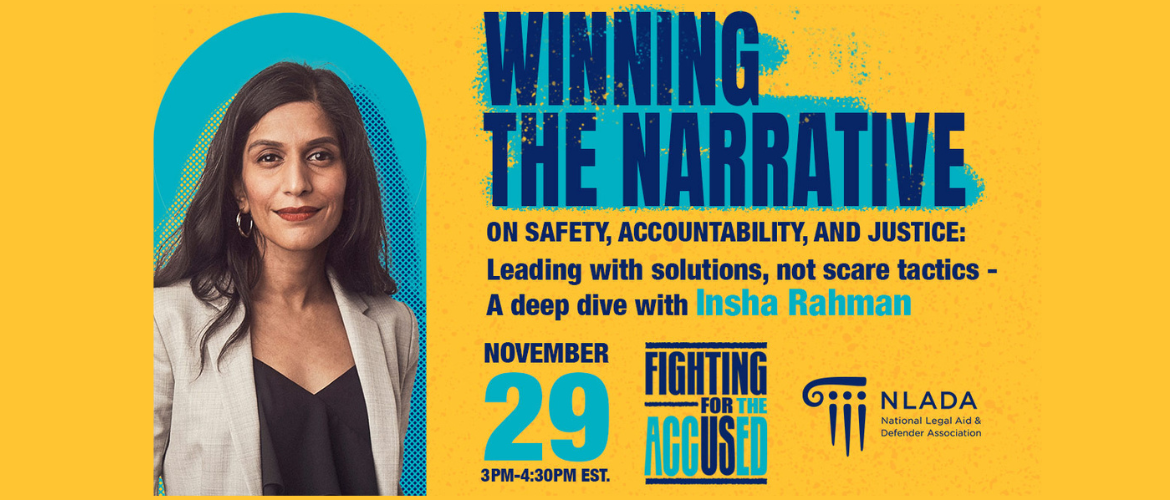 Webinar
November 29, from 3:00-4:30 p.m. EST.
Join us for a deep dive virtual discussion for public defenders on "Winning the Narrative on Safety, Accountability, and Justice: Leading with solutions, not scare tactics" with Insha Rahman, Vice President for Advocacy and Partnerships at the Vera Institute of Justice and Director of Vera Action, on November 29, from 3:00-4:30 p.m. EST.
Recent message testing and polling by VeraAction suggest that the public's reaction to tough on crime messaging has shifted. As public defenders our struggles – fights for funding, recruitment and retention efforts, and our clients – are inextricably linked to the ongoing cycle of the "tough on crime" narratives that are constantly pushed to the public and embraced by legislators. However, public opinion research and polling reveals that "tough on crime" rhetoric is only potent if left unmet and communities want a new narrative that leads with safety.
We hope you can join us for the first of many national discussions about reshaping the narrative on public defense.