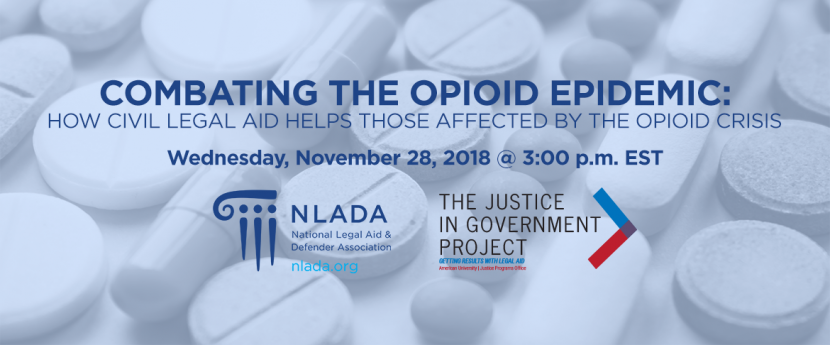 Webinar
Wednesday, November 28, 2018 3:00 pm to Wednesday, November 28, 2018 3:00 pm
Across the country, communities are struggling to respond to the opioid crisis. The Substance Abuse and Mental Health Services Administration (SAMHSA) has reported that more than 2.1 million are experiencing opioid use disorder. When we consider those in recovery and their extended family members, more than 11 million Americans are affected by the opioid crisis. Civil legal aid helps those affected by the opioid crisis by helping to secure housing and health care, ensure children are cared for, escape domestic violence, and remove barriers to employment.
Recently, the U.S. Department of Justice, Office for Victims of Crime (OVC) awarded grants to civil legal aid programs in Kentucky, Ohio, Oklahoma, and West Virginia to launch projects that provide legal assistance to children and their caregivers who are affected by the opioid crisis.
Join us on November 28 at 3:00 p.m. ET to learn about:
How civil legal aid helps those affected by the opioid crisis
New projects and collaborations in Ohio and West Virginia to connect children and their caregivers with legal help
Federal funding that provides opportunities to collaborate to address the opioid crisis, including OVC's "Enhancing Community Responses to the Opioid Crisis" and SAMHSA's "State Targeted Response to the Opioid Crisis" grants
Our webinar will feature:
Elizabeth Wehner, Legal Aid of West Virginia
Karen Lash, Justice in Government Project
Radhika Singh, National Legal Aid & Defender Association
Stephanie Harris, Ohio State Legal Services Association
WEBINAR REPLAY
For the webinar's PowerPoint slides look here.
Tools and Resources for the Webinar: