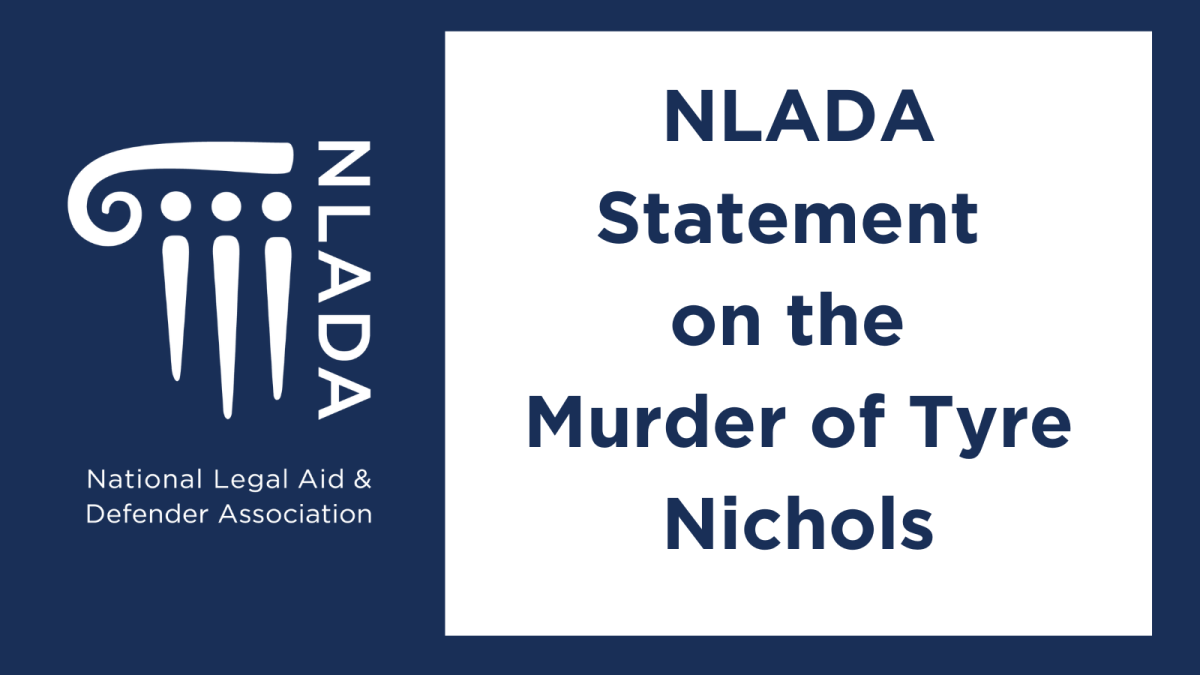 Jan. 27, 2023 
Contact: Rabiah Alicia Burks, [email protected] 
NLADA Statement on the Murder of Tyre Nichols 
Washington, DC  – The National Legal Aid & Defender Association (NLADA) issued the following statement today in response to the killing of Tyre Nichols following a traffic stop on January 7, 2023 at the hands of five ex-Memphis Police Department officers: 
NLADA joins our diverse community of civil legal aid providers, public defenders, and client community advocates in voicing our collective outrage at the ongoing loss of Black lives through the use of excessive force by law enforcement officers. The footage and information released today have made us all witness to the horrifying and cruel taking of Mr. Nichols's life, and we stand with his family, friends, and community to grieve their loss. Furthermore, the recordings and additional details confirm our longstanding belief that we must address the underlying societal views, structures, and indoctrination that perpetuate and normalize disparate, violent, and deadly treatment of people of color. The inhumane treatment of those like Mr. Nichols, who are being arrested or accused, is a part of a deeply entrenched problem with our criminal legal system.  
Mr. Nichols's death reminds us that we must continue to advance equity and justice for those who come into contact with the criminal system, and how far we still have to go. The NLADA community is committed to addressing the significant systemic role that race plays in policing practices and to building enduring alliances with impacted communities. Public defense, civil legal aid, and client community advocates will continue to partner together and with others to combat the injustices ingrained in our systems. 
For more information about this statement or to interview an NLADA subject matter expert, please contact Rabiah Alicia Burks at [email protected]. 
### 
The National Legal Aid & Defender Association (NLADA), founded in 1911, is America's oldest and largest nonprofit association devoted to excellence in the delivery of legal services to those who cannot afford counsel. NLADA has pioneered access to justice at the national, state and local levels, playing a leadership role in the creation of public defender systems and other important institutions from The Sentencing Project to the Legal Services Corporation. A leader in the development of national standards for civil legal aid and public defense, NLADA also provides advocacy, training, and technical assistance for equal justice advocates across the country.