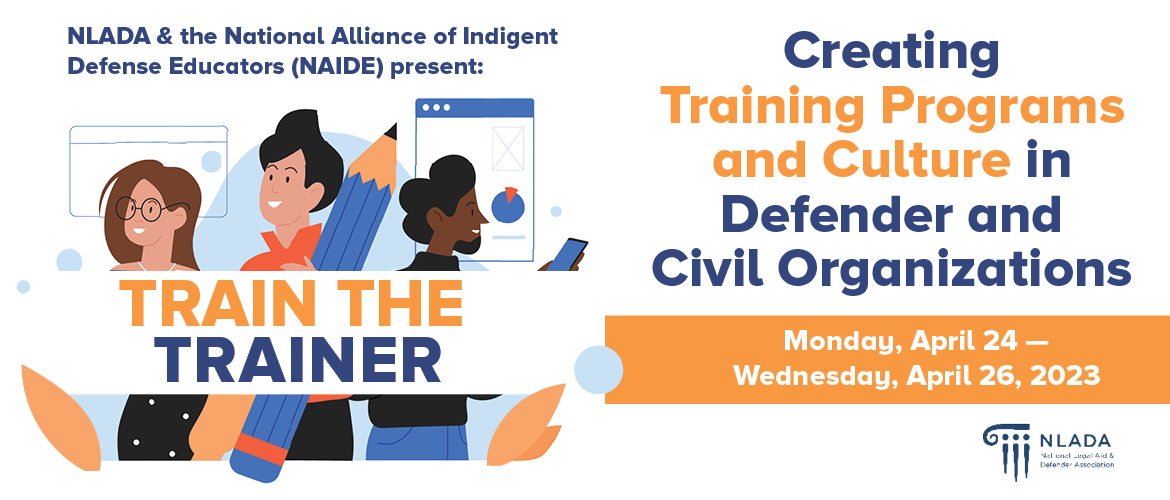 Training
NLADA & the National Alliance of Indigent Defense Educators (NAIDE) present:
Train the Trainers: Creating Training Programs and Culture in Defender and Civil Organizations
Monday, April 24, 3:30 p.m. - 5:00 p.m.,
Tuesday, April 25, 12:00 noon - 5:00 p.m., and
Wednesday, April 26, 12:00 noon - 5:00 p.m.
(All times Eastern Time)
During this time of civil unrest and a global pandemic, defender and legal services agencies are exploring ways to help their staff be innovative and effective in serving their clients. Trainers are being asked to train in new ways, and to be purposeful about including principles of racial justice and cultural humility. NLADA and NAIDE are offering Train the Trainer to provide tools, tips, and guidance to meet both old and new demands of training.
This program is specifically designed for new and experienced trainers as well as managers and upcoming leaders responsible for planning and providing training in their organizations. This program is conducted by a team of training professionals from a variety of perspectives and cultures, representing different regions of the country and with experience in training within statewide, county, and nonprofit systems. Our faculty will include trainers certified by the Black Public Defender Association (BPDA). The format of the program will include both plenary sessions and breakout groups for participants to focus on individual goals for themselves and their agencies.
Train the Trainer: A Race Conscious Train the Trainer Program
Learn how to deliver engaging and effective training using the latest concepts in adult learning methods, all through a race-equity lens.
Topics include:
Training with cultural humility and through a racial justice lens.
Applying adult learning principles and learning objectives.
Facilitating large and small groups.
Exploring how training can deliver and shape the agency culture.
Cultural humility for trainers.
REGISTRATION
$175 - NLADA Members
$300 - Non-Members (fee includes one-year complimentary membership)