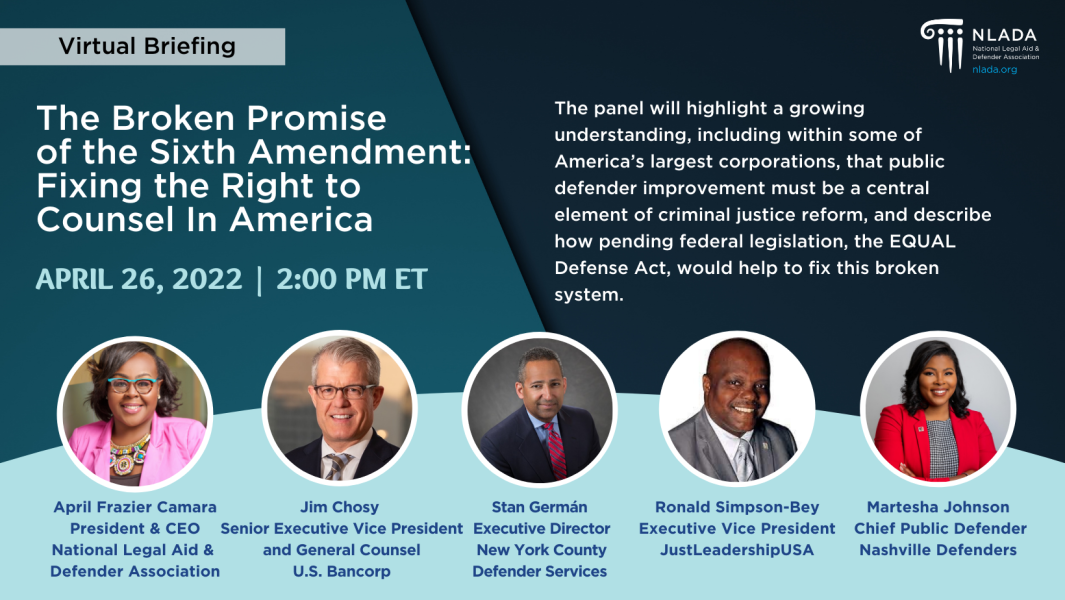 Webinar
Tuesday, April 26, 2022 2:00 pm to Tuesday, April 26, 2022 2:00 pm
Virtual Briefing: The Broken Promise of the Sixth Amendment: Fixing the Right to Counsel in America
Many Americans believe that if they are arrested, they have the right to an attorney and that if they cannot afford it, one will be provided for them. Fewer know that our country's failure to support public defenders equitably and reliably means that often, the quality of justice they will receive will depend on their ZIP code.
In the 59 years since the U.S. Supreme Court affirmed the constitutional right to counsel, the federal government has never adequately supported public defense in state and local courts across America. The panel will discuss the consequences of this lack of support for the roughly 80 percent of people in our courts who cannot afford an attorney, including wrongful convictions, unjust sentences, and unnecessary collateral consequences that devastate lives and communities.
The panel will highlight a growing understanding, including within some of America's largest corporations, that public defender improvement must be a central element of criminal justice reform, and describe how pending federal legislation, the EQUAL Defense Act, would help to fix this broken system.
The panel will feature:
April Frazier Camara, President & CEO, National Legal Aid & Defender Association

Jim Chosy, Senior Executive Vice President and General Counsel, U.S. Bancorp, and Chair, NLADA Corporate Advisory Committee (Moderator)

Stan Germán, Executive Director, New York County Defender Services

Ronald Simpson-Bey, Executive Vice President, JustLeadershipUSA

Martesha Johnson, Chief Public Defender, Nashville Defenders