Release Date:
Monday, September 14, 2020
12 new VISTA members started August 2020 and we are excited for you to meet them! This cohort is starting primarily serving from home with all the challenges of COVID ahead. Even with starting a new position remotely, they are diving in to learn about their host site and community and creatively building partnerships and data systems to fit our new normal. Below, meet Batya, our Grants System VISTA serving in Santa Barbara, CA.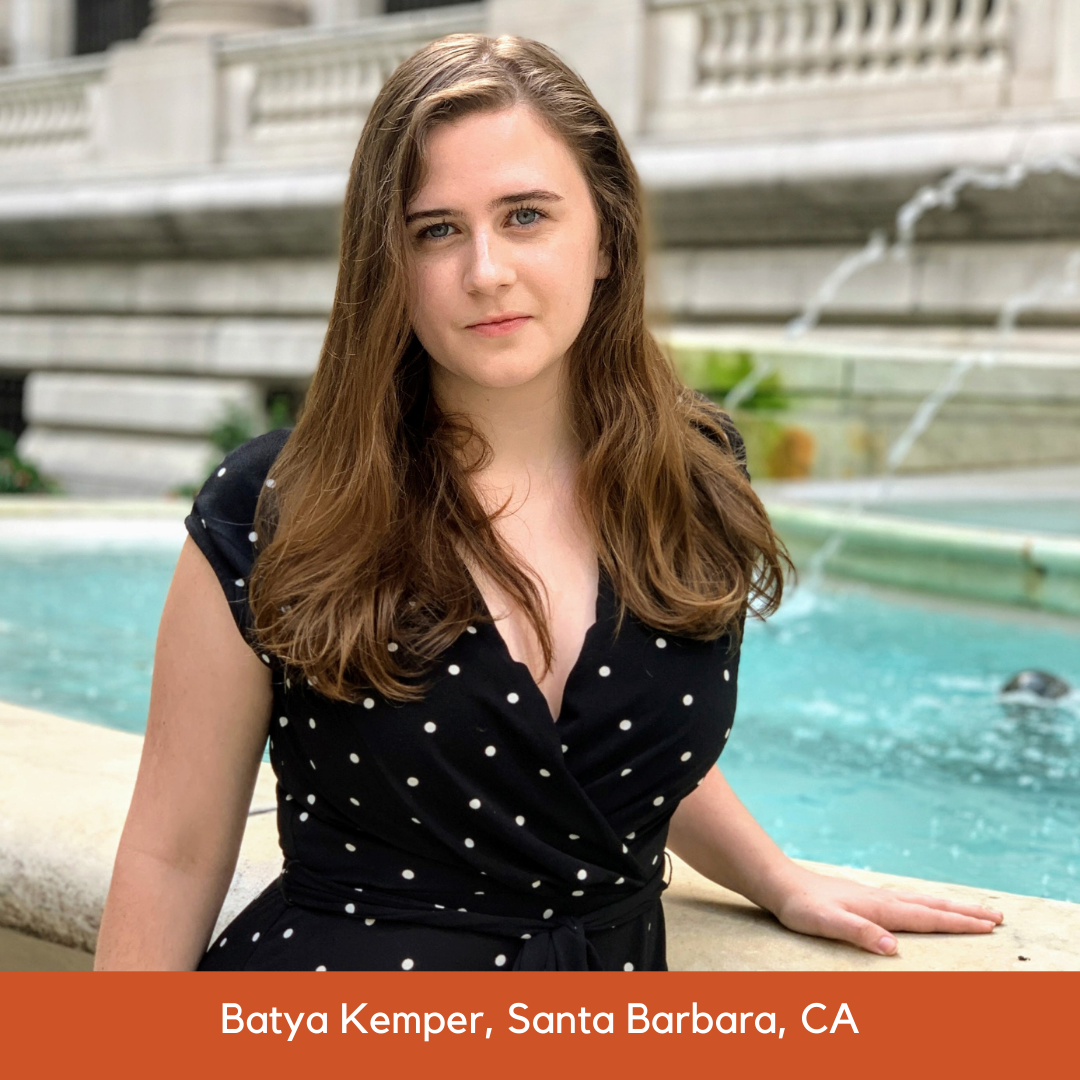 Batya graduated Magna Cum Laude in May 2020 with a degree in History from Barnard College, Columbia University. Her particular area of interest is the intersection of law and technology. Her senior thesis was Nyetwork: Soviet Cyberpolicy and the Role of Computer Networks in the Fall of the Soviet Union, for which she received a President's Global Innovation Fellowship. During college, Batya was chair of her Jewish student group, and she helped organize an LGBTQ+ Jewish fellowship. She was also the assistant to the chair of the Barnard Computer Science Department, and as such she helped run the National Science Foundation's Safe and Trustworthy Cyberspace Principal Investors Meeting of 2019. In consultation with the Department, she created a webguide and an in-person training on cybersecurity for student activists. Hoping to pursue a career in the intersection of justice and technology, her prior work experience includes interning in the digital freedom program at PEN America, doing clerical work and data management for a boutique financial consulting firm, interning for her congressman in the 5th district of Missouri, and interning in the tech transactions & data privacy practice group of an AmLaw 100 law firm. In her free time, she enjoys swimming, cycling, hiking, playing with her cat, baking and eating copious amounts of sugary food, and reading historical fiction. 
Although she originally intended to attend law school immediately after college, the pandemic led to her decision to defer for a year to be of service to her community during this tumultuous time. Batya chose to serve as an AmeriCorps VISTA at the Santa Barbara County Public Defender because it would allow her to pursue her interest in law and technology while also helping those who need it the most. As a VISTA, Batya will be building capacity by helping to write grant applications, monitor and evaluate grant data, and maintain and improve the digital infrastructure of the Public Defender's office. It is her goal that by the end of her year of service, the Santa Barbara County Public Defender will have obtained several new grants and that the office's digital infrastructure will be better suited to supporting the work of the Public Defender. 
COVID-19 has of course affected the work of the Public Defender in a number of ways. Most of the staff, including all of the VISTAs, are currently working remotely. Remote hearings, COVID-19 outbreaks in the local jails, and early release of many inmates have all affected the normal functioning of the Santa Barbara County Public Defender's office. Batya's work in particular has been affected, because the pandemic has interrupted the course of a number of grants, while responses to the pandemic have resulted in the creation of the new grants. Moreover, the importance of digital infrastructure is more clear than ever.