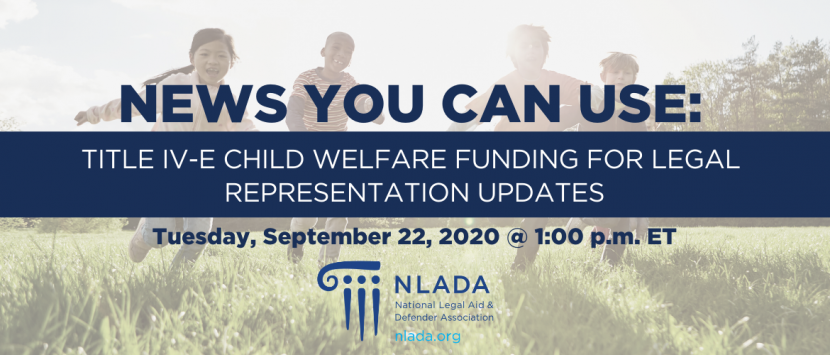 Webinar
Tuesday, September 22, 2020 1:00 pm to Tuesday, September 22, 2020 1:00 pm
***********************************
THIS WEBINAR HAS CONCLUDED
You can view the panelists' presentation slides here.
A recording of the event is linked below. 
***********************************
In this webinar, we will cover funding and service delivery models that serve children in foster care and their families.  
This webinar will provide an overview of Title IV-E funding and U.S. Department of Health & Human Services Children's Bureau policy that allows support for legal representation for children in foster care and their parents, as well as "candidates" for foster care. Panelists will cover the recent Title IV-E HHS Children's Bureau Technical Bulletin's FAQs on Legal Representation and spotlight progress underway in two legal aid organizations – one holistic public defense and a civil legal aid organization – about how they are tapping these funds to support and expand their work. Speakers will include David Kelly (Special Assistant to the Associate Commissioner, HHS Children's Bureau), Allison Green (Legal Director, National Association of Counsel for Children), Joanne Moore (Director, Washington State Office of Public Defense), Barbara Buckley (Executive Director, Legal Aid of Southern Nevada), and co-hosts Karen Lash (Director, American University Justice in Government Project) and Christopher Buerger (Counsel for Civil Legal Services, NLADA).Other helpful resources:
In December 2019, the JGP and NLADA published a 2-page factsheet on how civil legal aid can assist parents and children in contact with the foster care system. This factsheet also highlights funding opportunities.
In November 2019, the JGP and NLADA Just Research newsletter focused on how civil legal aid works to keep families together and help children access safety. Access the newsletter here and sign up for newsletters here.
Webinar Recording