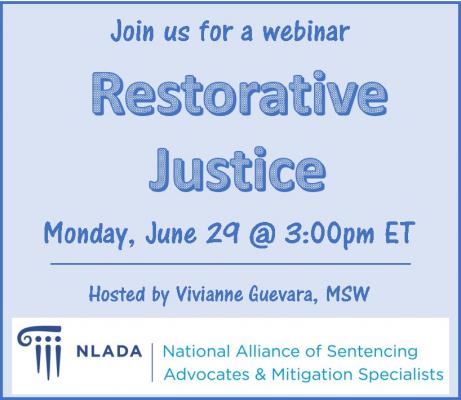 Webinar
Monday, June 29, 2020 3:00 pm to Monday, June 29, 2020 3:00 pm
Please join us for a webinar on Restorative Justice! Bring your case-specific questions and prepare to brainstorm with colleagues around the country. Current NASAMS membership is required to participate in mentorship calls.
More about Vivianne Guevara: Vivianne earned her Master of Science in Social Work at Columbia University School of Social Work in New York and a Bachelor of Arts in Psychology at New York University. She is a licensed by the State of New York with a Master of Social Work. She is the Director of Client Resources and Mitigation Services with the Federal Defenders of New York in Brooklyn. Vivianne has been a presenter, panelist and faculty member at a variety of conferences and workshops regarding social work, restorative justice, non-capital sentencing mitigation, and other topics.
Register in advance for this webinar Register Here!