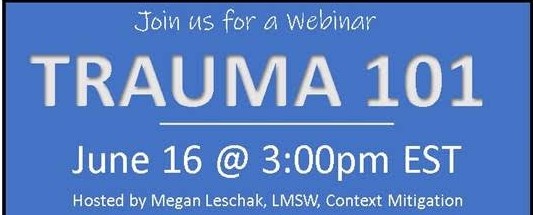 Webinar
Tuesday, June 16, 2020 3:00 pm to Tuesday, June 16, 2020 4:30 pm
During this session we will focus on psychological trauma to include interpersonal and socioenvironmental stress and structural oppression. We will explore ways to build relationship and gather trauma history to reduce harm, for both the client and mitigation interviewer. Additionally, we will discuss presenting this material in a way that honors your client's experience and promotes healing.
Our speaker, Megan Leschak, LMSW is the owner and operator of Context Mitigation, a firm that provides mitigation services for clients in both state and federal courts. Megan began her forensic social work career at the Maryland Office of the Public Defender in Baltimore City where she was awarded a Soros Open Society Institute Fellowship. She subsequently worked as a Mitigation Investigator in the Delaware Federal Defender Capital Habeas Unit and as the Social Work Supervisor for the New Mexico Law Offices of the Public Defender. Megan earned her MSW from the University of Maryland where she co-created/facilitated the course Racism and Racial Equity in Social Work Practice. Megan has trained attorneys, investigators and social workers at forensic conferences across the country.
Register below to attend the webinar.