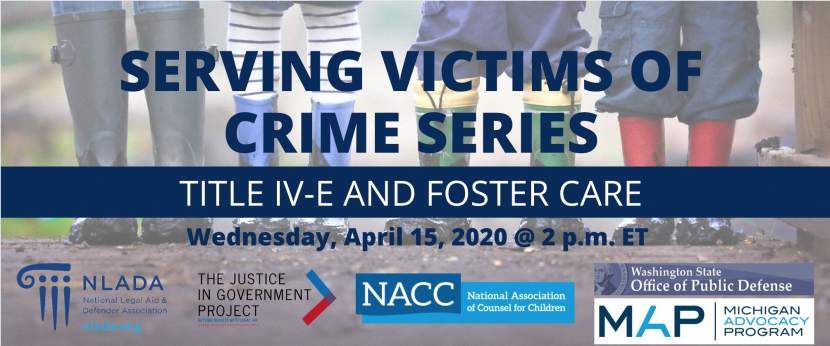 Webinar
Wednesday, April 15, 2020 2:00 pm to Wednesday, April 15, 2020 2:00 pm
Serving Victims of Crime | Title IV-E and Foster Care
Join us in our webinar series, Serving Victims of Crime. In this webinar, we will cover funding and service delivery models that serve children in foster care and their families. This webinar has been postponed for late May / early June. 
We will specifically highlight Title IV-E funding, a new and historic funding pathway to support legal representation for children in foster care and their parents, as well as "candidates" for foster care. We will hear from the National Association of Counsel for Children on this funding pathway, the Justice in Government Project (JGP) at American University about other non-LSC sources of federal funding that can support this work, and from two legal aid organizations – one holistic public defense and a civil legal aid organization – about how they are tapping into these funds to support and expand their work.
Other helpful resources:
 In December 2019, the JGP and NLADA published a 2-page factsheet on how civil legal aid can assist parents and children in contact with the foster care system. This factsheet also highlights funding opportunities.

 In November 2019, the JGP and NLADA Just Research newsletter focused on how civil legal aid works to keep families together and help children access safety. Access the newsletter here and sign up for newsletters here.