Release Date:
Tuesday, February 25, 2020
The Guam Public Defender Service Corporation (GPDSC) has partnered with NLADA and AmeriCorps VISTA for two years to build up their data system. Read below to see how the partnership has impacted the office with an interview by Tommy Bacher, Guam VISTA member.
__________________________________________________________________________________________________________________________________________________________________________________________________________
The GPDSC handles over a thousand cases a year from the indigent population, making up the majority of the criminal cases on the island. Stephen Hattori is in charge of running the show over at PDSC and today he gave us some inside answers about himself, office operations, and the NLADA-AmeriCorps VISTA partnership.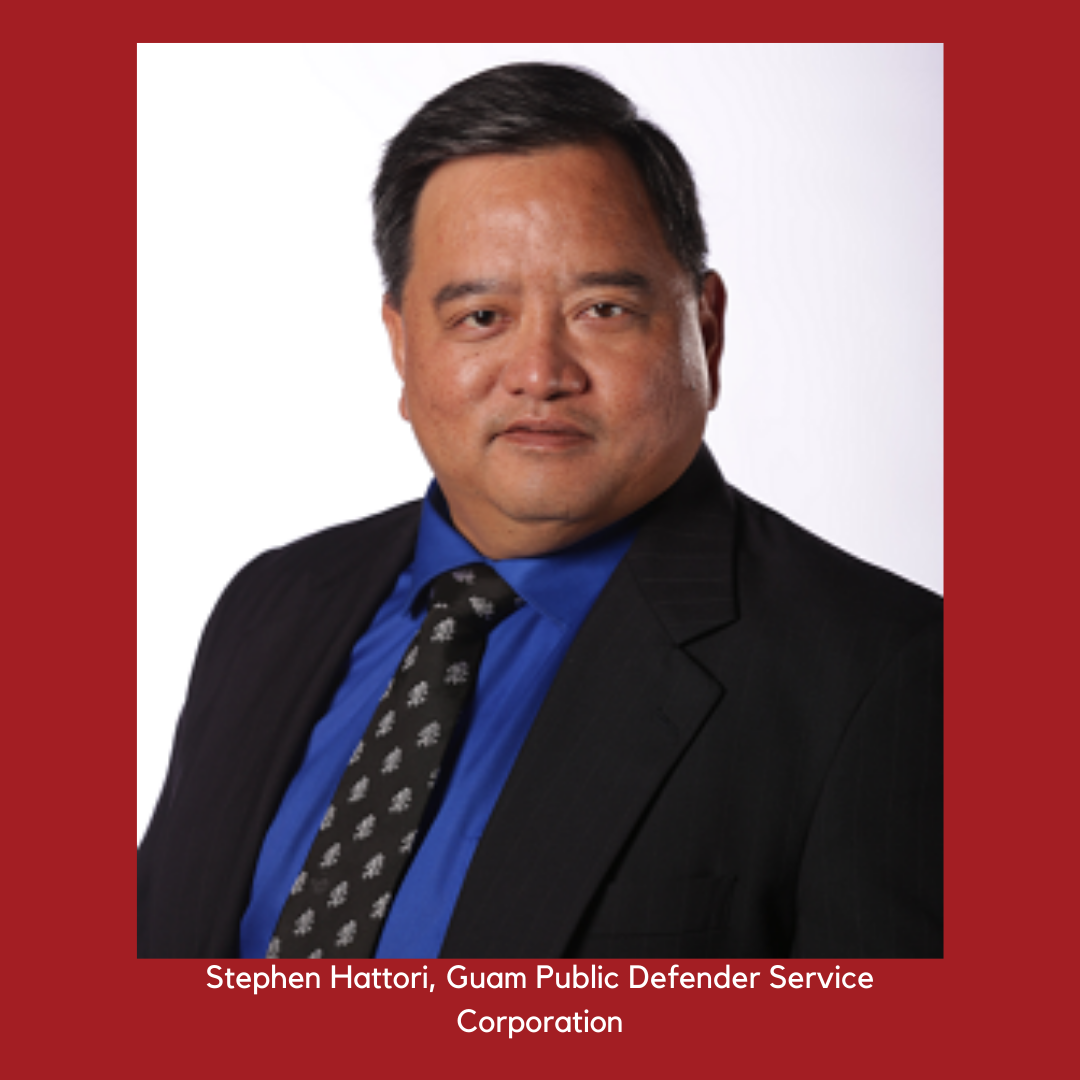 When did you know you wanted to get into law? 
I don't remember when I wanted to be a lawyer specifically, it must have been in middle school, but it's the only career I have ever really wanted. Early exposure played a factor, as my grandfather was a judge.  I spent a lot of time in his house growing up. I thought he knew everything. I would help him build furniture, install electrical wiring, and lay bricks. He never punished me for accidentally breaking stuff, like windows playing baseball or a glass or plate that slipped from my hands. His incredible fairness impressed me and maybe that is why I wanted to become a lawyer. 
How long have you been at the Public Defender Service Corporation?   
 I have been here since 1998 although; it was the first attorney position that I pursued. I first applied and interviewed in 1993, a year before I finished law school. There were no openings then so I went to work for a large private firm Carlsmith Ball. So I have been here for 22 years and I have never wanted to work anywhere else. 
What was your educational experience like and what career paths did you take to be in the role you are now? 
I attended a private Catholic school until 8th grade and then I attended a public school here in Guam. The difference in cohorts was remarkable. Private school kids always had books while public school kids were lucky to have schoolbooks. I learned that people with less could still love life, they were normal people like my private school friends. I attended college in Hawaii and law school in San Francisco.
As a long time public defender, I have always been vocal about different policies affecting the office. I attended board meetings, outreach and participated in office improvement committees. I applied to be the Director out of a sense of loyalty and in the hopes of improving our representation to our clients. 
Why be a public defender?
I have worked in private practice. I have worked as a law clerk. However, I have always wanted to be a public defender. As a public defender, representing real people in real life conflicts, job satisfaction can be high. It can also be terribly low. However, there is no greater reward than reuniting a family after facing the destruction of a false allegation. As a public defender, we can bring people together. It's a dream job and I am living the dream.  
What challenges existed in the office when you started as Executive Director?
Twelve different attorneys with twelve separate caseloads often act individually. We have differences and we have conflicts, but at the end of the day, we all want the same thing. We are all part of the same team.  A true public defender is oppositional by nature. The challenge is to develop teamwork despite our natural dispositions. As a public defender for over 20 years, I am accustomed to having a huge caseload. I am beginning to realize that maintaining a full caseload as a Director hinders my ability to affect change within the office. I hope to reduce my caseload so I can focus on improving the entire office.  
What changes have you made as Executive Director? 
I think that employees, especially those that interact with and assist clients going through the worse times of their lives, deserve all the support that they can get. My mission has been to organize court assignments so that each attorney has a fair and manageable caseload. Ideally, attorneys will have two days a week of court and three days a week in the office for appointments and motions. We are also working on attorney performance standards. NLADA and the Bureau of Justice Assistance are helping us develop a strategic plan that should make this office more holistic and client based.
We also developed trial teams for serious felonies. Most trials involving a sentence of life imprisonment are assigned to two attorneys.  Each courtroom has a senior attorney that supervises the junior attorney. This approach has resulted in junior attorneys being more confident going to trial.
What are your future plans for the office?   
I hope that we can become a more holistic office. Our office is statutorily mandated to assist indigents in criminal and civil matters. However, since 2003, our board (consisting of the Chief Justice of the Supreme Court, the Presiding Judge of the trial court, the President of the Bar Association and two other appointed members by the Chief Justice) has imposed a moratorium on funding representation for civil matters. We hope to have that lifted in the coming years so that we can provide a more holistic approach.
My goal over the last few years has been to make the office more efficient. We have reduced unnecessary work performed by administrative staff, we have re-allocated assignments to appropriate divisions, and we have created courtroom teams that appear to work well. Once the caseloads get to the point where we are operating more like a medical clinic rather than an emergency room, then we can explore the possibility of assisting indigent clients in civil matters.   
What do you think of the VISTA position in your office? 
When I first became Director, our case management system, Abacuslaw, was like an afterthought.  We were working for Abacuslaw and Abacuslaw was not working for us. We applied for the VISTA program to help us look at our data needs and uses. The VISTA program has forced us to look at our case management system through the eyes of an independent outside observer. 
Data collection is important to assist us in justifying increased funding. Efficient data collection allows us to better serve our clients.  The VISTA program has shown us what improvements are needed, allowed us to recognize the problems, and given us templates to fix the problems.
What impact do you think the VISTA position can have? How is this helpful? 
The VISTA position will help us further identify the shortcomings of our current system and to maximize its application. Our case management system must be updated and maintained to truly serve as a way to manage our clients and track important statistics and data for policy creation.
How do you see the goals of the VISTA program continuing to grow?
I hope that we can finish establishing the necessary procedures to track important data that we recognize we need to track. It is difficult and there has been some pushback because data collection takes time and work. We have been trying to eliminate unnecessary redundancies. We hope to finish making the changes to data collection that our VISTA program has helped us recognize.