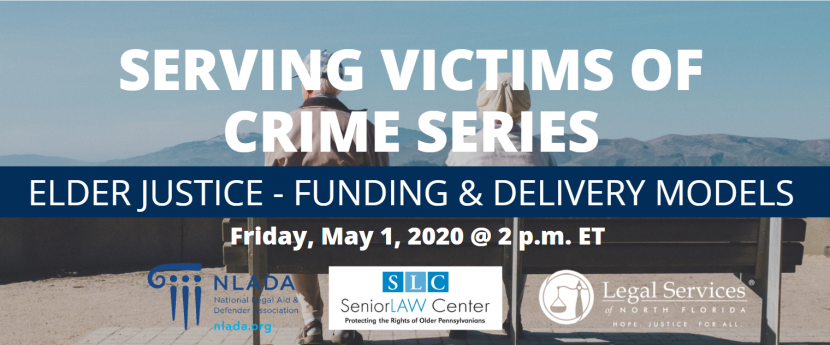 Webinar
Friday, May 01, 2020 2:00 pm to Friday, May 01, 2020 3:00 pm
Join us in our webinar series, Serving Victims of Crime. In this webinar, we will cover partnership and service delivery models that serve older Americans and their families. 
We focus on federal funding that can support this work – both direct discretionary funds and federal pass-through. We will hear from SeniorLAW Center in Pennsylvania, Legal Services of North Florida, and Indiana Legal Services about their work in elder justice. We will also be hearing from HHS ACL on how ACL can support civil legal aid as organizations serve older adults.  
Other helpful resources:
The Justice in Government Project at American University (JGP) has a research brief on how legal aid can serve survivors of elder abuse. Access the brief and others here. 

JGP also has a grants matrix, where they provide descriptions of state-administered federal pass-through funding, language regarding legal aid, examples, and helpful tips. See the entries on VOCA and the Older Americans Act for information about funding that can support survivors of elder abuse. 
The webinar will last approximately 60 minutes. It will be recorded and available on our YouTube channel. There will be Q&A at the end. 
Webinar Recording
Webinar Slides