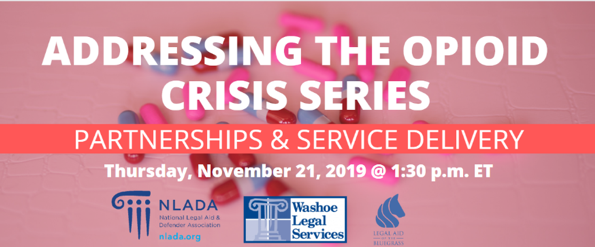 Thursday, November 21, 2019 1:30 pm
Join the NLADA in the third part of our webinar series, Addressing the Opioid Crisis. In this webinar, we will cover partnership and service delivery models that help those with substance use and opioid use disorder and their family members, like children and caregivers, who are affected.
We will hear about Washoe Legal Services's medical legal partnership that serves those who have been affected by opioids. We will also hear from Legal Aid of the Bluegrass and their KY Children RISE project that partners with family resource centers, health professionals, and school districts. They will give us their top tips and best practices for partnering to address the opioid crisis.  
Helpful resources:
Click Below to Register: