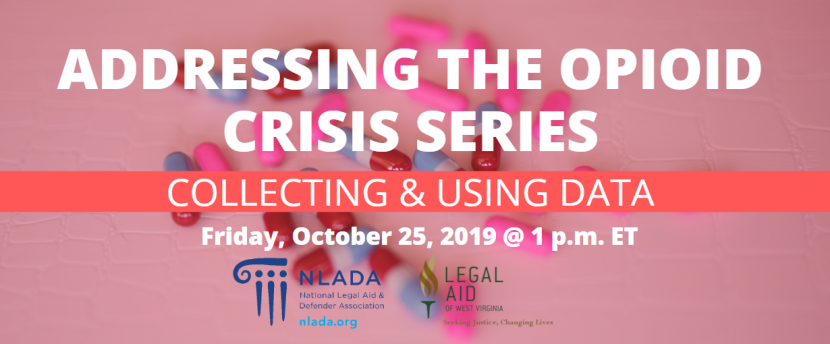 Webinar
Friday, October 25, 2019 1:00 pm to Friday, October 25, 2019 1:00 pm
Join the NLADA in our webinar series, Addressing the Opioid Crisis. In this webinar, we will show how to use data from intake and closing to track your outcomes to help you make the case to grant administrators and helpful questions that can guide your data collection and evaluation. We will hear from Legal Aid of West Virginia on how they have updated their intake and closing assessments to collect data, how they used data from their TANF program to make the case for resources, and how data informed their strategic plan's focus on the opioid crisis.
Thirty-one percent of Americans know someone who is addicted to opioids, compared to 27 percent in 2017. In a 2018 survey of Legal Services Corporation (LSC) grantees, more than 95 percent reported that they provided services to individuals with opioid use disorders (OUDs). You're likely already serving those who are affected by opioids – this webinar will help you ask the questions, collect the data, and make the case for why legal aid is an essential partner in the opioid crisis.
Helpful resources:
Click here to watch the webinar recording.
Click here to download PowerPoint slides.