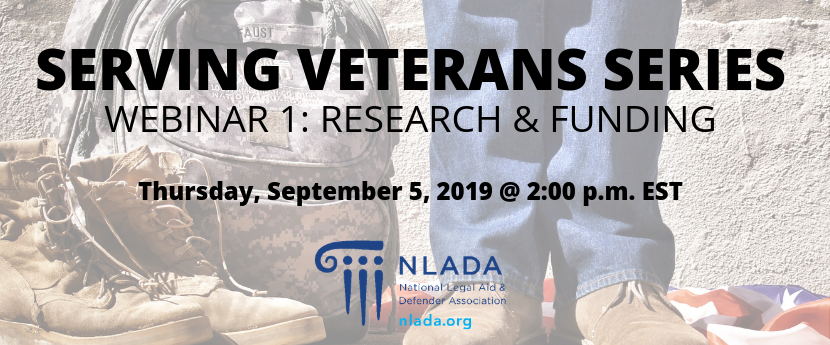 Webinar
Thursday, September 05, 2019 2:00 pm to Thursday, September 05, 2019 2:00 pm
Click here to download the slides from the presentation 
Join NLADA for the first webinar in our veterans series. In this webinar, we will provide an overview of the evidence base demonstrating how civil legal aid supports veterans and federal funding opportunities that can advance your work with veterans.
Veterans consistently report a high number of unmet legal needs: In the VA's CHALENG survey of homeless veterans, four of the highest unmet needs were related to legal assistance. These issues were related to child support, eviction and foreclosure, restoring a driver's license, and outstanding warrants and fines. The U.S. Department of Housing and Urban Development estimates that on any given night, 37,878 veterans are homeless. An additional 1.4 million veterans considered to be at risk of homelessness due to poverty, overcrowding, and poor social networks. And almost 80 percent of homeless veterans have a mental illness or substance use disorder.
This webinar will provide:
An overview of the legal needs of veterans and how legal aid helps;
Where to find state and jurisdiction-specific data;
What policymakers have said that shows legal aid is an important resource for veterans; and
An overview of four programs that can support your work (SSVF, VETS, Grant Per Diem, and HUD-VASH).
View the presentation slides from the webinar below:
Click here to download the slides