For the first time ever, NLADA is holding a silent auction of social justice-themed art during the cocktail reception of the Exemplar Award Dinner on June 12th. Artwork will depict justice issues ranging from incarceration to political protest. All pieces are generously donated by artists from across the country, and funds raised will directly support NLADA's mission of expanding access to counsel and safeguarding justice for all. NLADA is grateful to these artists and the many organizations who have helped make this auction possible. Art can be a powerful force in the pursuit of equal access to justice for all. You could leave the event with a tangible representation of your passion and commitment to equal justice for all.
Five pieces are still available for purchase. Please contact Aileen Moffatt at [email protected] for more details. 
S.H. Hendley
Untitled
27" x 24" framed
From PCAP
$300 new price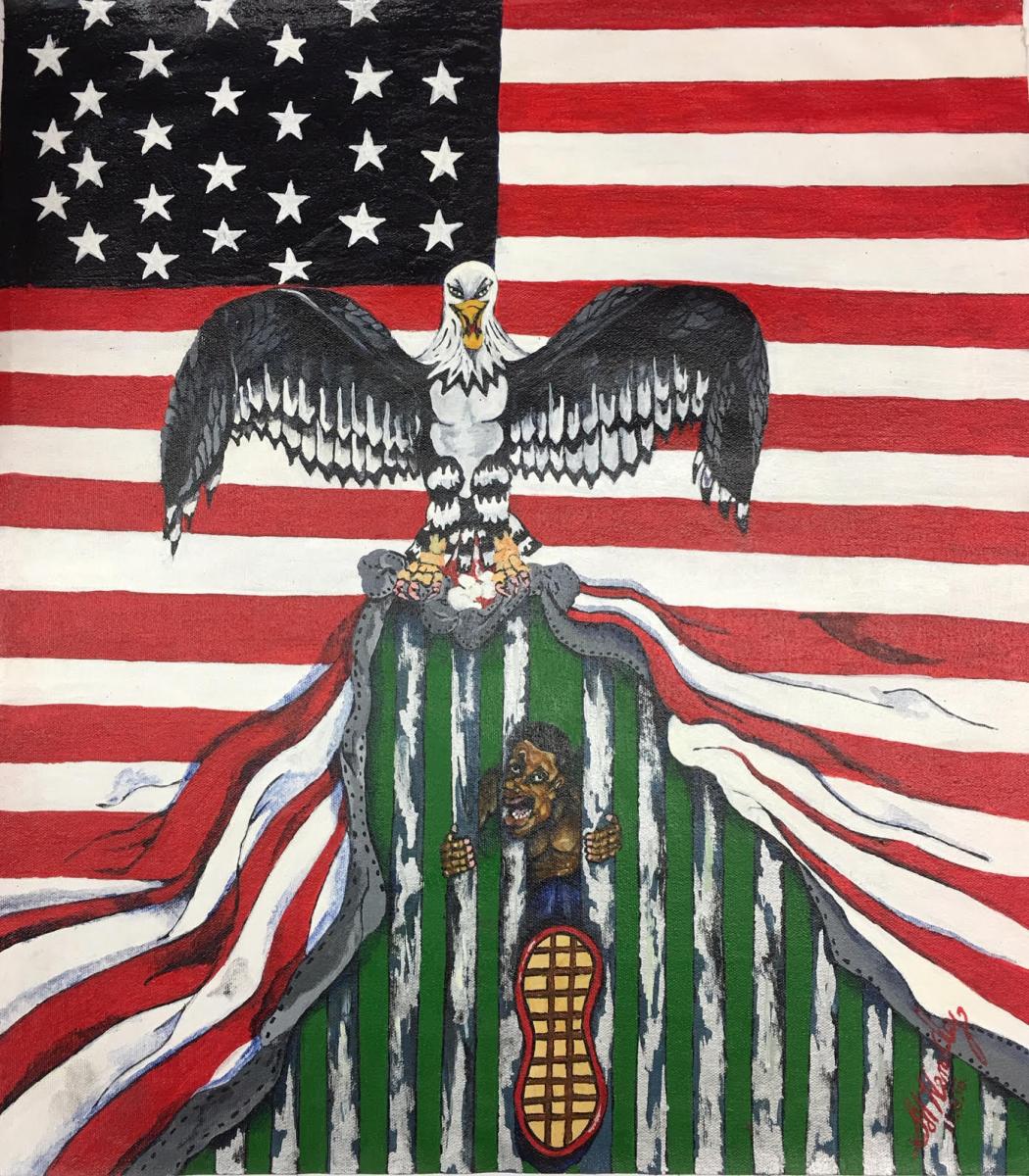 Artist Statement: "To all who have been following the University of Michigan Art Exhibit throughout the years, know of the beginning stages of my art. As an artist that has grown every year, in my expression and creativity of my art. Therefore, I feel obligated to share with you the growth...the honor is truly mine to present such pictures for you, therefore, I thank you for your love and support."
Justyne Fischer
"Loosie Law"
Hand-carved woodcut on Voile, 50" x 34" 
$1,500 new price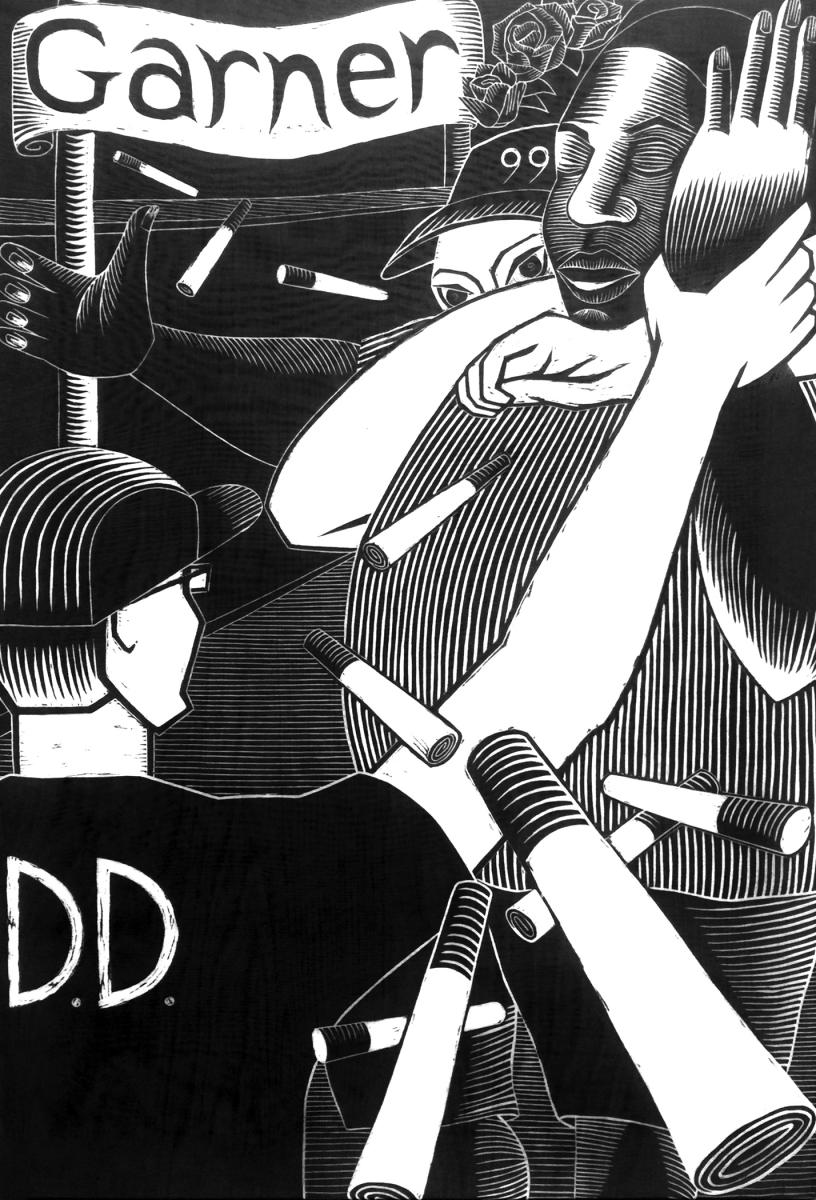 "Suspicious Suicide"
Woodcut on Voile, 34" x 50" 
$1,500 new price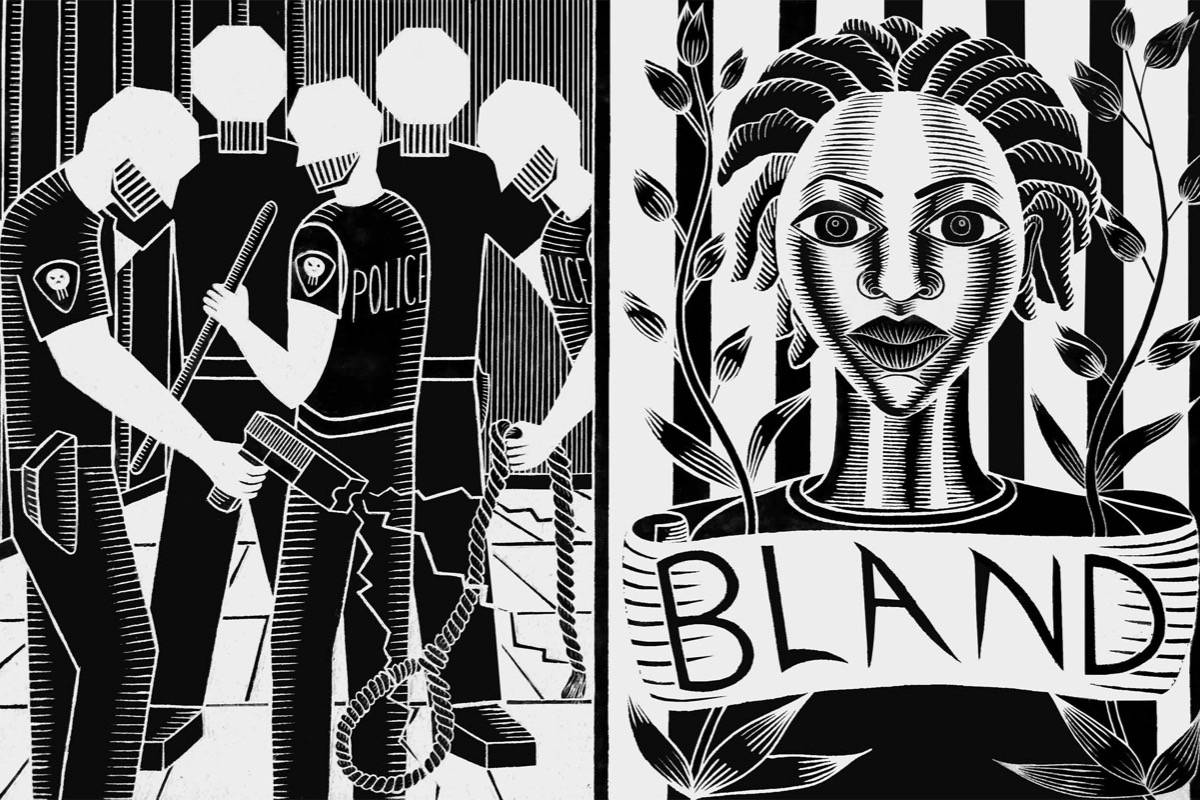 Justyne Fischer is an award winning printmaker whose work focuses on Social Memorials. Whether exhibiting her work locally or nationally, Fischer spreads her message of social justice through features in The Washington Post, East City Art Magazine, Professional Artist Magazine, Wall Street International Magazine, The Huffington Post, Artscope Magazine and The Journal of Cultural Research in Art Education. Fischer currently teaches AP Studio Art full time to nationally recognized and award winning students at South County High School.
Brief Description of Pieces: Fischer's woodcuts depart from the usual associations we make with traditional printmaking processes. Without the aid of a press, she burnishes, and hand pulls compositions onto sheer fabric. As light passes through the image, the layered fabric creates intentional moirés, optical movement and illumination. Recent explorations feature "Social Memorials" of unjust events involving unarmed Black men, women and boys. Each piece is meant to point out the tragic absurdity of each event while memorializing the human being beyond a one-day headline. "Suspicious Suicide" features Sandra Bland and the unexplained and suspicious circumstances surrounding her death in Texas police custody. "Loosie Law" represents a wild west, mentality where severe and irreversible punishment does not match the petty crime.
http://www.justynefischer.com/home
Iowa Correctional Institution for Women
"Untitled"
$40 new price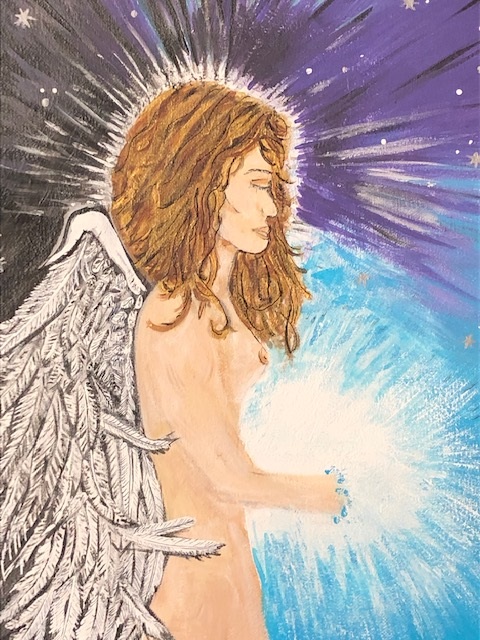 Jane Lindsay
"A Stricken Lament to Justin Chisum"
Photograph, 18" x 24" framed 
$50 new price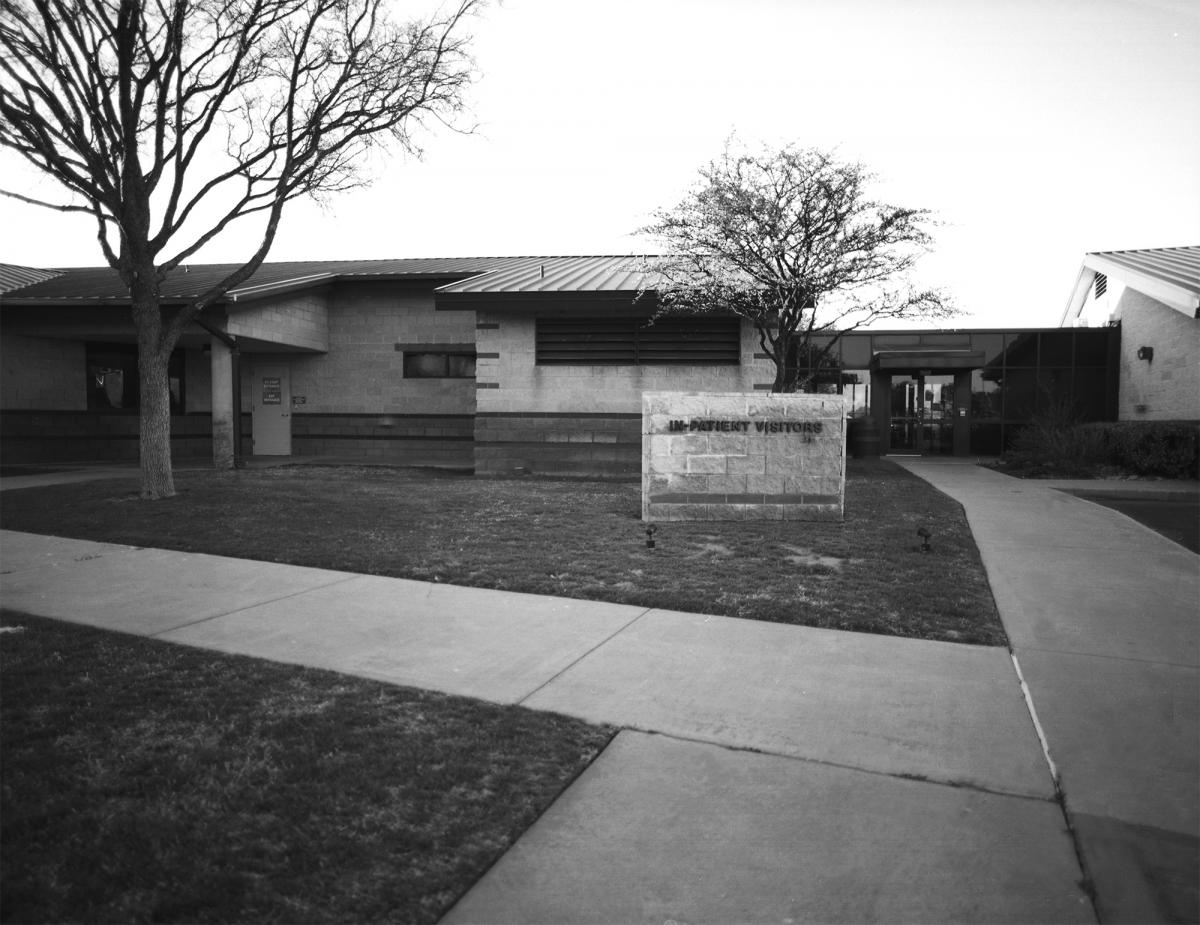 Jane Lindsay is a photographer and a Forensic, Mental Health Case Worker. She uses story, photography, and video to make work that investigates the human condition and social justice issues.  Jane works for the Lubbock County Private Defender's Office in Lubbock, Texas as a Forensic Case manager and she teaches photography at Southern New Hampshire University.  Her art practice explores the notion of race, poverty and justice in the rural culture.
Heather Paul                                                                                  
"Awakening"
Artist Proof, 31" x 22" framed
2018
$475 starting bid with a $25 minimum bid increase SOLD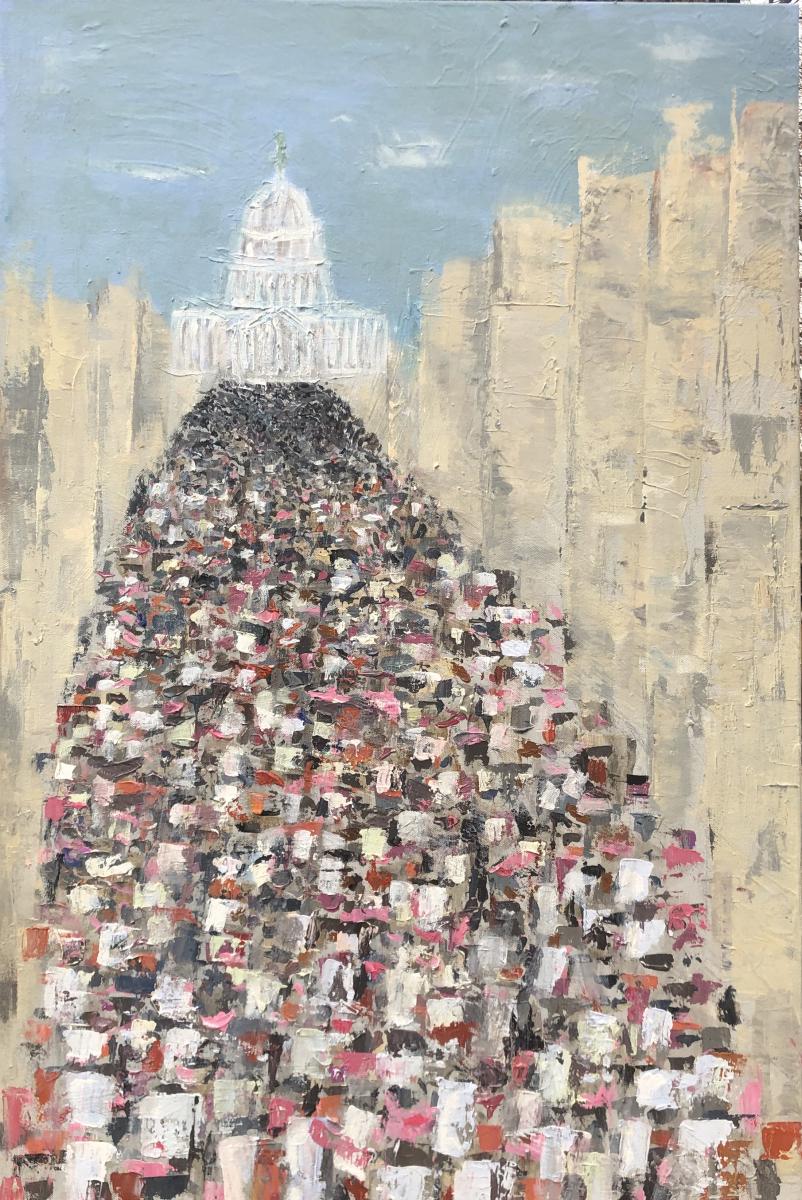 Heather Paul has made art her major work after a career in nonprofit leadership in DC and NYC. Decades ago Heather spent three years in Asia doing anthropological fieldwork leading to her love of folk art and cultural artifacts, and her PhD in American Studies rounds out her broad and eclectic approach to the arts. Heather serves on the Board Executive Committee of the Washington Studio School (WSS) in Washington, D.C.
Artist Statement: "I was greatly moved by participating in the Women's March on Washington and the March for Our Lives; they were shocking and inspiring in their size, the depth of passion and the collective fear and anger against a President and an administration that demeaned women, threatened their rights or defended egregious, permissive gun laws. However, I also could feel and see an "awakening" - a renewed energy and commitment to justice and human rights that hadn't been harnessed in quite this way, since the Civil Rights movement and protests against the Vietnam War."
Martin Vargas
"Veritas - The Lifer"
Print 10/50, 29" x 24.5" framed
From PCAP
$450 starting bid with a $25 minimum bid increase SOLD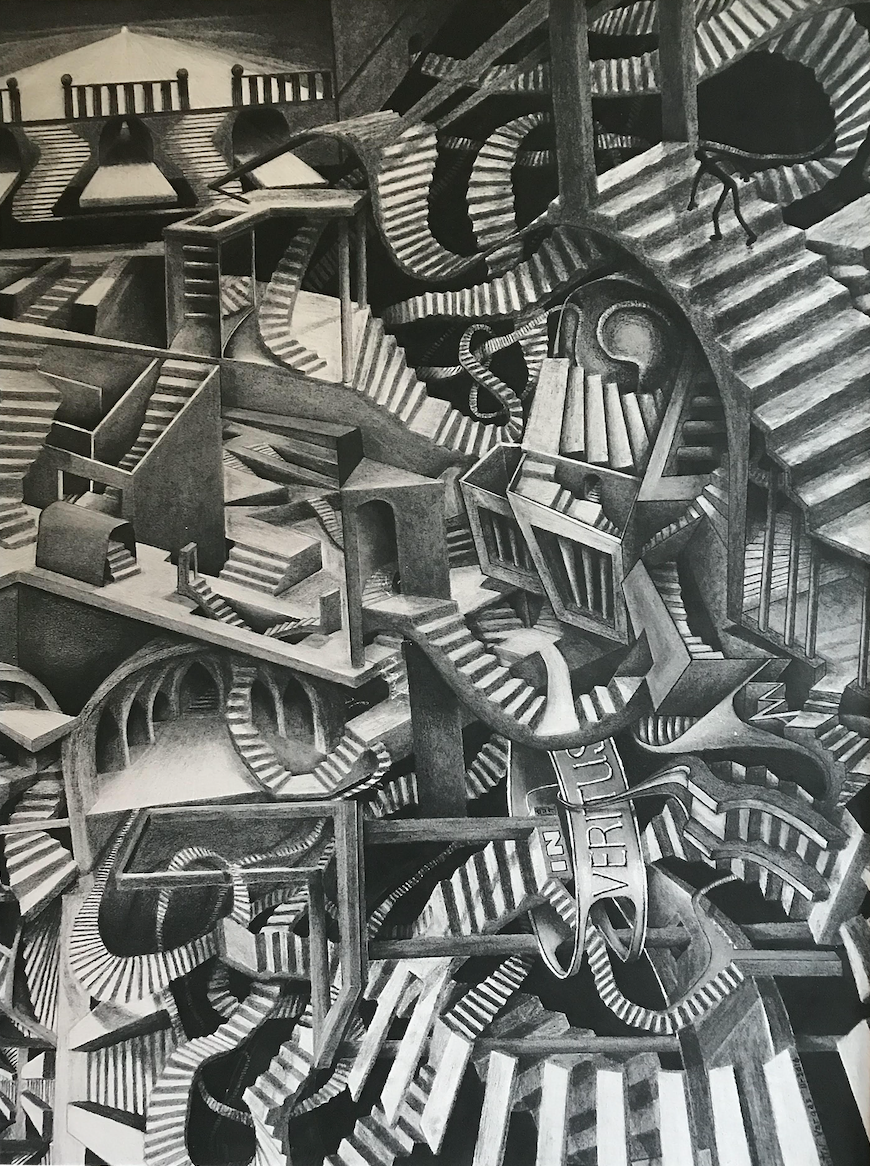 Martin Vargas is a self-taught artist who spent 45 years in prison for a crime committed when he was 17 years old. Martin's work was displayed at the Annual Exhibition of Art by Michigan Prisoners for 23 consecutive years. In 2017, Martin's work Veritas - The Lifer was presented at the University of Michigan as a gift to Supreme Court Justice Sonia Sotomayor. In February 2018, Martin came home to his wife Barbara and his many family members, friends and neighbors who welcomed him jubilantly with balloons, gifts, and food. Martin now lives in Grand Ledge where he enjoys a normal life with his wife and 3-year-old Boxer, Jaxson. Martin has since had three solo art exhibits in Lansing, Detroit, and Ann Arbor, Michigan.
Artist Statement: "The charcoal piece is a self-portrait.  It shows my long and arduous journey through the prison system.  It too has a number of symbolic elements that not anyone would pick up; including but not limited to the immense depression, introspection, religion, desperation, and the unknown environment of a juvenile lifer serving a life sentence."
Martin Vargas
"Painting His Way Home"
Oil on canvas, 40.5" x 30"
$1500 starting bid with a $50 minimum bid increase SOLD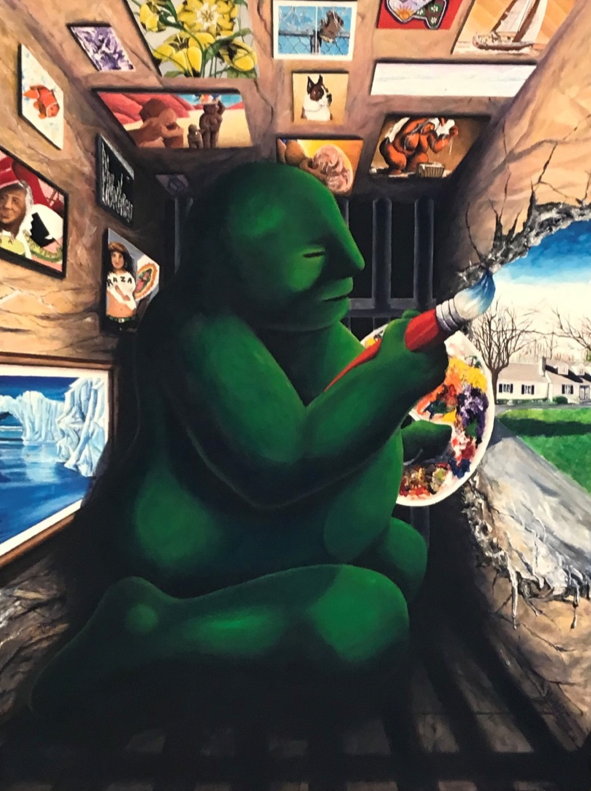 Artist Statement: "Painting His Way Home is a self-portrait done in oil.  It is done in my signature style of painting people - Pudgies - and shows me as the big green guy painting a mural of a hole in the wall (of my cell); that was my present (then). The paintings hanging on the walls all around me are pieces I have painted before, this is my past.  The mural shows my home, where I live now, and that was my future - now my present.  There are a few symbols within, but they are not always recognized by anyone who doesn't know me." This is the last painting Martin Vargas completed while he was incarcerated.
Michael Dean
"Drinking on the Tit of America's Milk"
23.5" x 18" framed
From PCAP
$400 starting bid with a $25 minimum bid increase SOLD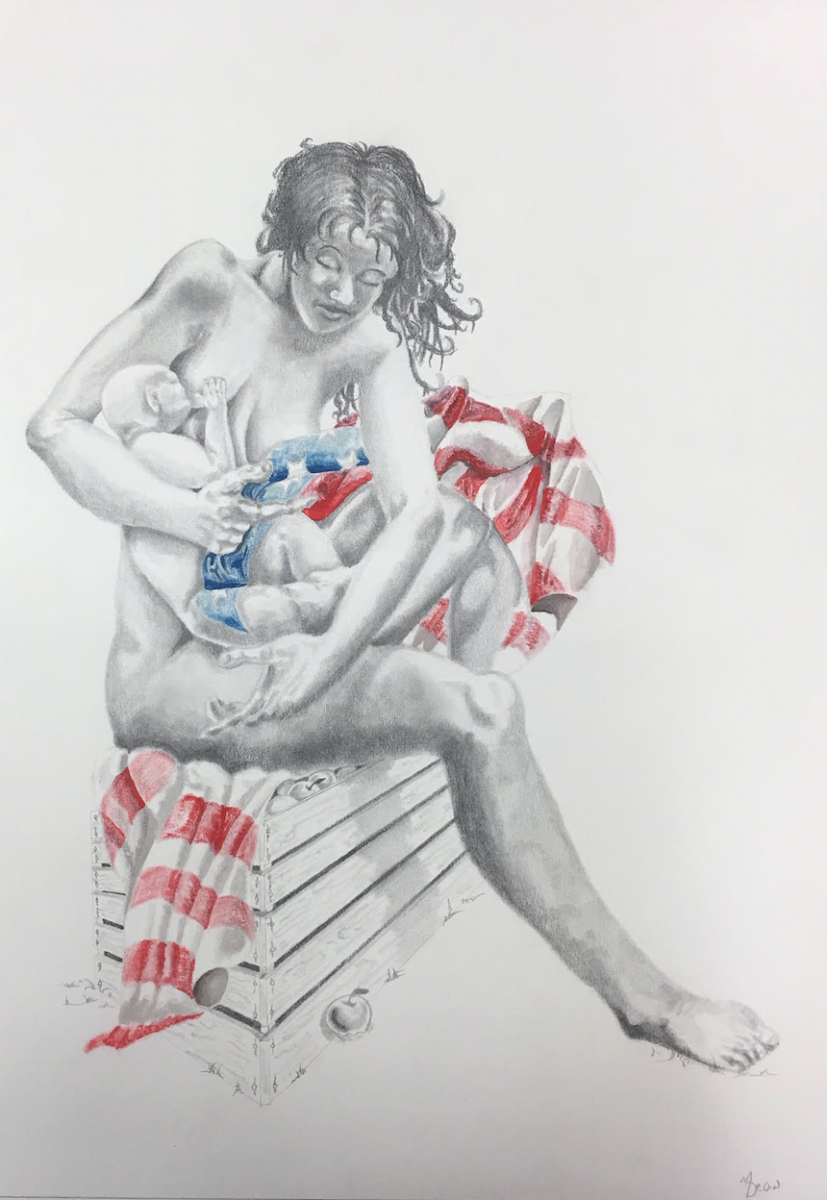 Artist Statement: "This year I wanted to do some work that would make people think about life. With everything that is going on in the world, my work reflects the life and environment we live in. Starting with, "Drinking on the Tit of America's Milk," which portrays a Latin American female nursing her child. They came to America looking for a better way of life. They are the backbone of society, doing jobs most Americans don't want to do, from picking fruit to building houses. Yet because of their race, we want to send them back to "their" country. My message is to stop and think better before you act. Because every action has a different reaction."
Pernis Johnson
"To My Daughter on Her Graduation Day"
29" x 46" framed
From PCAP, 2017
$200 new price SOLD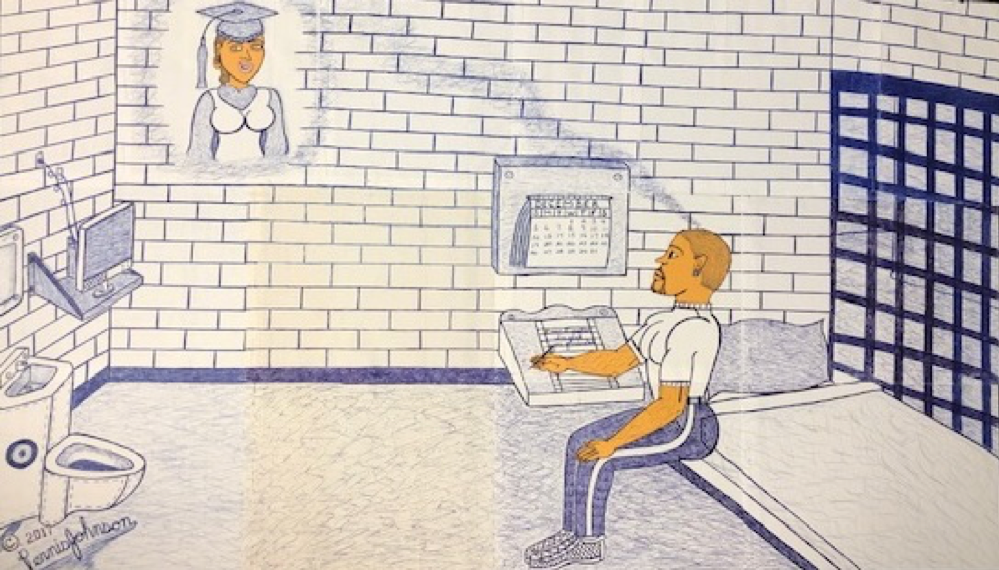 Artist Statement: "Salutations! I love the creative process and I feel that artwork is a reflection of one's inner self...we the people of the art community do not need expressions of violence and hate to showcase our individual talents. So, let your artistic sides show your appreciation for art, not your individual hate. Keep shining, keep smiling. I have not given up on the human race! Shalom! Godspeed."
Sheldon Murry
"Doing Time"
29.5" x 26.5" framed
From PCAP
$600 starting bid with a $50 minimum bid increase SOLD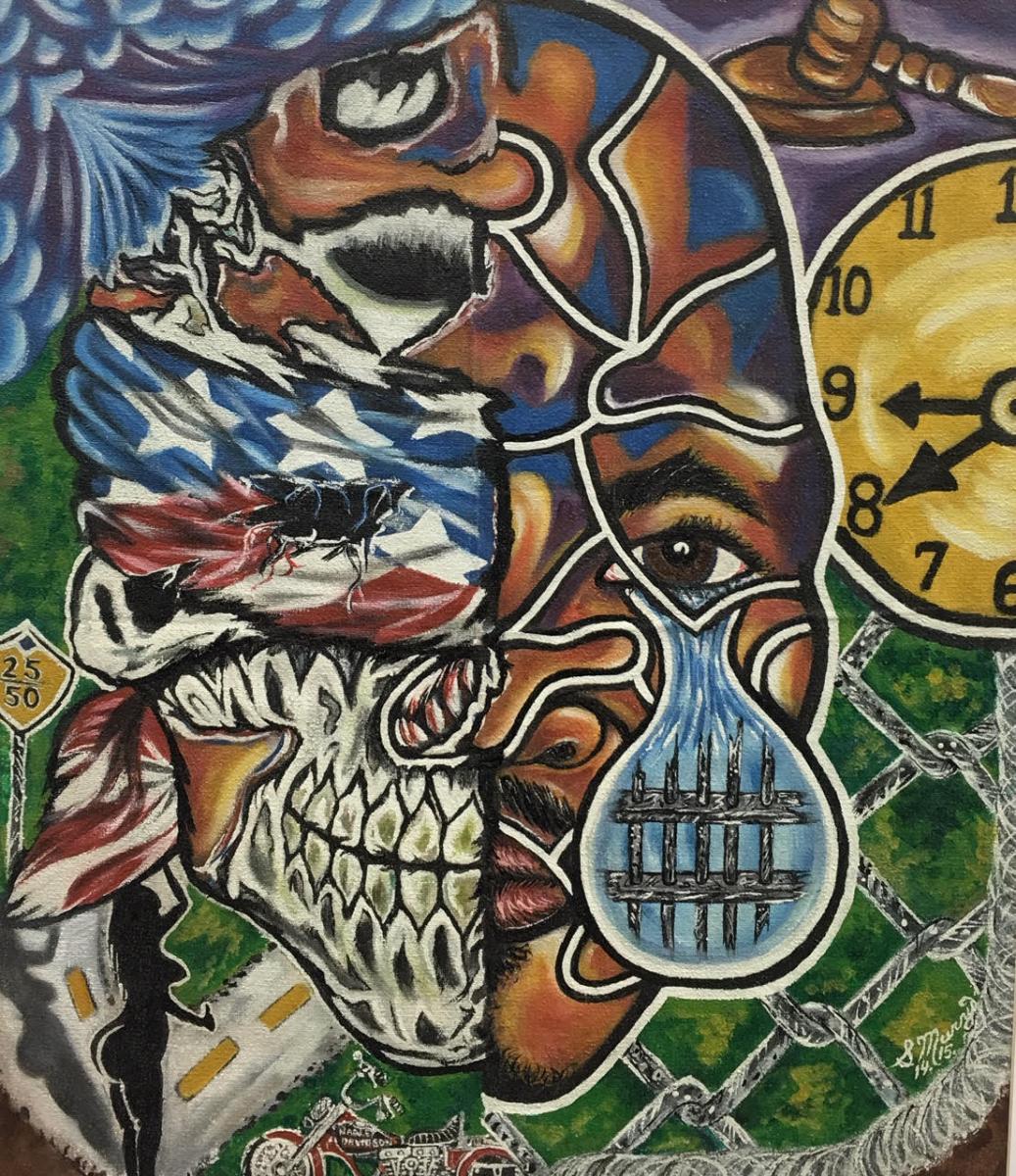 Will Livingston
Untitled
Original acrylic painting, 18" x 24"
$750 starting bid with a $50 minimum bid increase SOLD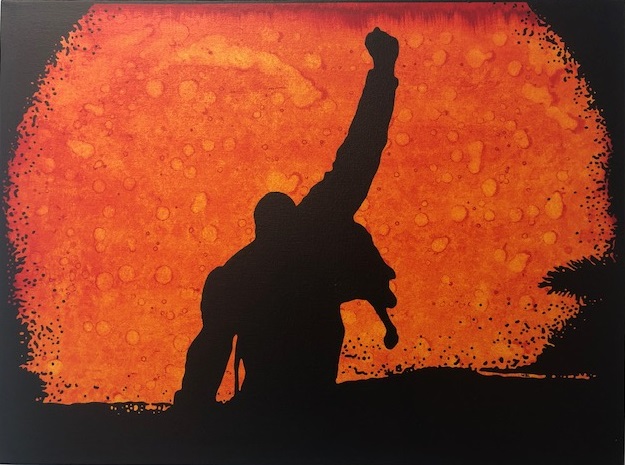 Will Livingston began to paint after he was sentenced to forty years in prison in Oklahoma and could no longer continue his passion of music. Will's family helps him to sell his art in galleries, art festivals, exhibitions, and donating paintings for charitable causes. Art is a way for Will to feel a part of the world – and to give back to community and society. Learn more here. 
Artist Statement: In an article with The Guardian, Livingston said, "I put a lot of the things that I miss in my art – friends, music, things that remind me of home. Before I came here, painting was just something I did at three in the morning after I was fucked up, but now I'm always trying to push the envelope, to improve, to do different things."
Yusef Qualls-El
"The Dance of Recidivism"
21.5" x 25.5" framed
From PCAP
$275 starting bid with a $25 minimum bid increase SOLD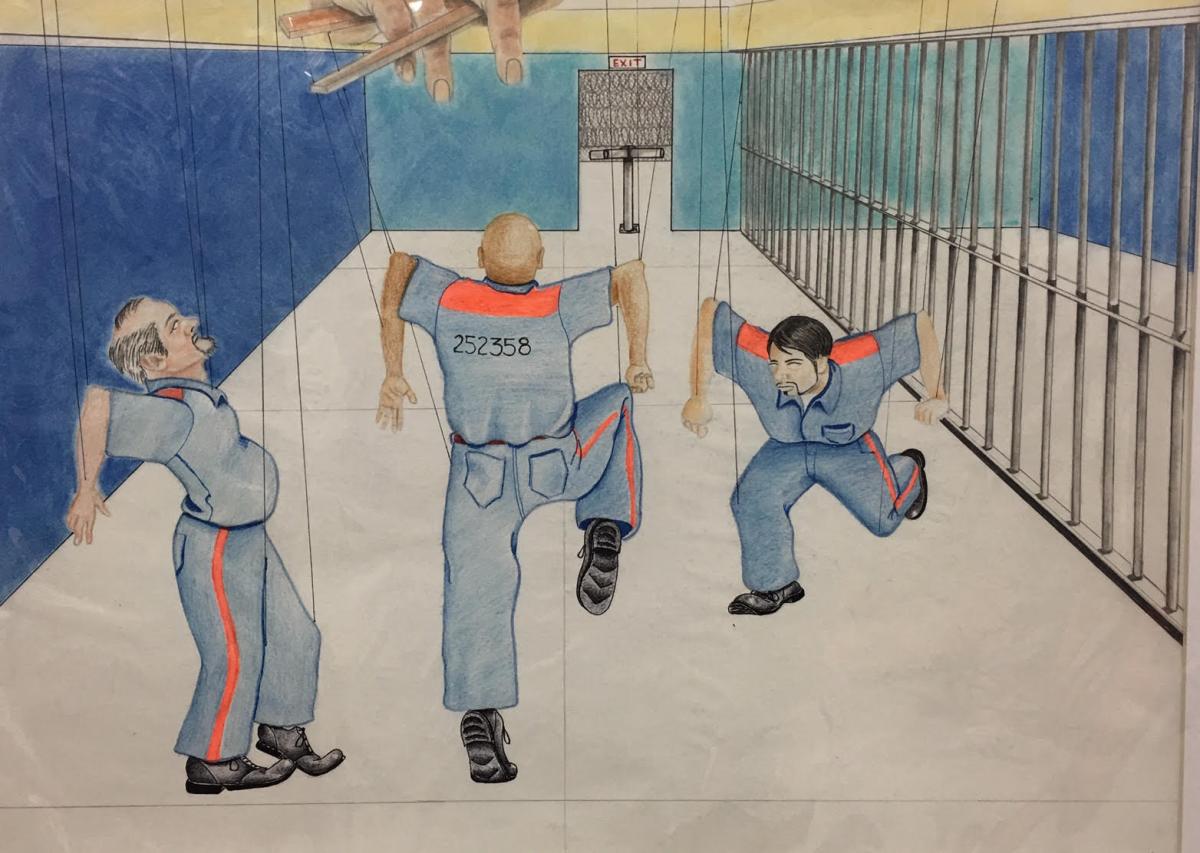 Artist Statement: "Creative expression is a very important thing for me…sometimes I feel a disconnect from society and that bothers me to no end…I express that pain, anxiety, and hope through my art…sometimes it might not seem positive, but it is…I believe that the only way to change a thing, is to first acknowledge what it is that needs to be changed…"
T. Nguyen
"No Warning Shots"
Painting on Board, 18" x 13.5" framed
From PAC, 2017
$175 starting bid with a $25 minimum bid increase SOLD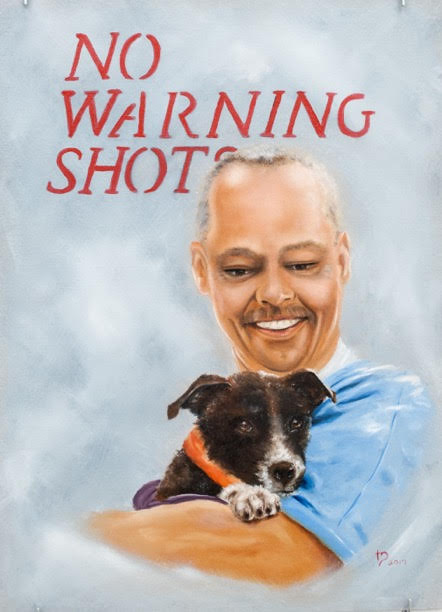 T. Nguyen is an artist serving life in prison without the possibility of parole. He knows he (and the subject depicted whose story touched him to create the work) live in darkness and hate, but through his art he sees a glimpse of light, life, and hope.
Backstory of Subject Depicted: "My name is Jack McFadden, or as CDCR knows me, #D-34424. I was locked up in 1983, I was 19 years old. I thought I was tough, I thought I was cool, then I got to prison, I was neither. One of the first things I remember about those first nights in prison was all the blood stains in the cement, stains that would never come up. I was in prison.
People ask me all the time, "Jack, how have you done so much time?" In my mind I always say the same thing, "I didn't do all this time, I survived all this time." The reality is I survived, but barely. Not that I almost died, although that happened a few times as well, but I mean mentally. The constant madness, the politics, the violence for such asinine things that will push you to the edge of sanity and beyond. The stress day after day, year after year, decade after decade is so intense and so hard to deal with it will drive you crazy. Slowly you start to lose your humanity, you stop caring about the madness, the violence, and dream. You see the blood and madness and it doesn't really affect you. Slowly you lose your compassion. To show compassion is to show weakness and to show weakness is to become the next victim. The days go by and I watch the chaos that is prison, I watch the officers above with their guns, ready and willing to use them "to stop violence." I look in the mirror and realize THIRTY YEARS have gone by. Three decades have passed, and an old man is looking back at me in the mirror.
The rules change and I am transferred to a different prison. I have been locked up long enough that I am given a chance to live on a yard where the politics are gone. The men are just trying to live the rest of their lives in peace. Men are just being men. They are trying to better themselves and those around them. So simple and yet so strange and foreign for prison. For the first time since being locked up I can talk to anyone and walk throughout the yard without concern for my safety.
Then a new program starts, and I am lucky to be living in the building where it starts, it is called Paws for Life. An organization named Karma Rescue has paired up with Paws for Life and they bring in dogs that have been rescued from certain death. The men train the dogs to help make it easier to find them forever homes.
How do I describe what it felt like to see and touch a dog that wasn't looking for drugs or phones in more than 30 years? I was cautious as I watched the trainers with their dogs, afraid but not certain why I was afraid. It was not fear of being bitten, it was something I didn't understand. Then one day a friend who is a trainer told me, "Stop being afraid of the dogs, sit down and pet her." He was referring to Shelly, the dog he was training. She is beautiful and full of energy. So, I sat down, and she hurried right over to me and climbed into my lap and started licking my face. The world stopped, everything around me was gone and for the first time in decades I cried, and I could care less who saw me. I felt truly alive and human for the first time since coming to prison.
My life changed forever that day. I am now a Paws for Life trainer. With each new dog that comes into the program I regain a part of my humanity that I had thought lost forever. The compassion I was afraid to show and feel is back, not just for these amazing animals but for the people around me as well. I can hold a puppy and smile and feel human again. I can hold a puppy and enjoy the feeling only a puppy can give you. Long gone is the person who was only a number trying to "Survive Prison." Now I am a Man who feels love and compassion, a man who could care less if someone else thinks he is weak for having those human feelings and emotions. I have learned that the amazing dogs entrusted to us through Karma Rescue and Paws for Life have made me into a better man and a better human being. I "HAVE" survived prison, I have come out stronger."
Frank Wu
"Indifference"
Canvas print, 24" x 36"
2001
$425 starting bid with a $25 minimum bid increase SOLD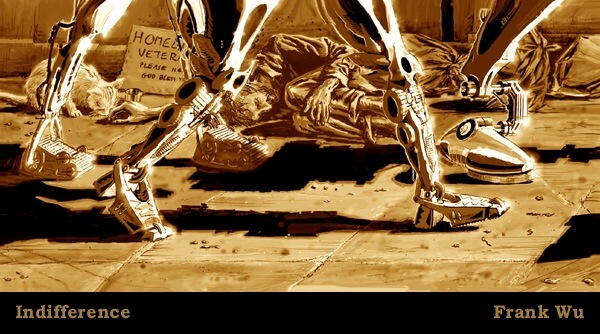 Frank Wu is a science fiction and fantasy writer, artist, and animator. He has won the Illustrators of the Future grand price and has won the Hugo Award for Fan Art four times.
Artist statement: "When we walk by a homeless person, ignoring him, we lose a little bit of our own humanity. 'Nuff said."
Iowa Correctional Institution for Women
"Untitled"
14" x 11" SOLD
SOLD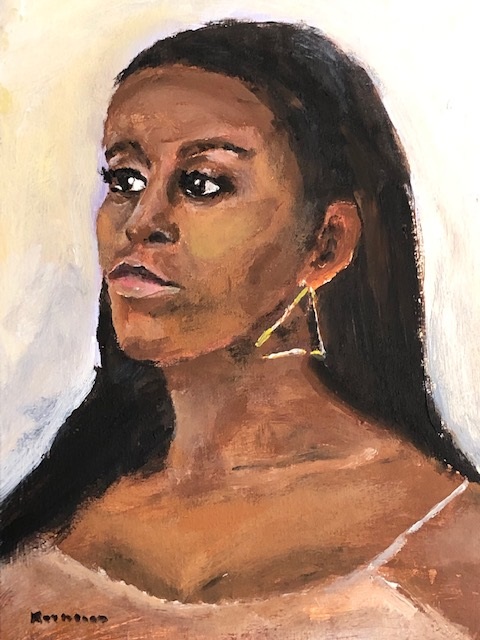 SOLD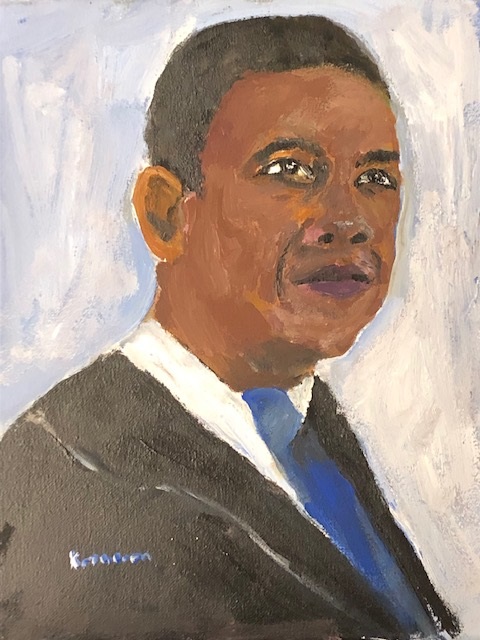 A big thank you to our partner organizations who helped us with our first art auction:
Center for Contemporary Political Art (CCPA)
Website:  politicsartus.org
Twitter: @politicsartus
Instagarm: @politicsartus
Facebook: https://www.facebook.com/politicsartus/
The Center for Contemporary Political Art, a 501(c)(3) nonprofit corporation based in Washington, D.C., is the world's first institute for the study, patronage and strategic use of politically-engaged Fine Art, a genre of art that's produced some of the greatest works of art in the history of art.
Founded by a group of concerned citizens in 2017, during the first year of Donald Trump's presidency, its purpose is to give artists from around the world, but especially the United States, a way to express their views on the most pressing and important issues of our time—and to give the rest of us the benefit of seeing their views realized in the form of original paintings and drawings and sculpture that help us understand the issues and decide for ourselves what's best for us, our country and the rest of world, too.
Prison Creative Arts Project (PCAP)
Website: prisonarts.org
Twitter: @umichPCAP
Instagram: @prisonarts
Facebook: https://www.facebook.com/prisonarts/
Prison Creative Arts Project (PCAP) brings those impacted by the justice system and the University of Michigan Community into artistic collaboration for mutual learning and growth. Founded in 1990 with a single theatre workshop, PCAP has grown to include courses, exhibits, publications, arts programming, and events that reach thousands of people each year. PCAP encompasses both academic and volunteer-based programs at the University of Michigan. PCAP's community includes U-M students, faculty and staff, community volunteers, youth and adults in detention and treatment programs, and formerly incarcerated adults.   
Each year, PCAP brings faculty, staff, students, and community volunteers to correctional facilities across Michigan and select work for the Annual Exhibition of Art by Michigan Prisoners, while providing feedback and critique that strengthens artist's work and builds community around art making inside prisons.
Prison Arts Collective (PAC)
Website: prisonartscollective.com
Instagram: @prisonartscollective
Facebook: https://www.facebook.com/communitybasedarts/
The Prison Arts Collective (PAC) facilitates weekly arts programs in eight California state prisons and will expand to twelve institutions by 2020. PAC's mission is to expand access to the transformative power of the arts through collaboration and mutual learning that supports the development of self-expression, reflection, communication, and empathy by providing multidisciplinary arts programming in correctional institutions. PAC takes a participatory and learner (artist)-centered approach and our teaching teams include staff artists, guest artists and scholars, university student interns, university faculty, and current and formerly incarcerated peer instructors. Through this process, we facilitate environments for creative communities within the highly restricted prison setting. The PAC exhibition program began out of our participants' requests to exhibit their work in the public. Based out of California State University, San Bernardino and directed by Professor Annie Buckley, the PAC project of Arts in Corrections, an initiative of the California Arts Council and California Department of Corrections and Rehabilitation and has also received grants from the CDCR Innovative Grants Program and the National Endowment for the Arts. 
***** Donated art work received by NLADA as of May 2, 2019 *****