Public Service Loan Forgiveness Critical to Advancing Justice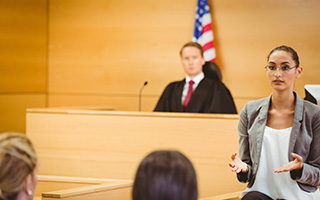 A 2,000-person survey NLADA released in June 2015 shows that dramatically reducing student loan forgiveness for lawyers working in the public interest would profoundly diminish access to justice for low-income people. The Obama Administration has proposed capping payments for those participating in the federal Public Service Loan Forgiveness (PSLF) program, and some in Congress have recommended completely eliminating the program.
The survey -- "The Critical Role of Public Service Loan Forgiveness in Access to Counsel and Equal Justice" -- makes it clear that cutting PSLF would force many with substantial loans from law school to take jobs in private practice rather than in public service, and the people who would suffer most are community members with limited incomes who rely on these attorneys.
Currently, PSLF forgives remaining balances on federal student loans on which a borrower has paid 10 percent of his or her income while working full-time in public service for 10 years. It enables thousands of civil legal aid lawyers and public defenders -- whose starting salaries average below $50,000, or less than half the typical salary for entry-level lawyers at large firms and corporations -- to serve their communities and still manage their law school debts. Yet the Obama Administration recently recommended a cap of $57,000 per student in this program, far less than the debts many lawyers currently have.
Sign up for updates on PSLF, and contribute your story.
To understand the damage the Administration's proposal might cause, NLADA surveyed thousands of lawyers. Key findings of included:
Half the respondents indicated that with a $57,000 cap, they would not have taken their position or would likely leave for a position with a higher salary.
More than 25 percent of respondents have more than $175,000 in federal loan debt.
Respondents' stories revealed a wide range of benefits from PSLF:

maintaining a skilled and dedicated pool of public service attorneys;
supporting attorneys who relate to and understand their clients; and
helping public interest attorneys contribute more to the nation's economy, rather than committing an overwhelming share of their discretionary income to debt payments.
Personal stories showed the costs of capping the repayment amount:
"I am a public defender primarily representing Juveniles. The work is the most challenging thing I have ever done in my life.  It is intense, emotional, exhausting, and taxing. It is also something I am so proud of…When I learned of the PSLF, I was thrilled. I have come to rely upon the promise to forgive my student loans if I spent a decade…representing indigent defendants."
"My grandparents only went to high school…My father grew up poor. I am the first lawyer in my family…I now work as a bilingual attorney helping tenants fight their eviction cases…For our clients, having an attorney can mean the difference between whether they will be sleeping on the street or not. I hope that the PSLF program can continue to help make doing public interest work possible for those of us who come from less affluent families."
"[My wife and I] are renting our one-bedroom apartment out for share through AirBnB, and I am driving nights and weekend for Uber and Lyft, just to make ends meet. The PSLF program is all that gives me hope."
See the full report here. Also, sign up for updates on PSLF; lawyers participating in PSLF can also add their stories about how the program has helped them serve low-income people.