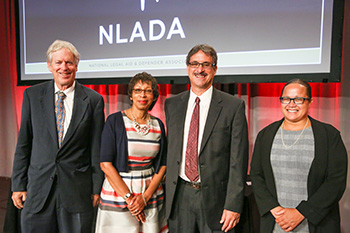 NLADA bestows the Kutak-Dodds Prizes annually at the Exemplar Dinner to honor the accomplishments of civil legal aid attorneys, public defenders, assigned counsel, or public interest lawyers who, through the practice of law, are significantly contributing to the enhancement of human dignity and quality of life of those individuals who are unable to afford legal representation.
Established in 1989, the prizes are jointly sponsored by the Robert J. Kutak Foundation and NLADA and bestowed in memory of Robert J. Kutak and Kenneth R. Dodds. Both men were partners in the Omaha, Nebraska, office of Kutak-Rock and practitioners and advocates of public service, legal education, and high ethical standards throughout their lives. In addition to legal services for the poor, the Kutak Foundation supports education in professional ethics, minority scholarships, and a variety of other public interest projects. The foundation is maintained by Mr. Kutak's former friends and associates.
For information, please contact Chelsey Gibson, Major Gifts Officer, at [email protected] or 202-452-0620, ext. 259.
Past Kutak-Dodds Award Winners