Strategic Alliance

For more than 100 years, the National Legal Aid & Defender Association has been on the forefront of the effort to promote excellence in the delivery of public defense and civil legal aid. Fair, effective pretrial practices that provide the highest manner of justice have been a central tenet of NLADA's mission and its national standards for quality representation.
The Safety and Justice Challenge is an initiative to reduce over-incarceration by changing the way America thinks about and uses jails. The initiative—an initial five-year, $100 million investment by the John D. and Catherine T. MacArthur Foundation—features a competition to help jurisdictions across the country create fairer, more effective local justice systems.
As a Strategic Ally of the Challenge, NLADA is working with defenders from each jurisdiction to promote their leadership and share essential information from the Challenge with the broader public defense community. NLADA will provide the following services and tools to the entire Challenge Network:
Toolkits, resource guides, training materials and webinars - developed with Challenge partners and sites - pertaining to pretrial justice and early access to counsel
Peer-networking and information-sharing among Challenge Network defenders, and with NLADA's community of defender, civil legal aid, and client advocates
Communications and strategic problem-solving support to inform, engage, and encourage broad public defense community participation in the Challenge
Challenge Network Defenders
The 40 jurisdictions participating in the Challenge will develop and model effective ways to keep people out of jail who don't belong there, more effectively reintegrate those who must be confined into the community upon release, and help them stay out of jail thereafter. In doing so, they will demonstrate alternatives to incarceration as usual, creating models for reducing unnecessary jail use to make communities healthier, fairer, and safer. 
NLADA coordinates and supports defender leaders in these sites.
Core Sites

Partner Sites

 Innovation Sites

Charleston County Public Defender
Charleston County, SC

Harris County Public Defender's Office
Harris County, TX

Lucas County Public Defender
Lucas County, OH

Wisconsin Office of the State Public Defender
Milwaukee County, WI

Orleans Public Defender Office
New Orleans, LA

Defender Association of Philadelphia
Philadelphia, PA

Pima County Department of Public Defense Services
Pima County, AZ

St. Louis County Public Defender
St. Louis County, MO

Spokane County Public Defender
Spokane County, WA

Connecticut Division of Public Defender Services
State of Connecticut

Ada County Public Defender
Ada County, ID

Cook County Public Defender
Cook County, IL

Los Angeles County Public Defender
Los Angeles Alternative Public Defender
Los Angeles County, CA

Mecklenburg County Public Defender
Mecklenburg County, NC

Colorado State Public Defender
Mesa County, CO

Metropolitan Public Defenders
Multnomah County, OR

New York County Defender Services
Neighborhood Defender Service of Harlem
The Bronx Defenders
Brooklyn Defender Services
Queens Law Associates
Legal Aid Society of New York
New York, NY

Palm Beach County Public Defender
Palm Beach County, FL

Pennington County Public Defender's Office
Pennington County, SD

Shelby County Public Defender
Shelby County, TN

Atlanta Office of the Public Defender
Atlanta, GA
Resources from NLADA
 
Communications Toolkit
A guide to key values, messages, and strategies for engaging stakeholders, media, and community members in ensuring early access to counsel.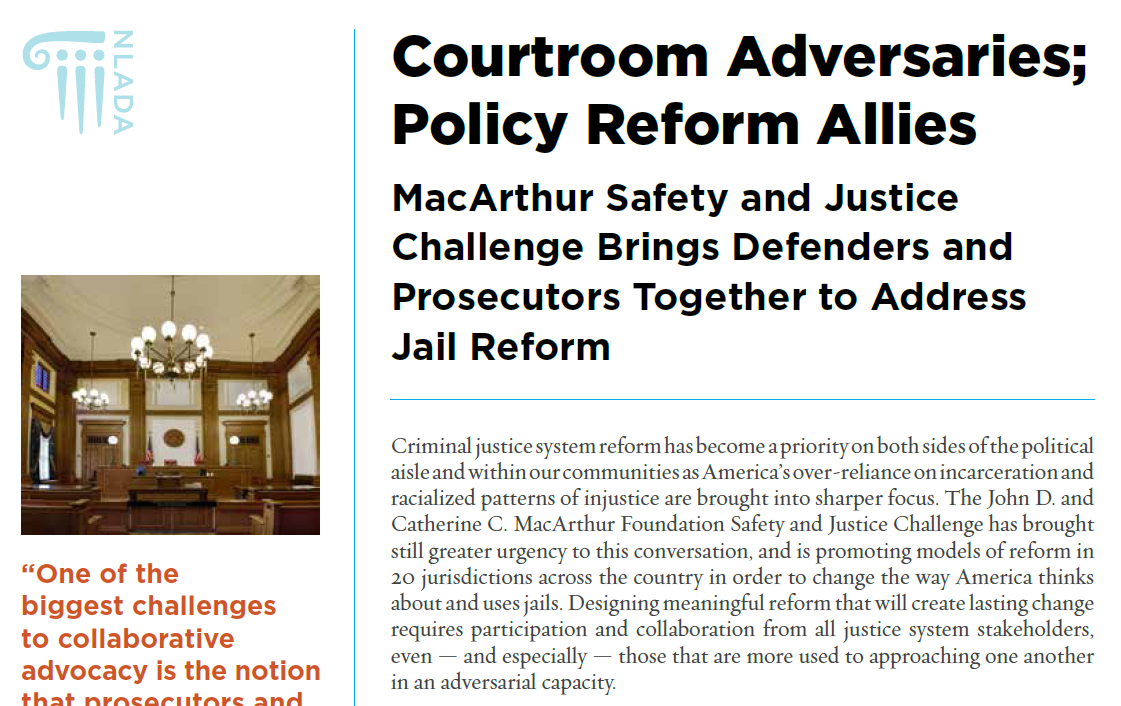 Cornerstone Interview 
A conversation about collaboration with NLADA's Jo-Ann Wallace and the Association of Prosecuting Attorneys' (APA) David LaBahn.