Peer to Peer Technical Assistance for Lasting Results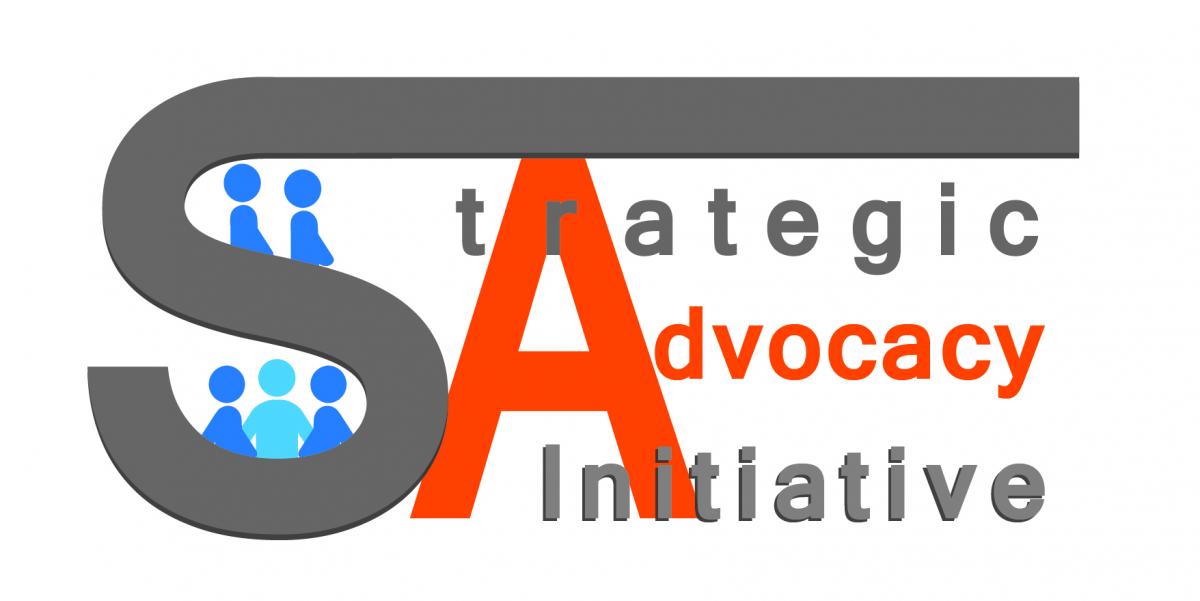 NLADA is launching a new round of program visits to build civil legal aid strategic advocacy. This "Strategic Advocacy Initiative," (formerly known as the "Strategic Advocacy for Lasting Results" (SALR) Initiative), provides confidential, peer-based assistance to National Legal Aid & Defender (NLADA) civil member programs to help them develop and expand their capacity to achieve broad-based results in their work, by identifying strategies to make change and developing a plan for implementation of such strategies. The Strategic Advocacy Initiative is a resource for programs that are not currently focused on broad-based advocacy, as well as those that want to improve or expand an aspect of their ongoing work.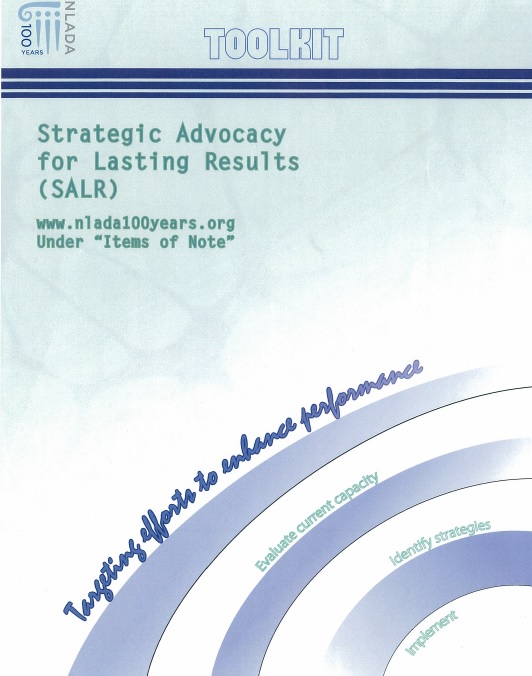 Under the former SALR initiative, in preparation for the first site visit, NLADA visited five organizations or regions which engaged in intentional strategic advocacy. With insights, tools and best practice gleaned from those visits, NLADA created this toolkit.
 
The project will target programs which are well poised to make change happen, with leadership who have both the clear commitment and potential to change the status quo. The Strategic Advocacy Initiative will provide direct technical assistance to selected applicant member programs through peer visits of several days and a follow up report.
 
The Strategic Advocacy Initiative is a peer to peer program and will draw from the expertise of legal aid leaders and emerging leaders from across the country to provide assistance. A team of peers with appropriate skills and experience will be chosen for the program visit. They will work together with program staff to identify strategies for change and make a plan to move the program forward.  
 
This initiative is designed to capture the lessons learned and successful methods emerging from the program visits for the benefit of the larger legal services community. It therefore archives its work and guidance in a PDF Toolkit that will be available soon. The initiative seeks to to create a new cohort of programs which can achieve lasting, systemic change for clients and low-income communities, and share their expertise and commitment to this work in new ways.  
 
The Strategic Advocacy Initiative also serves as a vehicle for developing emerging leaders, by including less experienced advocates on the assistance teams. Their inclusion brings fresh ideas to the visiting teams while also providing insights to benefit their own programs and helping prepare a new cadre of national leaders.
Focus on Enhancing Systemic Advocacy
The focus of the Strategic Advocacy Initiative is on enhancing the capacity of legal services programs to conduct high quality "broad-based advocacy".[1] The term "broad-based advocacy" encompasses a wide variety of approaches for achieving results that benefit more than individual clients. For example, it includes the strategic handling of individual cases to obtain precedential results or widely applicable declarations of law; affirmative litigation or policy advocacy designed to achieve systemic change or stop widespread bad practices; efforts to overcome recurrent barriers that prevent low-income people from overcoming poverty; promotion of economic opportunities and power in low-income communities through economic development work or participation in community-based coalitions; improvements to the judicial system for low-income litigants and the like. Broad-based results can be achieved through the use of a multi-faceted arsenal of advocacy tools.
Testimonials
Learn about the value of participating in the Strategic Advocacy Initiative.
Selection Process
NLADA will invite programs to apply to participate, and make selections from the applicants. NLADA will give high priority to programs that are seeking to move into new areas of practice or respond to significant changes in client demographics or need. Such shifts are difficult but particularly important to address the results of economic turmoil, neighborhood change, and new laws, policies and practices that affect low-income people. This initiative is intended to support programs in integrating broad-based strategies as they rethink their priorities, advocacy goals and delivery methods.
The Strategic Advocacy Initiative will expect some financial participation from the selected programs to assist with the out of pocket travel expenses of the peer visitors. The peer team will participate as unpaid volunteers.
Scope of Assistance
The initiative will provide assistance in the following areas:
Examination of program organization, systems, policies and expectations that promote or deter broad-based work.
Examples of program operation or systems that could be the focus of an assistance team are:
Helping develop clarity of program mission
Assisting leadership articulate and implement clear expectations regarding the importance of systemic work
Examining intake and case acceptance practices and their connection to systemic advocacy
Assessing case and work management, including caseload and workload expectations
Reviewing the effectiveness of legal work supervision
Helping the program measure the effectiveness of legal work or develop useful evaluation procedures
Strengthening training and professional growth opportunities for staff
Helping program staff develop a more strategic focus to their advocacy work by
Articulating, planning for and implementing advocacy goals, and making clear, deliberate and informed choices in focusing advocacy resources
 Identification of broad-based issues from direct services
Developing realistic strategies to address identified recurrent or systemic issues
Making room for pursuit of the broad-based issues that are identified
Assuring that chosen strategies are implemented
Helping programs determine whether and how to expand into new areas of practice by
Determining whether the current practice is meeting existing or emerging needs in client communities (e.g. community "listening", needs assessment)
Setting priorities, making choices in light of needs assessment results
Advising and referring the program to resources that will assist the program in moving forward
Applications will be available in the coming months and periodically throughout the year.
[1] See Standard 2.6 of the ABA Standards for the Provision of Civil Legal Services.