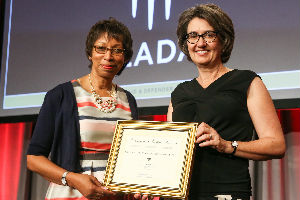 The annual Beacon of Justice Awards recognize corporate law firms who have demonstrated an exceptional commitment to expanding access to quality legal services for low-income people and communities.  The pro bono work of these firms expands justice for all Americans.
Each year's Beacon of Justice Award focuses on a theme.  For example, the 2015 selection criteria emphasized expanding opportunities in areas such as education, health care, housing, and legal services.  A small sample of the 2015 honorees' successes includes: bringing legal services directly to homeless individuals in shelters in more than 20 cities nationwide; helping a nonprofit client achieve a major victory when a large health insurer was ordered to spend $56 million on community health needs in the nation's capital; working with multiple states on foster care system reform; and representing unaccompanied immigrant children and women and developing strategies to ensure legal representation for them. The previous year emphasized innovation, especially technology, such as the use of online services in remote areas to provide legal aid or connect with pro bono attorneys.
For more information, please contact Chelsey Gibson, Major Gifts Officer, at c[email protected] or 202-452-0620, ext. 259.
Beacon of Justice Award Winners