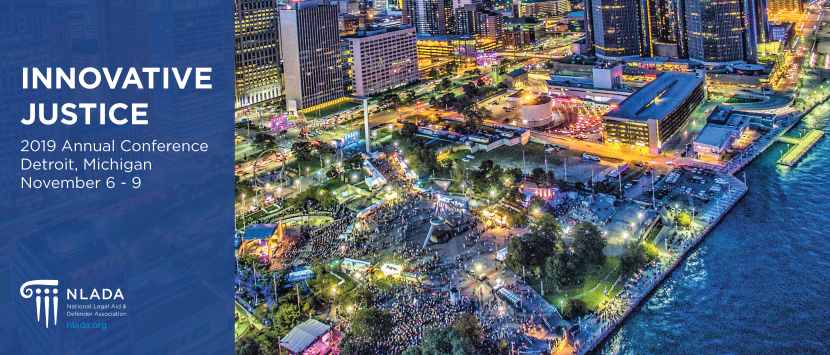 Wednesday, November 06, 2019 9:30 am

to

Saturday, November 09, 2019 3:30 pm
The 2019 Annual Conference will be held at the Detroit Marriott at the Renaissance Center (400 Renaissance Drive), in Detroit, Michigan.  Reserve your room here by October 14 to get the special rate of $198 (plus taxes).
Registration Now Open Early bird deadline extended to October 4!
Register by October 4 to take advantage of Early Bird rates. Click here for details about registration.
Conference Schedule — Sched App Is Live!
The basic conference schedule appears below. All times are subject to change. The full conference schedule with session titles, descriptions, and speakers, as well as other conferene events, will be posted on our Sched conference app as information becomes available. Click here to see the schedule so far.  Details about workshops will be available later in September.
Tuesday, November 5
8:30 a.m.-5:00 p.m. -- Train-the-Trainer Pre-Conference-Day 1 (separate registration fee required)
8:30 a.m.-5:00 p.m. -- MIE New Executive Director Training-Day 1 (separate registration fee required)
Wednesday, November 6
8:30 a.m.-4:30 p.m. -- Train-the-Trainer Pre-Conference-Day 2 (separate registration fee required)
8:30 a.m.-5:00 p.m. -- MIE New Executive Director Training-Day 2 (separate registration fee required)
4:00-5:00 p.m. -- New Member & First-Time Attendee Orientation
5:30-7:00 p.m. -- NLADA Annual Meeting of Members
7:00-8:30 p.m. -- Welcome Reception
Thursday, November 7
8:30-10:00 a.m. -- Opening Plenary Session
10:30 a.m.-12:00 noon -- Civil, Client, and Defender Caucuses
12:00 noon-2:00 p.m. -- Lunch on your own
2:15-3:45 p.m. -- Concurrent Workshops
4:15-5:45 p.m. -- Concurrent Workshops
6:00-7:00 p.m. -- NLADA Section and Affiliate Group Meetings
7:00-8:30 p.m. -- Client Reception
Friday, November 8
8:30-10:00 a.m. -- Concurrent Workshops
10:30 a.m.-12:00 noon -- Concurrent Workshops
12:05-2:15 p.m. -- Awards Luncheon
2:30-4:00 p.m. -- Concurrent Workshops
4:15-5:45 p.m. -- Concurrent Workshops
6:00-7:00 p.m. -- NLADA Section and Affiliate Group Meetings
Saturday, November 9
8:30-10:00 a.m. -- Concurrent Workshops
10:30 a.m.-12:00 noon -- Concurrent Workshops
1:00-2:30 p.m. -- Special extended programming for Defenders!
CONFERENCE ENDS
Registration     Awards  Pre-Conference Trainings  Travel and Accommodations