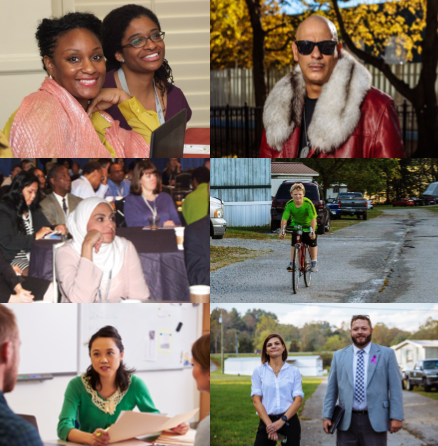 For more than 60 million Americans, poverty and race impacts the quality of justice a person receives. NLADA expands access to counsel in order to make the promise of equal justice for all a reality. From our founding more than 100 years ago, it has been our charge to leverage resources, partnerships and information to revolutionize the equal justice delivery system.
Through advocacy, training and innovative tools, NLADA empowers our members – civil legal aid attorneys, clients, public defenders and equal justice advocates – as they assist thousands of people in need of justice every day.
We cannot safeguard justice without your help! There are many ways that you can support NLADA with your financial contribution. You can:
Make a 100 percent tax-deductible contribution
Become a valued contributor with our monthly sustainer giving program
Ask your employer about matching your gift
Look for us during the annual CFC campaign – #10490
Make a contribution in honor of a colleague, mentor or friend, or as a memorial to a loved one
Create a personal fundraiser benefiting NLADA on Facebook
Remember NLADA when shopping on AmazonSmile
Become an individual member at nlada.org/become-a-member
Make an appreciated gift of stock
Ask about other in-kind gifts
For more information on these opportunities, please contact Aileen Moffatt, Vice President External Relations at [email protected] or 202-452-0620, ext. 223.
Thank you so much for your generous commitment to equal justice for all. Your donation is making a difference for so many!